Equities opened higher Thursday morning after retail sales and jobless claims came in better than expected, but the action turned into a bloodbath for stocks by the close. Even after five sluggish days for the broad market, though, the S&P 500 remains slightly above its 50-day moving average. The Nasdaq also remains above its 50-day, but the same can't be said for the Dow.
Below is a snapshot of where the ten S&P 500 sectors currently stand within their normal trading ranges. For each sector, the dot is where it is currently trading, while the tail represents where it was one week ago. The black vertical line represents each sector's 50-day moving average, and moves into the red or green zones are considered overbought or oversold. As shown in the screen, the majority of sectors have moved out of overbought territory over the last week but they are still above their 50-days. Energy and Telecom are the only sectors below their 50-days, and Industrials is sitting right on top of it. Until we see a solid break below the 50-days for the cyclical sectors, bulls shouldn't give up hope.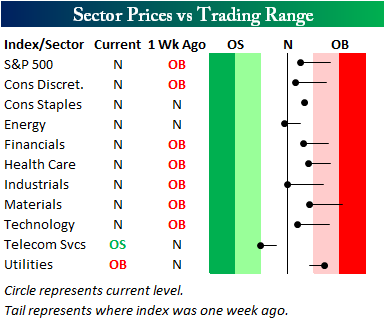 Yesterday we noted in a post how strong underlying breadth was for this market. While there was a bit of a breather Thursday, it still remains strong, especially with the S&P as close to its 50-day as it is. After Thursday's declines, two-thirds of the stocks in the S&P remain above their 50-day moving averages. Below is a one-year chart of this key breadth reading.