The Swiss franc is a safe haven currency that has generally been more stable than the euro. It is also a currency in which many Eastern European countries have gotten many of their mortgages, as it is a stable currency and the Swiss banks have offered the lowest interest rates for many years.
The only negative aspect to these mortgages is that they present Forex risk. When the Eastern EU currencies go down versus the Swiss Franc, the citizens of the effected countries owe more on their mortgages. They have higher payments.
It is important to note that the Swiss franc (and the euro) has gone down considerably relative to the USD in the last 6 months. In addition, this makes both US and China goods (two of the biggest exporters) more expensive to the citizens of these countries. The citizens of the Eastern EU countries now find they have to make higher mortgage payments, and they can afford to buy much less of other goods. This seems a recipe for recession. In order to give you an idea of the currency problems. I have shown many of the relevant 6 month charts below: (Click to enlarge)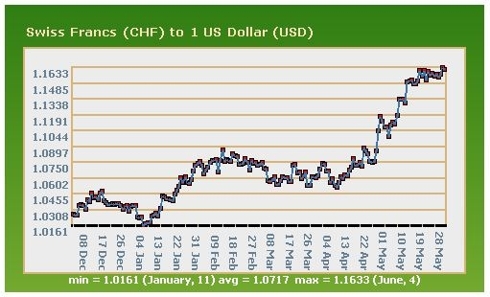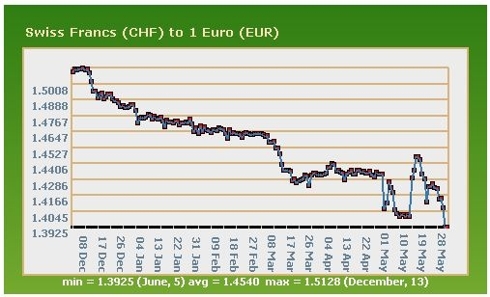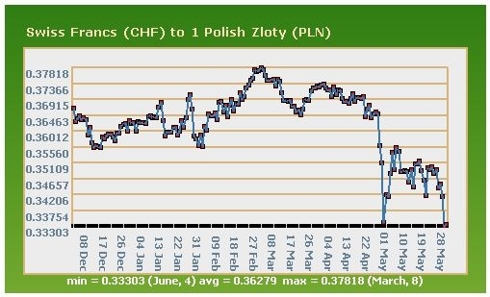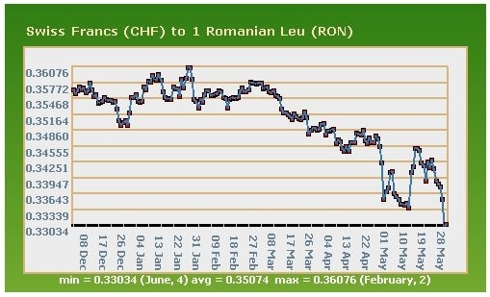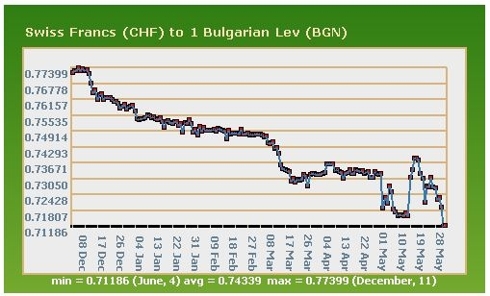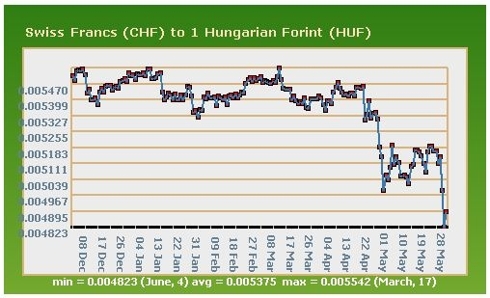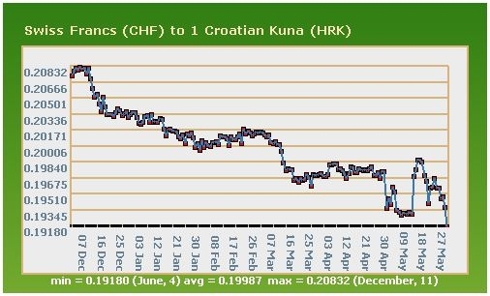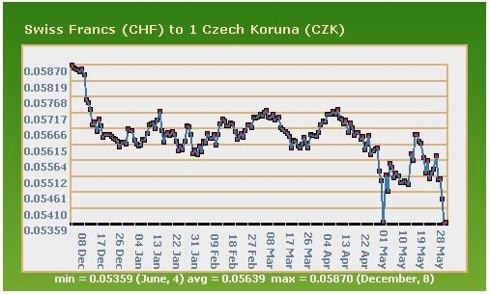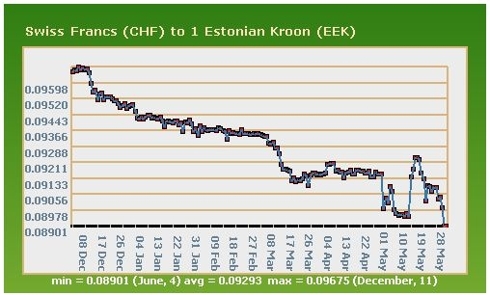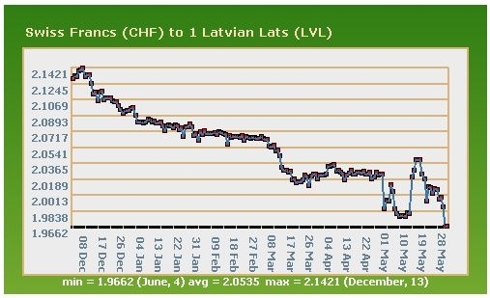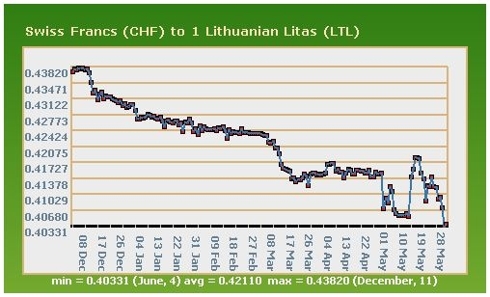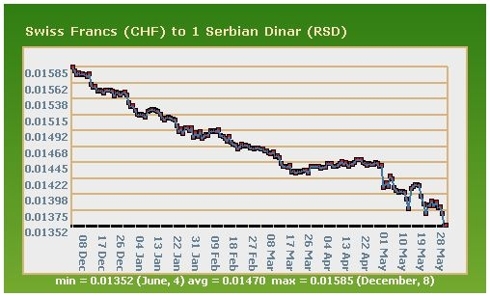 As you can see, the pattern is virtually the same for all of these countries. All owe more on any Swiss franc denominated mortgages they have. One of my readers informed me that about 2/3 of Polish mortgages are Swiss franc denominated. I am not sure about each of the other countries, however it is likely that the figure is substantial in each case. The Swiss are famous for their banking, plus Swiss franc-denominated mortgages were the most attractive from an interest rate standpoint. Naturally they drew the most interest. A ballpark figure of 50% of these countries mortgages might be a good figure to use. See the chart of Hungarian housing loan rates below: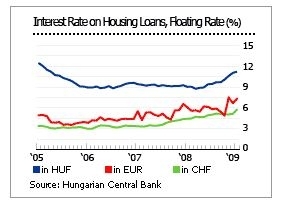 What does this mean? It means that the Eastern European countries, which were mostly in trouble due to relatively underperforming economies, are in more trouble than even many of the negative pundits had realized. Could you imagine what an effective 10% price increase on the principal of, say, 50% of mortgages (due to currency devaluation in a 6-month period) would do to the US real estate markets? It will likely do worse to the Eastern European real estate markets. It will likely do worse to their struggling economies.
This explains why the CDS spreads for these countries skyrocketed "as a group" on Friday. This means more bad loans. It means fewer profits. It most likely means a double dip recession. It is important to note that rents are often denominated in euros in many of these countries. That's fine if you have a euro denominated mortgage (or maybe not if your tenants move out to find cheaper housing). However, much commercial real estate has Swiss franc denominated mortgages. The euro has also gone down against the Swiss Franc in the last 6 months.
This is also why the biggest sovereign CDS spread wideners on Friday were all European countries. See the table below: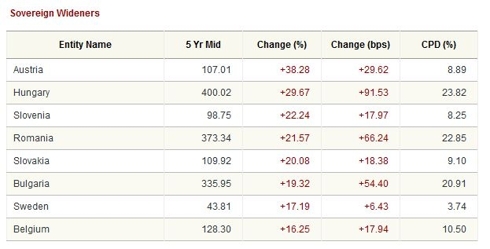 Hungary is in bigger danger of default, but Austria had the biggest percentage rise in CDS spread. Austrian banks are likely behind a lot of "at risk" loans. All of the biggest percentage wideners Friday were European. This is not a one day or one country event. This is the beginning of the contagion many have dreaded. Even the ride in US equities is likely to get rough. The table of the countries most likely to default is below: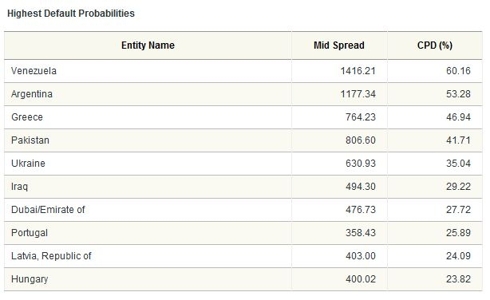 I have been told that even Australia has in the past suffered from this Forex risk problem due to Swiss franc denominated mortgages. It seems likely to be a lot more severe closer to home.
A lot of damage has already been done, although it has not been fully felt yet. If the Euro continues to fall, the Eastern European countries currencies will likely fall even faster than the Euro. This is somewhat of a Catch-22. The Eastern European currencies falling will not help them as much because they are not huge exporters. They will instead flounder due to mortgage increases and currency instabilities. This will in turn hurt the stronger EU countries, which financed a lot of their development (i.e. turn loans toxic). At the same time the lower euro is helping big exporters such as Germany. Part of a theoretical solution to this problem might be to allow/force the Swiss franc to fall along with the euro. Of course, convincing the Swiss that this is in their interest might require a monumental feat of diplomacy. We'll have to wait to see how the end game finally plays out. There may be a very fine balance to this problem.
Disclosure: No postions at this time