A Clash of Finance and Politics
A very public clash between billionaires invested in the multi-level marketer, Herbalife (NYSE:HLF), continues to make headlines across news fronts.
The equivalent of a financial war began over 15 months ago, when hedge fund director, Bill Ackman, took a $1 billion short position against Herbalife equities. After shorting the stock, Ackman launched a campaign of accusations about Herbalife, by approaching and pressuring federal and state regulators to investigate the multi-level marketer as an illegal pyramid scheme. This negative campaign drew the attention of two other prominent fund managers, Carl Icahn and Daniel Loeb. Both Icahn and Loeb have subsequently bought long positions in Herbalife stock, while publicly refuting the allegations of Ackman.
Enlisting the power of governmental agency to investigate allegations of corporate misconduct is a tactic frequently employed by a competitor. In this situation, Ackman has raised questions into his actions by making the accusations as an investor.
The most current controversy surrounds a dinner party last June, during which Ackman detailed his efforts to lobby Congresswoman Linda T. Sanchez, (D-Calif.), who subsequently sent a letter to the Federal Trade Commission (FTC) requesting an investigation into Herbalife. At this dinner, Ackman took credit for convincing Representative Sanchez to write the letter.
Adding to the controversy, Ackman reportedly had a copy of the commission's findings and read from the report at the dinner. However, the FTC had not officially acknowledged receipt of Representative Sanchez's letter. Ackman's apparent insider knowledge of the FTC's investigations has raised questions about the objectivity of the investigative process and the lack of separation between the political system and the financial markets.
An Herbalife Audit
Herbalife, a nutrition, skin care, fitness and weight management company has consistently maintained that it operates legally as a multi-level marketing company and not as a pyramid scheme.
Herbalife hired PriceWaterhouseCoopers (PWC) to audit three years of its financial reports. In December 2013, PWC reported that its audit showed the company was operating according to Generally Accepted Accounting Practices (GAAP). This news supported Icahn and Loeb in their efforts to discredit Ackman's allegations of a modern-day Ponzi scheme.
Icahn has a significant stake in Herbalife, with at least a 16.5 percent holding of the stock. While Icahn and Ackman have clashed before, this time with Herbalife, some observers question whether Icahn invested in the company, based on the fundamentals of the organization, or whether he invested as a bet against Ackman.
Stock Responds Wildly
Icahn first bought into the company at $25 per share. However, since the reports of Ackman's access and influence with the FTC broke several days ago, the share price has fluctuated wildly, sometimes dropping eight to ten percent in a single trading day (see chart below).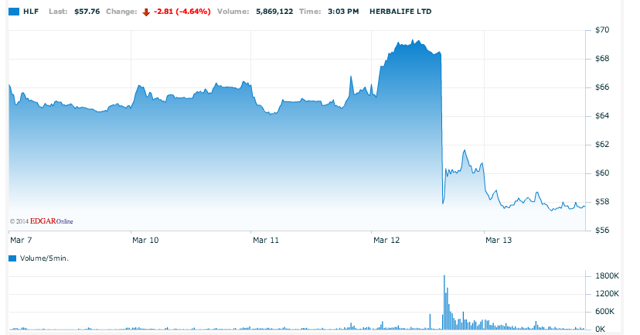 (Nasdaq.com)
For Investors Looking Ahead
According to the NYT article on March 9, Ackman "paid civil rights organizations at least $130,000 to join his effort by helping him collect the names of people who claimed they were victimized by Herbalife in order to send the leads to regulators."
A $1 billion bet that HLF stock will decline can provide a powerful impetus to ensure that it happens. Despite HLF's consistently posting strong earnings results, lobbying regulators and rallying potential victims can be effective weapons against apparent facts in a negative public relations campaign.
What Should Investors Do?
Ackman has given the financial markets and individual stockholders a comprehensive and controversial look into a short seller's campaign to profit. However, we continue to recommend that Herbalife shareholders take some profits from their big gains and continue to maintain a HLF position because our hunch is that Carl Icahn and Dan Loeb may continue to be on the right side of the trade.
Disclosure: I have no positions in any stocks mentioned, and no plans to initiate any positions within the next 72 hours. I wrote this article myself, and it expresses my own opinions. I am not receiving compensation for it (other than from Seeking Alpha). I have no business relationship with any company whose stock is mentioned in this article.