Most of the questions being raised now, especially by long-only investors, is to whether or not the last 4 days of action is a sign of a larger coming correction, or simply a short- term aberration due to the Ukraine conflict and global uncertainty, coupled with domestic weather issues.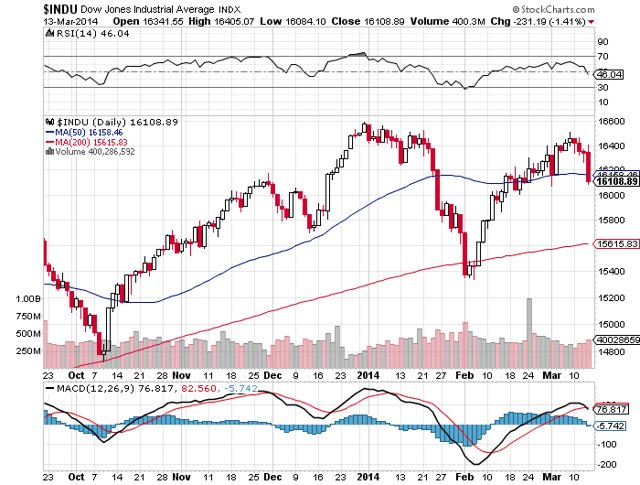 Buffett came out this morning on CNBC and claimed that he thought the market was going to continue a slow ascent this year, similar to what I have been calling for - small growth for the year overall. CNBC, showing classic journalism prowess, decided to headline the article, "Buffett: It would surprise me if stock prices drop 50%." Um, yeah, I think that would surprise a lot of us, Warren. Not the headline I would have used, but hey - they have their style, I have mine.
Warren Buffett said he would be "surprised" if stock prices fell 50 percent from their current levels.

He predicted there will be another financial crisis at some time, but he doesn't think it will happen anytime soon.

"Humans will behave in crazy ways, both on the upside and the downside in the next 50 years. It's very unlikely they do it in the next few years because after something like 2008, once they get out of the emergency room they're a little more careful for awhile."

Buffett said he's been bullish on the U.S. economy since the financial crisis in 2008, but he doesn't expect it to rapidly accelerate this year. Instead, he thinks it will continue its slow upward trajectory.

Buffett said he didn't sell any assets due to short-term concerns about Ukraine or China because they will not affect the stock market in the long run.
Which then presents us with the question of whether or not there are some valued building here, from an individual equity standpoint, as a result of the major market indices pulling back. Where are the values and what should "long-only" investors be considering?
Here are three stocks that I wouldn't be afraid to add to my portfolio outright, or add to a position in if the market continues to pull back.
Intel (NASDAQ:INTC)
Intel has been off 5.4% YTD for 2014, and pays a 3.7% dividend.
Intel has struggled over the past year, but is in a position to really start to rebuild itself as a company.
So far, in 2014 the company has kept to its leaked roadmap of processor enhancements.
The company continues to focus on mobile and tablet, as well as its Quark series to establish a foothold in mobile and biometrics.
The company's relationship with Apple remains firm.
Recent incentive plans brought on have employees focused on driving the results necessary to positively increase the stock price.
Ford (NYSE:F)
Ford has been off 8.5% in the last three months and pays a 3.3% dividend.
Ford could unfairly be dragged down by both a macro market pullback, as well as GM's (NYSE:GM) current trouble.
Ford's global expansion plan is based on growth in China and Europe, where it continues to show strength.
There will be upside coming as the cold weather tapers off and domestic sales bounce back in coming months.
Ford continues to lead the innovation charge with its aluminum partnership with Alcoa (NYSE:AA) and its new F-150 design.
Apple (NASDAQ:AAPL)
Apple is off 5.4% YTD and pays a 2.3% dividend.
Apple is arguably the most fundamentally sound company on the planet right now, with little to no risk of going anywhere in the long-term and continued perks for shareholders.
Mac sales continue to buck the trend of the bottoming PC market, showing brand strength with consumers for Apple.
New products are likely before the end of the year - not just updates to already existing products, new products altogether.
CarPlay allows Apple to extend its ecosystem from your house to your car, regardless of what OS you're running in your vehicle.
The advantage of adding dividend payers to your portfolio is twofold: 1) the dividend yield will ultimately rise as the price continues to drop and 2) you're going to have a recurring quarterly safety blanket, which I currently use with as many DRIP programs as I can for my perma-long positions.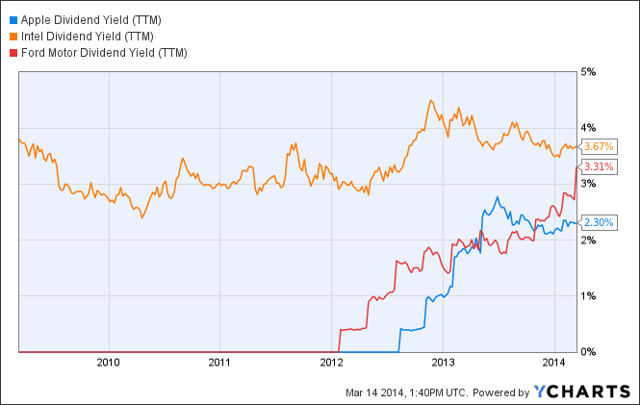 AAPL Dividend Yield (TTM) data by YCharts
These are three companies that I not only think are sound for buying on dips, but for the long term. I own two of the three of them as perma-long positions and reserve my right to add to these positions at any time.
Best of luck to investors.
Disclosure: I am long GM, F, AA, INTC. I wrote this article myself, and it expresses my own opinions. I am not receiving compensation for it (other than from Seeking Alpha). I have no business relationship with any company whose stock is mentioned in this article.