In our previous Top Ideas article on Resolute Forest Products (NYSE:RFP) we outlined how the market was overlooking a company with a dominant position in the boring print, pulp and wood product industry. It was easy to overlook the company and agree with the market because Resolute Forest Products' pension obligation was large and the print segment seemed to be on a perpetual decline. Such negativity led the market to put an unusually low valuation on Resolute Forest, so much so that the company was trading slightly higher than what we estimated to be the proceeds from liquidation if there was a 1% increase in the pension's discount rate. We noted that the company had a large deferred tax asset, growing earnings, was on the cusp of much lower pension obligations and that the Oracle of Canada Prem Watsa was the largest shareholder with 15.3% of Fairfax Holdings' portfolio in the company. Resolute Forest Products continues to be the 2nd largest equity holding of Prem Watsa following Fairfax's recent large increase in Blackberry. Since our article, the market has reacted accordingly sending RFP's share price 49.5% higher and shares currently trade for a slightly more realistic price, although we still believe shares still are undervalued. We will do an update on the company's performance and other events that have happened since October.
Pension Obligation
The pension obligation of Resolute Forest Products was large due to the company emergence out of bankruptcy in 2010. A pre-condition of the reemergence out of bankruptcy was to agree with the provinces of Québec and Ontario on how the company would fund the solvency deficit by 2020. The following is what they agreed upon:
(1) a Cdn$50 million basic contribution; (2) beginning in 2013, if the plans' aggregate solvency ratio falls below a specified target for a year, an additional contribution equal to 15% of free cash flow (calculated as per the funding relief regulations) up to Cdn$15 million per year and (3) beginning in 2016, if the amount payable for benefits in a year exceeds a specified threshold and the plans' aggregate solvency ratio is more than 2% below the target for that year, a supplementary contribution equal to such excess (such supplementary contribution being capped at Cdn$25 million on the first occurrence only of such an excess). Should a plan move into a surplus during the 2011 - 2020 period, it will cease to be subject to this funding relief. After 2020, the funding rules in place at the time will apply to any remaining deficit.
With the above agreement Resolute Forest Products would have to pay a significant amount in basic contributions and extra payments based on cash flow to stay compliant. Fortunately, RFP's management was able to reach an agreement with stakeholders in Québec and Ontario to replace the corrective mechanisms that are stated above. Instead of additional contributions as a percent of free cash flow or other supplementary contributions, RFP now only has set incremental contributions of Cdn$80 million each year until 2020.
In 2012, Resolute Forest Products had a 67.3% solvency ratio and the balance sheet funded status was 77%. The pension solvency percentage refers to the pension's ability to meet the total obligations if the plan were to close today. With a 67.3% solvency ratio RFP's pension would not be able to meet all their obligations if they were to close up shop. The artificially low interest rates, however, have been keeping the discount rate of the pension low. The CFO mentioned that Canadian law states that pension rates are calculated once yearly. We estimated that an additional 100bps (1%) increase in the pension's discount rate from June 31, 2013 would decrease the pension obligation from $1.9 billion to $560 million by 2015. Resolute updated in their 4th quarter earnings call that they estimated that with a 4.9% discount rate (a 60bps increase from 2012's 4.3%) the pension obligation was reduced down to $1.3 billion while the solvency ratio has grown to 78.4%. We still believe that Resolute Forest Products will continue to have a higher discount rate by 2015 and that the company would achieve solvency. If found solvent, then the company would not have to contribute $80 million in incremental catch up contributions to fund the deficit.
Business Performance
Resolute has been closing down marginal assets and cutting costs to "run for profit, not tons." Management has been successful over the course of 2013 by continuing to keep their cost of manufacturing (something that they can control) lower than competitors. SG&A continued to be low at 3.7% in 2013 but was $30 million lower as a result of asset optimization, mill restructuring and increased external power sales. We estimated that external power sales could have a $60 million effect on EBITDA during a full year and over the course of 2013 - not all fully operational the full year - external power sales reduced costs by $45 million.
Although Resolute's 2013 total year EBITDA was $377 million which was a decline of 4% since 2012, Resolute's fourth quarter showed an improvement. The company generated $110 million in EBITDA which was 6% more than the third quarter and 13% higher than the fourth quarter 2012. Of that $110 million, newsprint and wood products improved $7 million and $9 million respectively since the third quarter. We were surprised to see such an improvement from the newsprint segment but it makes sense since the company's focus on cost has led to a retracement to the 10% margins the segment was achieving before the input prices fell in 2013. Pulp was down $5 million and specialty paper was down $2 million during the quarter. Overall, pricing inputs in the fourth quarter continued to be a drag on earnings although we see signs of improvement. We continue to believe that the company's adjusted EBITDA in 2015 will be greater than 2012's $386 million and 2013's $377 million with better pricing inputs, lower interest costs (see below), continued cost management and higher wood capacity. Our previous $531 million estimate still looks like it could be possible.
Valuation
Resolute was trading at 40% book value and 3.2x EV/EBITDA while the market pondered how much further lower the newsprint segment was going to descend. The pension obligation was very high and the market was pricing the company as if it was more valuable dead than alive. We pointed out that a 1% increase in the pension's discount rate and the company's liquidation would value the company at $12.62, which was slightly below the price at that current time. We think that our estimation of the pension obligation reduction in the case of a 1% increase might have been too optimistic. The recent annual report states that a further 1% increase in the discount rate would equal a $520 million reduction in the pension obligation. In this case we have updated our liquidation calculation.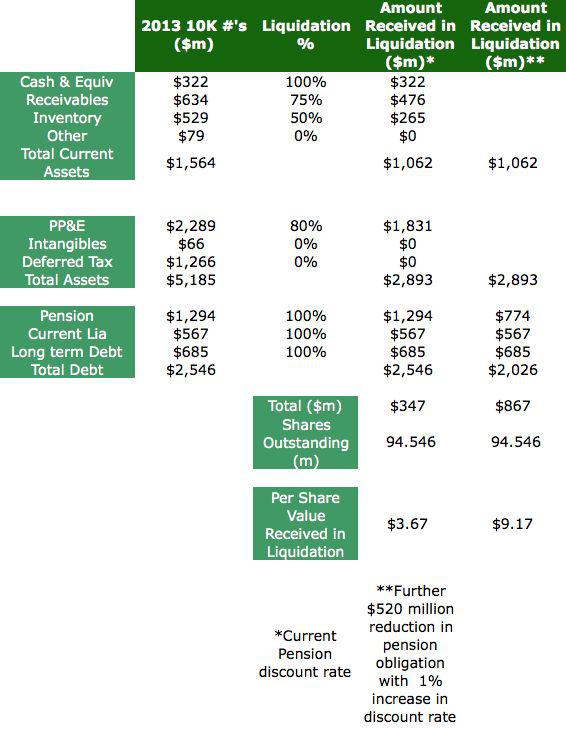 We believe that the company's performance shows that there is a low probability of a liquidation. RFP refinanced the remainder of their long term debt and was able to add 5 years to the maturity and cut their cash interest burden by $16 million. There are no debt obligations that mature soon and they are not under a significant interest payment so again liquidation at the current moment is highly unlikely. To be conservative, however, in the absolute worst case scenario share holders could receive $9.17 with a lower pension obligation.
If the company were to simply maintain their EBITDA over the next year or two, which we highlighted as unlikely, then we would estimate that the RFP would trade at similar levels to today. At 6.3x EV/EBITDA Resolute Forest Products trades at the lower end of their peer group: OJIPY trades at 7.2x EV/EBITDA, WY trades at 13.9x EV/EBITDA, IP trades at 7.34x EV/EBITDA and UPMKF trades at 9.4x EV/EBITDA. Due to RFP's high concentration of earnings coming from newsprint - pulp and wood continue to be a larger part of the company - then trading at the low end of the peer group would be logical.
If the company were to raise their EBITDA to our $531 million estimate by the end of 2015 and trade at a similar EV/EBITDA as today, then Resolute Forest Products could be trading at an enterprise value of $3.345 billion or $34.5 per share. This is not an absolute guarantee. Although we believe that guesstimating probabilities has its faults, calculating rough probabilities of values gives us insight into potential intrinsic valuation. If we assign a 10% chance of liquidation (we believe this is conservative), 40% chance of maintaining EBITDA and 50% chance of raising EBITDA to $531 million, then we would get an intrinsic valuation of $25.76 a share ((.1*9.17)+(.4*19.13)+(.5*34.5)). This would mean that shares still have 34.6% upside from current prices.
Resolute Forest Products continues to have a $1.24 billion deferred tax asset on their books for Canadian operations, which is another asset that shareholders would benefit from over the long-term. This amount is highly probable to be realized because the company took a full valuation allowance against the US deferred tax assets due to negative evidence of the realizability of the asset.
Risks
The recent winter weather could have had a large material effect on the operations of the plants in Canada and the US, which would be a problem to earnings in the short-term. This is probable, but we do not believe this is a long-term recurring problem for RFP.
A number of collective bargaining agreements are up for renewal this year. Any problems in coming to agreements could lead to strikes or terms that would not be beneficial to the company or shareholders. Management is optimistic that they can work with the unions to come up with an agreement.
Québec's forest tenure system continues to put pressure on wood costs. The full impact of the costs could raise RFP's 2014 costs even higher.
Interest rates also could continue to be artificially lower, but the Fed's decision to taper is an indication that it will not last forever. We will see how much tapering will occur in the next few years but we estimate that a slight increase is possible. Again, that would positively effect RFP's pension obligation.
Conclusion
Even though the share price has risen since our last article, Resolute Forest Products' continued performance, declining pension obligation, potential for additional earnings and large deferred tax asset could indicate that shares continue to trade at a discount. We can still join Prem Watsa in Fair Fax Holdings' largest equity position for a good price.
Disclosure: I have no positions in any stocks mentioned, and no plans to initiate any positions within the next 72 hours. I wrote this article myself, and it expresses my own opinions. I am not receiving compensation for it (other than from Seeking Alpha). I have no business relationship with any company whose stock is mentioned in this article.
Additional disclosure: This article is meant for instructional purposes and not meant as a recommendation to buy or sell. The only kind of intelligent investing is through your own due diligence.