To pick a pizzeria when ordering food is often a tough choice to make. Taste, value-for-money deals, calorie-count, delivery time etc., are some of the many considerations you would make before placing your order. Be that as it may, to pick a pizzeria when you have funds to invest is an even more difficult choice to make. For investment purposes, let's compare two of the best specialty pizza companies in the industry, viz. Domino's Pizza (NYSE:DPZ) and Papa John's International (NASDAQ:PZZA).
"Oh Yes We Did"
On one hand, we have the Ann Arbor, Michigan-based Domino's Pizza, the world's largest pizza chain and the second-largest in the United States, with more than 10,000 stores in 70 countries. Although the U.S. is its largest market, it is fast growing its presence in other parts of the world as well.
"Better Ingredients. Better Pizza. Papa John's."
On the other hand, we have the Louisville, Kentucky-based Papa John's that currently operates over 4000 establishments spread in 32 countries. With over 3,200 American establishments, it is the third-largest take-out and delivery pizza chain in the U.S. after Pizza Hut and Domino's. However, unlike Domino's, it is more focused on increasing its market share domestically.
The earnings reports
Comparing stocks within an industry is not an easy task for most investors, but a simple way to begin analysis is to look at their most recent quarterly earnings. Domino's announced solid fourth-quarter 2013 earnings on Feb. 26. Here's a breakdown of the report and a year-over-year comparisons.

Earnings per share rose 21.9%.
Revenue increased 5%.
Comparable-store sales:
o Domestic stores comps were up 3.7%, lower than the third-quarter comps of 5.4% and the year-ago level of 4.7%.
o International stores comps were up 7%, better than the third-quarter comps of 5% and the year-ago level of 5.2%.
Operating income increased 10.8% to $97.6 million from $88.11 in Q4 2012.
Operating margin expanded 70 basis points to 30.5% in the reported quarter as a result of change in the revenue mix and higher franchise royalties.
Papa John's released fourth-quarter earnings on Feb. 25, and the results met/surpassed analysts' expectations. Here's a summary of key figures and a year-over-year comparison:

Earnings per share rose 10.8%.
Revenue increased 5.6%.
Comparable-store sales:
o Domestic comps were up 9%.
o International stores comps were up 7%.
Operating income increased 4.44% to $28.48 million from $27.27 in Q4 2012.
Operating margin contracted by 7 basis points to 7.3% in the reported quarter.
The figures clearly show that Domino's had a stronger fourth quarter than Papa John's. The notion was furthered by their full-year performances. Domino's adjusted earnings per share in full-year 2013 were $2.45, up by as much as 30% from 2012. In comparison, Papa John's full-year earnings per share increased 20.2% to $1.55 from $1.29 in 2012.
Brand value
In the process of deciding which pizza company is better than the other, it would be beneficial to consider assets beyond book value such as brand value, popularity etc. Usually price-to-book value (P/BV) is a raw-but-convenient method of assessing popularity. However brand-heavy companies like Domino's more often than not have negative book values. In such cases, a company's intangible assets value is determined and compared to its share price. Domino's has a current book value of -$23.13/share while it trades for $79.93/share. This means the company's per-share value of intangible assets is $103.06, i.e. 128% of its share price. In comparison, Papa John's per-share value of intangible assets is $50.01, i.e. 94% of its share price. Sure enough, brand value is a component of intangible assets value, but the component is comparable for companies in the same industry. Therefore, Domino's would still pip Papa John's in terms of brand value (popularity).
Perhaps a better way of finding which pizzeria is more popular would be to analyze social media trends. Domino's still beats Papa John's with 3.3 times more fans on Facebook (NASDAQ:FB) and 2.6 times more fans on Twitter (NYSE:TWTR). Pizza Hut of Yum! Brands (NYSE:YUM), with a market cap of $33.6 billion, has 11.2 million Facebook fans, the most in the industry. Domino's, with market cap of only $4.4 billion, has 9.1 million fans, almost as many as Pizza Hut. That's remarkable considering the company's size.
Store count & expansion plans
Domestically, Domino's opened 62 restaurants while closing 15 stores during Q4 2013. As a result, its domestic store count reached 4,986 at the end of the quarter. Its international store count was 5,900 at quarter-end with the opening of 286 units and closing of 13. After rebranding its pizza products and introducing digital orders, the company is more focused on its international growth. It sees a potential of 329 more stores in the United Kingdom in addition to the current count of 771. The growth potential is even better in other European nations. France, for instance, expects to grow its current store count of 227 up to 850. In India, it expects to almost double its store count to 1,200 from 667 at present.
In comparison, Papa John's opened 52 domestic locations while closing 17, thus bringing its domestic store count to 3,286 at the end of the fourth quarter. Internationally, the company's store count was 1,142 at quarter-end, after the unveiling of 103 stores and closing 6. Therefore, the company had 4,428 restaurants system-wide at the end of 2013. For 2014, the management expects the worldwide net unit growth to range between 220 and 250 units, with approximately one-third of the growth in international markets. Over the next six years, the company plans to open 1,200 new stores, which is far less than Domino's projected net unit growth. Clearly Papa John's is more focused on increasing its domestic market share by branding/marketing initiatives and new product launches.
Forward projections
Domino's does not provide quarterly or annual earnings estimates; however, it does provide a long-range outlook for growth that the company believes to be appropriate and achievable. Accordingly, its domestic same-store sales growth was updated to 3%-4% from 1%-3% earlier. International same-store sales growth and net unit growth outlook remained unchanged between 3%-6% and 4%-6%, respectively. According to consensus estimates analysis by Reuters, Domino's is forecasted to report revenue growth of 5.3% in full-year 2014 to $1.89 billion. Earnings per share are expected to increase 15.9% to $2.84 during the year.
As for Papa John's, the management expects 2014 EPS to increase to a range of $1.64 to $1.72, i.e. an average increase of 8.3% from 2013 EPS, while total revenues are expected to increase 5%-7% during the year. The projections are in line with Reuters' consensus estimates, which expect a revenue growth of 6.37% and EPS of $1.73 for 2014.
Furthermore, both companies have comparable forward-looking valuations. Domino's trades around 24 times its forward earnings while Papa John's around 26 times.
Share repurchase and dividend
As illustrated in the chart below, both companies had nearly 56 million shares outstanding 5 years ago. Domino's current has 55.77 million while Papa John's has managed to reduce its share count by over 25% to 41.67 million now.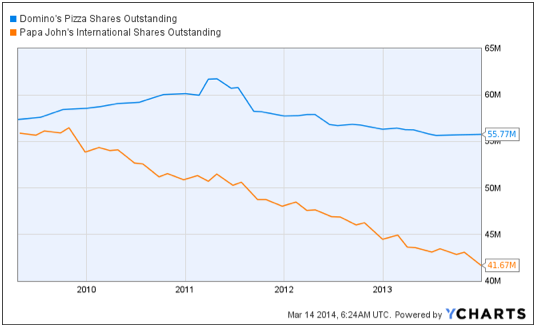 While Domino's has been also reducing is share count of late, Papa John's rate of reduction is far more substantial. Domino's currently has $200 million share repurchase program in place. On the other hand, Papa John's repurchased $118 million worth shares last year and has $110.9 million on the current authorization program.
During Q4 2013, Domino's raised its quarterly dividend by 25% to $0.25/share from $0.20/share earlier. This works out to a dividend yield of 1.30%. Papa John's pays a quarterly dividend of $0.125/share that yields at 1%.
Stock performance
Domino's and Papa John's widely outperformed the overall market last year, with rises of 59.93% and 65.27%, respectively. Their five-year returns are even more impressive. Domino's stock returned 11 times in the last five years, i.e. average annual returns of 228% over the 5-year period. Papa John's had a much modest growth in comparison. It returned 362% in the last five years, i.e. average annual returns of 72% over the 5-year period. As for 2014, both Domino's and Papa John's are up by 14.74% and 17.55%, respectively.
And the winner is…
Both Domino's and Papa John's have done well in the past and are forecasted to continue their growth in future as well. As a result, both companies are strong long-term candidates for growth in the restaurant industry. However, comparing the two companies' earnings reports, popularity, expansion plans, projections and dividends, Domino's comes out as the clear winner. Besides its shares repurchase rate, all factors indicate that it would be the more reliable investment of the two going forward.
Disclosure: I have no positions in any stocks mentioned, and no plans to initiate any positions within the next 72 hours. I wrote this article myself, and it expresses my own opinions. I am not receiving compensation for it (other than from Seeking Alpha). I have no business relationship with any company whose stock is mentioned in this article.