Cardiovascular Systems (NASDAQ:CSII) has designed its Diamondback 360 device for removing arterial calcium buildups in vessels before stenting. The FDA approved the device for the treatment of leg and heart vessels in 2007, but later last year the agency cleared the device for calcified coronary arteries, a $1.5 billion market dominated by last generation technologies, according to CSII CEO David Martin. He further said:
FDA approval of our Diamondback 360 Coronary OAS allows us to bring to market the first new coronary atherectomy system in more than two decades. Severe coronary arterial calcium is an underestimated problem in medicine, with limited options for treatment.
Estimated Valuation
The opportunity is huge and I believe this could eventually turn the company around and drive its bottom-line in the positive territory. The stock, after years of underperformance, has started to move up over the past few quarters and I feel there is a whopping 80% upside left from the current level around $34.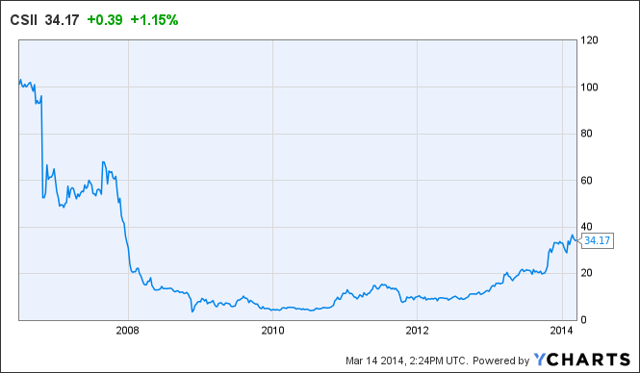 The Diamondback 360 device is poised to contend in a $1.5 billion market dominated by last generation technologies, such as rotational atherectomy, cutting balloon or PTCA. Although Cardiovascular's revenue grew ~30% to $117.40 million last year, the company has yet to turn a profit. Now, with FDA approval in hand for Diamondback 360, I believe that its revenue would be around $500 million within 2017, assuming a 25% market share. Assuming 14% industry average net margin, such revenues would lead to $2.33 after-tax earnings per share.
The company is cash-rich with $140 million of cash and equivalents on the balance sheet by the end of 2013. Later last year, the company raised $102 million ($84.5 million after deducting expenses) by offering its stock to market Diamondback 360. To calculate the stock's intrinsic value, if the industry average (please see the chart below) EBITDA margin of 21.54% is applied on the company's 2017 expected revenue, I get its 2017 EBITDA of ~$110 million. Now, if the industry average EV/EBITDA of 17x is applied on that, the company's enterprise value comes at $18.7 billion, which translates into a share price of $62 with 30 million shares outstanding.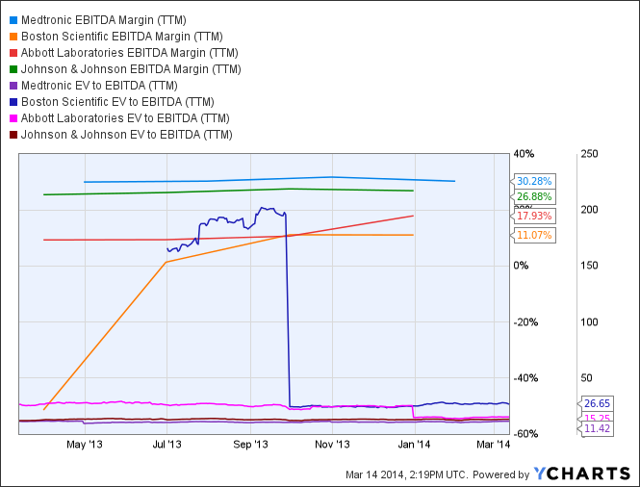 MDT EBITDA Margin (TTM) data by YCharts
Diamondback 360: Overview
Diamondback 360 is a percutaneous orbital atherectomy system ("OAS"). An OAS is a percutaneous device that facilitates stent delivery to patients suffering from peripheral arterial disease ("PAD"). A stent is a small mesh tube that's used to treat narrow or weak arteries. Some stents, known as drug-eluting stents ("DES"), are coated with medicine to prevent blockage. The Diamondback 360 system is developed for treating a severely calcified narrowing of a coronary artery. The system consists of a hand-held device, a saline infusion pump, the ViperWire advance coronary guide wire, and the ViperSlide lubricant.
The system is used in patients with a narrowing in their coronary arteries due to calcium deposits (severely calcified lesions). Such narrowing interrupts oxygen supply into the heart and generally occurs when the arteries get blocked by a gradual build-up of atherosclerotic plaque, which is characterized by the buildup of fatty deposits (atheromas) in the intimal layer (under the endothelium of a patient's blood vessels). Over time, the soft cholesterol-rich atheromatous material hardens into a calcified atherosclerotic plaque.
Since a significantly narrowed coronary artery limits blood flow to the heart muscle and can cause angina, hypertension, myocardial infarction or stroke, a stent may be required to be placed at the site of the coronary artery narrowing to improve blood flow. But with plaque deposit placing a stent is not possible. The Diamondback 360 device is used to facilitate removal of plaque that is made up of calcium. For this a catheter with a diamond-coated crown mounted on the end is inserted into a blood vessel in the groin or arm and advanced at the narrowed portion a coronary artery and the diamond-coated crown is then rotated to remove the plaque.
Last Generation Technologies
Currently rotational atherectomy is the most commonly used technique for removing calcified, rigid and fibrotic lesions and in-stent restenosis where POBA (plain old balloon angioplasty) is insufficient to fully open the vessel. Primary percutaneous transluminal coronary angioplasty ("PTCA") without stenting is known as POBA. In combination with drug-eluting stents, rotational atherectomy is an effective method to treat complex coronary lesions. Boston Scientific's (NYSE:BSX) Rotablator System is the market-leading rotational device that provides an excellent option for treating calcified lesions. Aside from rotational atherectomy devices, cutting balloon angioplasty devices are also used for plaque removal. It has a special balloon tip with small blades that are activated when the balloon is inflated. Boston Scientific's Flextome cutting balloon device is used to get rid of complex lesions that are often difficult to remove with conventional PTCA (balloon angioplasty).
The catheters and stents used in PTCA are manufactured by Abbott (NYSE:ABT) and Johnson & Johnson's Cordis (NYSE:JNJ) and Medtronic (NYSE:MDT). Recently Boston Scientific gained a CE mark for a new platinum bare metal stent to treat coronary artery disease. Although the catheter and stent market is fairly mature, device makers are rolling out new products and updating older ones to grab more market share.
Why Diamondback 360 Could Be a Game Changer?
Rotational atherectomy has not fully replaced PTCA since it takes longer than PTCA and time needs to be set aside for complex cases, and it is costlier too. However, I believe that Diamondback 360 has the potential to grab meaningful market share not only from PTCA and its simpler form POBA, but also from rotational atherectomy due to its ability to control the cut depth of plaques. In pivotal trials, the device exceeded its two primary endpoints, charting a procedural success rate of 89.1% and leaving 89.8% of patients free of major adverse cardiac events.
A rotational atherectomy device abrades plaque using an abrasive burr spinning at 80,000-200,000 rpm and makes the tissue debris small enough to pass through the circulatory system harmlessly, minimizing the potential for distal embolic complications. An orbital atherectomy device is similar, but the key difference is that it follows an orbital path around the periphery of the lumen. This orbital motion allows the burr to attack the plaque as it moves in a specific direction, in contrast to the burr of a rotational device, which remains in one place. This orbital motion makes it superior to rotational atherectomy because it allows the physician to control cut depth of the plaque to be removed by varying rotational velocity. Moreover, the orbital motion leads to more blood flow and cooling, compared to rotational devices, which in turn minimize the chance of occurring thermal trauma and ischemia.
One specific advantage of rotational atherectomy is differential cutting, which means the ability to remove hard (inelastic) tissue while sparing soft (elastic) tissue that can deflect away from the rotating abrasive burr while it advances. Although orbital atherectomy devices like Diamondback 360 allow for controlling cut depth of the plaque, effective differential cutting might not be done with orbital devices. However, I believe that it's not a disadvantage, because when you have control over cut depth, differential cutting would not be necessary.
Another device is being developed by Pathway Medical Technologies for the treatment of arterial diseases with an initial focus on PAD. Pathway was acquired by MEDRAD, Inc., a Bayer Healthcare subsidiary, in 2011. The device, known as Pathway PV Atherectomy System, might emerge as a modest competitor for Diamondback 360 because of its potential to offer surgeons differential and circumferential cutting of plaques. Its differential cutting tip would remove a variety of plaque types. Moreover, the system would offer surgeons one step size expansion. However, I strongly believe that Pathway PV would not be able to replace the Diamondback device, because with it surgeons would not have a control on plaque cut depth, which is most crucial. If approved going forward, Pathway PV could only snatch a small part of Diamondback's market share at best.
The only drawback of Diamondback 360 would be that it might not be appropriate when the target lesion is within a bypass graft or stent. Although the introduction of the drug-eluting stents proved to be an important step in reducing rates of restenosis, if in-stent restenosis occurs after a percutaneous coronary intervention, Diamondback 360 would not be an effective tool to treat that.
Conclusion
Recently Cardiovascular released one-year data from its ORBIT II study regarding its Diamondback 360 device at the 2014 Cardiovascular Research Technologies conference in Washington, D.C. The ORBIT II study is the first study in history to evaluate patients with severely calcified coronary lesions, which confirmed that Cardiovascular's orbital atherectomy technology would be a rational treatment option with durable outcomes. I feel that the study result is encouraging and would recommend buying the stock around the current price level.
Disclosure: I have no positions in any stocks mentioned, and no plans to initiate any positions within the next 72 hours. I wrote this article myself, and it expresses my own opinions. I am not receiving compensation for it (other than from Seeking Alpha). I have no business relationship with any company whose stock is mentioned in this article.