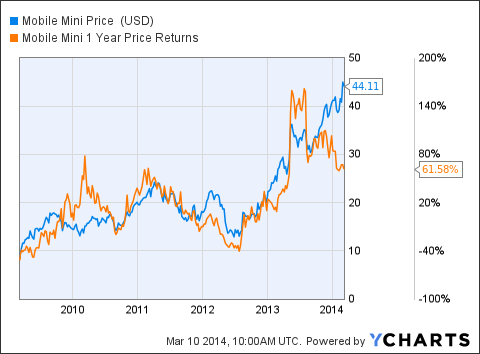 MINI data by YCharts
Before getting into Mobile Mini's (MINI) growth story, let's look at a few commonly cited investment metrics used to describe this stock:
Trailing EPS of $.52
Trailing P/E of 85, well over the industry average of 37
3% ROE
Increasing short interest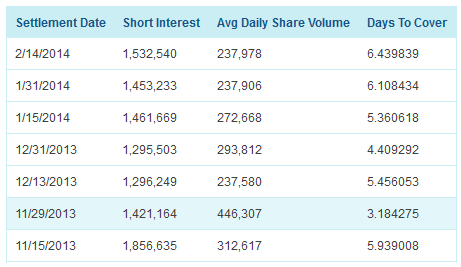 Source: Nasdaq
In summary, all signs point to a company that had a great run last year, but is overbought. This is the prevailing viewpoint, but there's another story behind these numbers that suggests a bullish alternative.
Pulling back the veil on growth
Mobile Mini is a leading provider of portable storage solutions, with 212,900 units. Founded in 1983, its primary competitors include Algeco Scotsman (306,000 units), PODS, Pac-Van (GFN), 1-800-PACK-RAT, Haulaway Storage Containers, ModSpace, McGrath RentCorp (MGRC), Wernick Hire and other national, regional and local companies.
In 1996, BT Commercial Corporation gave Mobile Mini the loan it needed to grow revenues from $17.9 million to $52.7 million in 1998. The company also completed:
3 acquisitions in 1998,
6 acquisitions in 1999,
2 acquisitions in 2000,
6 acquisitions in 2001; and, many more as the years progressed.
Between 1998 and 2002, revenues grew from $52.7 million to more than $133 million; debt and net income followed suit.
At the end of 2013, Mobile Mini reported revenues of $406 million, unfortunately, the company also had $528 million in total debt. Interest expense alone is approximately $10 million. Still, the company has $573.3 million of additional availability on a line of credit issued through Deutsche Bank.
As you can see from the chart below, both free cash flow and net debt have improved over the last 5 years, and most dramatically between 2012 and 2013.

Earnings may have taken a hit in 2013, but free cash flow has grown steadily with revenues.
Let's take a closer look at EPS. On Feb. 14, Mobile Mini reported full-year earnings of $.55, down from $.76 last year. This was not a drop in operational cash flow -- more specifically, it was a $38 million asset impairment charge.
"With a strategic focus on increasing return on capital and a move toward a rent-ready business model, the company conducted an assessment of its lease fleet and rolling stock equipment. Management determined that certain of these units were either non-core to its leasing strategy, or were uneconomic to repair. In connection with this evaluation, management determined to place the assets for sale, resulting in a non-cash asset impairment charge on long-lived assets in the second quarter of 2013." (2013 10-K)
Without these non-cash charges, net income and EPS would have been ~$55 million and ~$1.15, respectively, resulting in a PE of 38.
P/FCF is probably a better valuation measure than PE, given the capital-intensive nature of the industry. P/FCF is approximately 18, compared to an industry average of 29. Given the current level of free cash flows, the company should be trading at a price of $69, an implied 56% upside.
New management = new management
About a year ago, the CEO, who is also the founder's son, stepped down and was replaced by Erik Olsson. Today, Mobile Mini's strategy is focused on fleet rental utilization operationally and EBITDA financially. The goal is to drive incremental margin through increased utilization. On the last Mobile Mini earnings call, Olsson had this to say:
"Our strategy to best utilize our rental fleet and grow our business is same store growth with more units on rent in existing location and take advantage of the high incremental margin our business produces."
In addition to operational efficiency, the company is making itself more attractive to new investors. In November, the Board approved a $125-million stock buyback program, and on March 20, the company will begin its new dividend program, starting with a $.17 dividend. Just to be clear, Q4 EPS was $0.26, and the dividend payment for the first quarter will be $.17 -- that's a huge payout.
Room for growth
We've established that earnings were low last year due to an impairment charge and cash flows are actually very strong -- perhaps "overbought" is premature, but outside of being undervalued in terms of free cash flows, are there any additional signs of growth from here? The CEO thinks so, and has committed to exceeding 2013 growth in 2014:
We expect our year-over-year top-line growth and profitability in 2014 to exceed that of 2013, which will drive accelerating free cash flow for the year. (2013 10K)
These highlights from last year provide a baseline for bringing this statement into focus:
Fourth-Quarter 2013 Highlights
…Leasing revenues grew 7.0% year-over-year.
Increased rental rates by 4.6% year-over-year, 2% over the third quarter.
EBITDA margin of 37.9%.
Increased average fleet utilization to 72.8%, up from 65.1% in the fourth quarter of 2012.
Full-Year 2013 Highlights
Increased leasing revenues 7.7%.
Improved EBITDA by 8.3%
Created $109.4 million in free cash flow, up from $65.1 million in 2012.
In addition to share price appreciation through revenue and cash flow growth, there may also be a case for Mobile Mini as a strong acquisition target.
Acquisition target
Acquisitions are the primary growth engine for this industry. This is because acquisitions are about more than market share, they're about acquiring units. Like an LBO, acquirers use the targets' assets to obtain attractive financing in order to finance the deal. And don't forget, these assets keep their value for 30 years and can be depreciated for 30 years.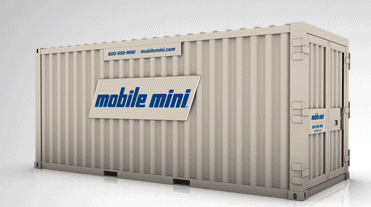 There are three likely buyers: Algeco Scotsman, United Rentals, and General Finance Corporation.
Algeco Scotsman, known in the United States as PackRat, operates in 37 countries across five different continents. Created in 2007, when Williams Scotsman (previously NASDAQ-listed) was acquired by TDR Capital LLP, a United Kingdom-based investment fund manager, which also acquired GE Modular Space. Under the terms of the deal, Williams Scotsman shareholders received $28.25 per share in cash, a 21% premium to Williams Scotsman's closing price on the previous day.
Another possible buyer is General Financing Corporation, also known in the United States as Pack-Van, the North American leg of the company.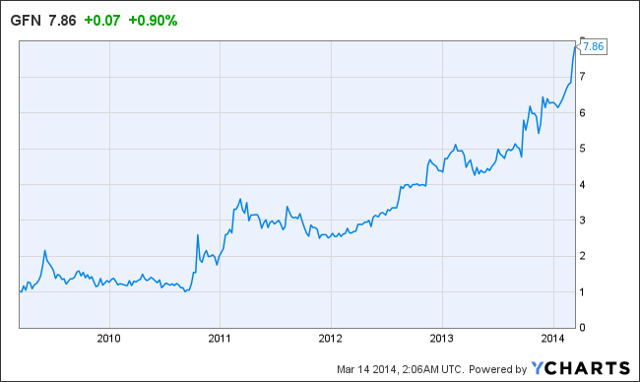 GFN data by YCharts
With offices in North and South America, Europe and the Pan-Pacific area, General Financing Corp had this to say about its future acquisition plans:
Our business plan and long-term strategy is to identify, acquire and integrate rental services and specialty finance businesses in North and South America, Europe and the Pan-Pacific area. These acquired operating companies will typically be structured vertically by type of product or business and have experienced management teams in industries with attractive organic or acquisition growth potential. Our function at General Finance is to enhance the intrinsic values of the operating companies by providing guidance with respect to operating and acquisition strategy, logistical support, budgeting and long-term planning and financing and capital structure.
General Finance sounds like a niche venture capitalist firm for the modular storage industry.
Another possibility is United Rentals, Inc., which purchased RSC Holdings Inc. Several people on Mobile Mini's executive staff are from RSC, as detailed in the 10K:
Erik Olsson is the current CEO and President. He's also a member of the Board. Before joining Mobile Mini, he served as CEO and CFO of RSC from 2006 to 2012.
Phillip H. Hobson, Executive Vice President, Operations, just started in April 2013, and came from RSC.
Lynn Courville, Senior Vice President, Human Resources, just started in August 2013, and came from RSC.
Audra L. Taylor, Vice President and Chief Accounting Officer, just started in September, and came from RSC.
It's worth mentioning that RSC's revenue growth averaged in the double-digits while Olsson was CEO, and he delivered EBITDA margins in the mid-40s. He eventually led the company to the acquisition block, where it sold for about $1.87 billion in cash and stock.
The consolidation between RSC and United resulted in the shutdown of between 50 and 100 branches, which saved an estimated $200 million in annual operating expenses. The deal gave shareholders $10.80 in cash per share and 0.2783 of a share of United's common stock in exchange for their RSC shares, for a total of $18.04 a share, a 58% premium to RSC's previous closing price. United Rentals also assumed $2.3 billion in debt.
Potential risks
Like all companies, there are risks in the current business model. They are related to acquiring and maintaining customers. What if customers respond poorly to rate increases? The new business development should help with that. The real question is what if the new business development campaign fails? The CEO acknowledged these potential threats in the last earnings call and seemed prepared to handle any fallout that would jeopardize growth, but no specific actions were put forth except for a "wait-and-see" approach:
I think it's obviously a work in process. We're in the midst of changing our focus. We've added a lot of sales and marketing resources here at corporate very recently, actually in the last month or so. I would not say that we are anywhere near full speed in these initiatives. But what it's about this is really defining a much more detailed strategy for national accounts, really defining value propositions for the different verticals or end markets that we have in non-construction, it's obviously a very wide definition of the market. But within that segment there is a lot of very interesting verticals where we believe we can do much better and we're designing a value propositions around that. We are also in the midst of changing our sales organization or go-to-market strategy where we will put much more emphasis on hunting versus farming accounts. We will put in more resources on an outside sales force than we had in the past as well as much more targeted outbound calling. This acts as a little work in process and will just have to continue to work harder on it and report each quarter how we are doing.
To Recap
1983: Richard Bunger launches Mobile Mini.
1993: Mobile Mini is incorporated.
1994: Mobile Mini is taken public.
1997: Richard Bunger's son, Steven Bunger is named president and CEO of Mobile Mini.
2001: Steven succeeds his father as chairman.
2006: Erik Olsson becomes CEO of RSC.
2012: RSC is sold to United Rentals for $4.1 billion.
2013: Steven steps down at Mobile Mini, and Erik Olsson takes over as CEO.
The new CEO of Mobile Mini presided over the acquisition target of what some say is the largest equipment rental company merger in history. Several people from his team at RSC have migrated to Mobile Mini over the last 12 months. Due to its North American location and large size, Mobile Mini could be a prize worth going to war over, and if there's anyone that knows how to pull the most value out of these war-time attributes, it's Olsson.
Disclosure: I have no positions in any stocks mentioned, and no plans to initiate any positions within the next 72 hours. I wrote this article myself, and it expresses my own opinions. I am not receiving compensation for it (other than from Seeking Alpha). I have no business relationship with any company whose stock is mentioned in this article.