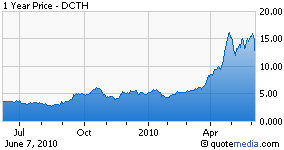 Delcath Systems, Inc. (NASDAQ:DCTH) is a medical technology company specializing in cancer treatment, with its initial focus on the treatment of primary and metastatic liver cancers. DCTH recently presented at the American Society of Clinical Oncology (ASCO) Annual Meeting and results were very positive.
Please see this exclusive video of Eric Whitman, MD., a highly regarded surgical oncologist who specializes in melanoma and is Director of the Atlantic Melanoma Center. Dr. Whitman attended the American Society of Clinical Oncology's Annual Meeting, where he took special note of a presentation on Delcath's PHP study. Dr. Whitman stresses that PHP has proven to be clinically effective.
The PHP System treatment developed by DCTH has caused the survival rate to triple for cancer patients with melanoma that has spread to their liver. The exact numbers shown are 398 days vs. 124 with the best alternative care.
There were significant factors we think were overlooked or misunderstood in Monday's market action, including:
The fact that the survival rate tripled for cancer patients treated with PHP (Percutaneous Hepatic Perfusion).
The latest data was even better than the initial press release from April. The hepatic PFS (primary endpoint) was 245 days in the PHP arm and 49 days in the BAC (best alternative care) arm.
The estimate for peak annual U.S. sales is $745 million if the PHP System is approved by the FDA for the treatment of patients with Melanoma that has spread to the liver. Sales could potentially increase to $5.6 billion if this treatment is used in primary liver cancer as well as metastases from other types of cancer.
There is just huge potential for Delcath's PHP system. Also, there is the possibility for large "off-label" use. And if expectations play out accordingly, then the possibility for Delcath's PHP system to be used for many other cancer treatments in the future also holds great potential.

Disclosure: position in DCTH