With this week's list of "Blue Light Specials" we've now reached the half-way point in a series of articles covering the ten different sectors of the stock market. We now take our shopping cart down the Health Care aisle of the market in looking for some deals.
Links to the most recent articles in the series are included below. For those interested in the complete list of article please check here.
1. Consumer Discretionary: (COH), (NYSE:GME), (NYSE:GPS), (NASDAQ:PETM), (NYSE:TUP)
2. Consumer Staples: (NYSE:INGR), (NYSE:KO), (NYSE:KR), (NYSE:PM), (NYSE:WMT)
3. Energy: (NASDAQ:ARLP), (NYSE:CVX), (NYSE:EOG), (NYSE:ENB), (NYSE:NOV)
4. Financials: (NYSE:AFL), (NASDAQ:AFSI), (NYSE:BLK), (NYSE:OHI), (NYSE:WFC)
5. Health Care
6. Industrials
7. Information Technology
8. Materials
9. Telecommunications
10. Utilities
Sector #5 - Health Care
Investopedia defines the Health Care Sector as:
A category of stocks relating to medical and healthcare goods or services. The healthcare sector includes hospital management firms, health maintenance organizations (HMOs), biotechnology and a variety of medical products.

Stocks in the healthcare sector are often considered to be defensive because the products and services are essential. Even during economic downturns, people will still require medical aid and medicine to overcome illness. Having a consistent demand for goods and services makes this sector less sensitive to business cycle fluctuations.
Surprisingly to me, the sector is one of the least represented on the CCC List as it makes up just 27 of the 509 positions (5.3%). The sub-sectors represented on the list include Drugs, Medical Equipment & Devices, Home Health Care, Healthcare Facilities, and Consumer Products. As a somewhat defensive sector, I expected more than 32 companies to make the list. However, considering the extensive R&D outlays and expiring drug patents for pharmaceutical companies in addition to the constantly changing regulations on the sector overall, there are apparently enough ups and downs in earnings to keep long streaks from frequently happening.
With so few stocks to choose from, I was worried about being able to find 5 companies that are trading at a reasonable discount in the market. While the stocks I found may not be screaming bargains at current prices, they do appear to be trading at fair valuations in the market.
| | | | | | | | |
| --- | --- | --- | --- | --- | --- | --- | --- |
| Company | Symbol | Sub-Industry | Price | P/E | Yield | 5YR Dividend CAGR | 10YR Dividend CAGR |
| Baxter International, Inc. | (NYSE:BAX) | Drugs | $66.97 | 14.9 | 2.93% | 16.40% | 12.40% |
| Chemed Corp. | (NYSE:CHE) | Home Health Care | $85.81 | 16.6 | 0.93% | 25.90% | 12.10% |
| Johnson & Johnson | (NYSE:JNJ) | Drugs/Consumer Products | $93.00 | 16.3 | 2.84% | 7.60% | 10.80% |
| Medtronic Inc. | (NYSE:MDT) | Medical Devices | $59.03 | 15.5 | 1.90% | 11.60% | 14.90% |
| UnitedHealth Group Inc. | (NYSE:UNH) | Managed Health/Insurance | $77.01 | 13.8 | 1.45% | NA | NA |
Baxter Internation Inc. develops, manufactures, and markets products for people with hemophilia, immune disorders, infectious diseases, kidney diseases, trauma, and other chronic and acute medical conditions. It operates in the United States, Europe, the Middle East, Africa, the Asia-Pacific, Latin America, and Canada. The company was founded in 1931 and is based in Illinois.
Baxter is a member of the Dividend Challengers, having raised its dividend for the last 7 years at an average annual rate of 18.7% during the period.
The company last raised its dividend by 9% on May 6, 2013, meaning another increase should be announced in the next couple months. With earnings projected to grow at around an 8% rate going forward, a similar increase could be expected.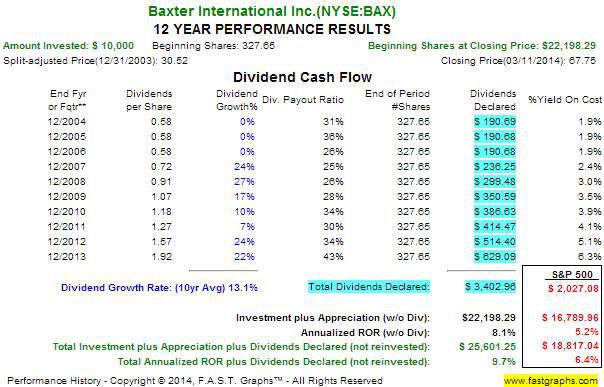 Baxter has a consistent track record of earnings growth, with an earnings growth rate of 8% over the last decade. According to F.A.S.T. Graphs, analysts are projecting a similar growth rate over the next 5 years.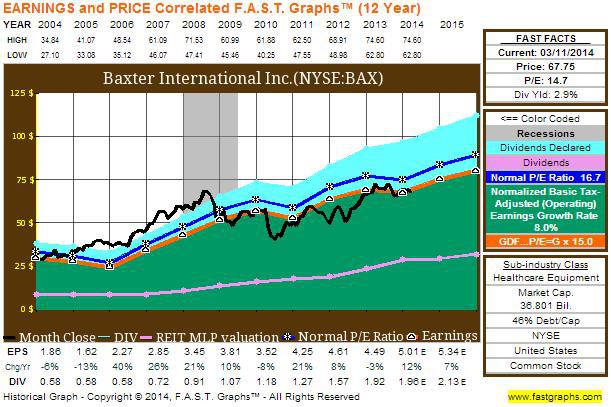 With the stock trading at a P/E of 14.7, compared to a historical rate of 16.7, this appears to be an attractive entry point. With an initial yield near 3% and a stable growth of 8% expected going forward, the stock could be expected to provide a total return of around 8-10% annually.
Chemed Corporation provides hospice and palliative care services in the United States by operating in two segments, VITAS and Roto-Rooter. The offers its services through a network of physicians, registered nurses, home health aides, social workers, clergy, and volunteers. It also provides plumbing and drain cleaning services to residential and commercial customers. The company was founded in 1970 and is based in Ohio.
Chemed is a new member of the Dividend Challengers List and has raised its dividend for the last 5 years at an average annual rate of 26.8% with the most recent increase 11.1%.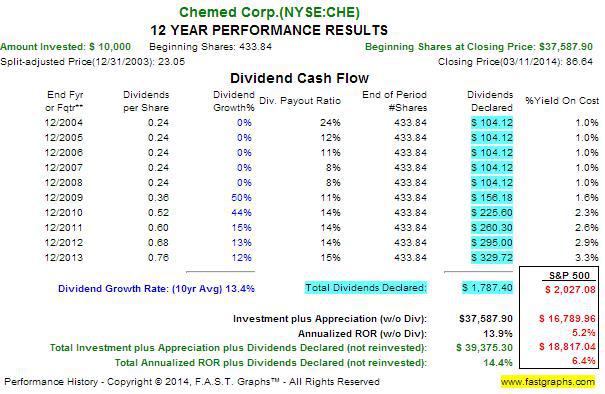 Chemed has had a remarkably consistent history of earnings growth with the lowest annual increase in the last decade being 6% in 2013. According to Yahoo Finance, analysts project earnings to continue growing at an 8.7% rate over the next 5 years.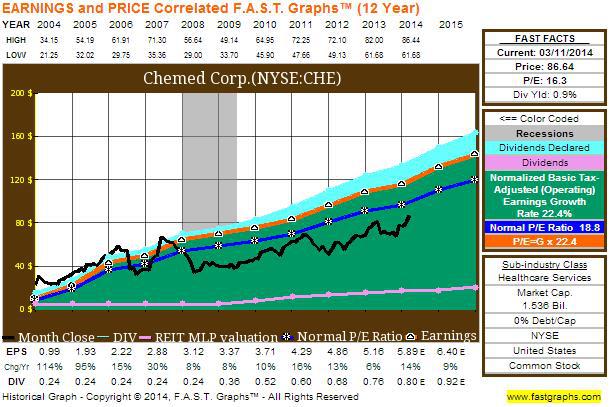 While the 10 year chart shows the stock being significantly undervalued, a shorter time frame of 8 years shows the stock being more in line with fair value, or possibly even slightly above fair value. This is due to a slowing earnings growth rate and the corresponding lower fair value normal P/E ratio.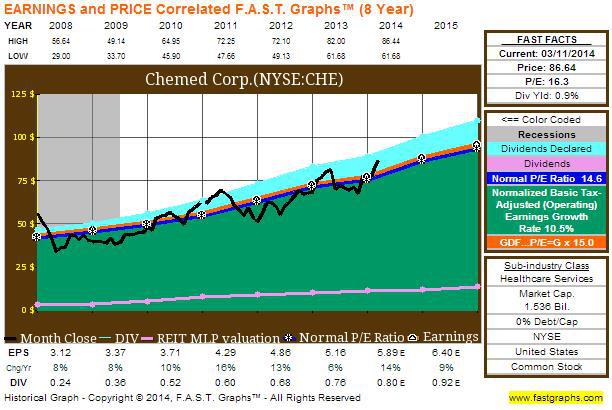 With a lower yield than what was provided by Baxter above, there is less margin for error with Chemed than some of the other stocks presented. An entry point somewhat lower than current prices, more in the $78-$80 range, looks reasonable.
Johnson & Johnson is engaged in the research and development, manufacture and sale of various products in the health care field worldwide. The company operates in three segments: Consumer, Pharmaceutical, and Medical Devices and Diagnostics. The company was founded in 1885 and is based in New Brunswick, New Jersey.
Johnson & Johnson is a member of the Dividend Champions List, having raised its dividend for 51 consecutive years with an average increase over the last 10 years of 10.9%.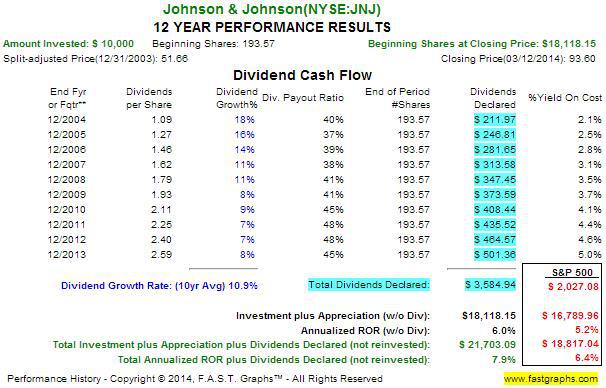 Earnings growth has been fairly consistent over the years; there was only one year of negative EPS growth and the company was able to provide an annual growth earnings growth rate of 7.4%. Between capital appreciation and dividends paid, the stock was able to produce market beating returns of 7.9% annually over that period.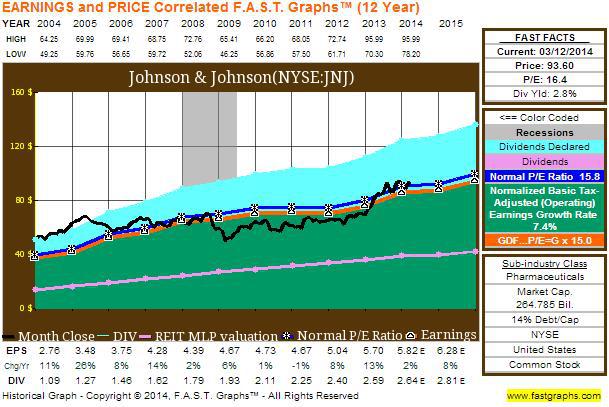 Johnson & Johnson is a similar story to Chemed as the shares are touch above fair value at current prices. A pullback to the high $80's would provide a decent entry point.
Medtronic, Inc. manufactures and sells device-based medical therapies worldwide. The company operates in two segments, Cardiac and Vascular Group (pacemakers, implantable defibrillators, ablation products, stent graft systems, heart valve replacement technologies), and Restorative Therapies Group (bone graft substitutes, biologic products, implantable neuro-stimulation therapies, drug delivery devices). The company was founded in 1949 and is based in Minneapolis, Minnesota.
Medtronic is a member of the Dividend Champions List and has raised its dividend for the last 36 consecutive years, with an average annual increase over the last decade of 15.9%. The payout ratio has slowly crept up over that time, from 18% to 29% over the period.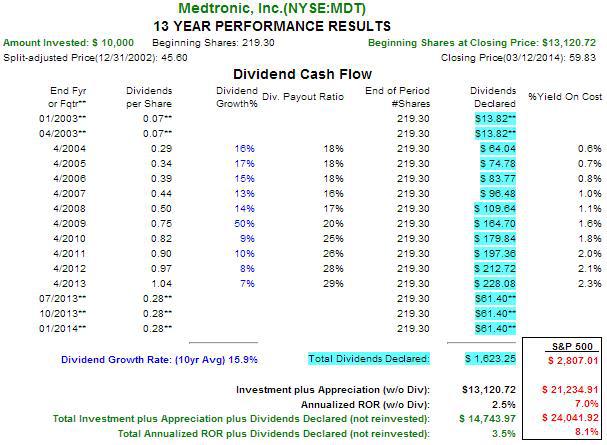 In looking at the historical price chart below and the total rate of returns above, Medtronic provides an excellent example of the importance of buying stocks at appropriate valuations. The stock was trading at speculative valuations from 2003 until the recession of 2008/2009 and only just recently matched the price of near $60 that was achieved in 2006. During that time frame the company has continued to grow its business by more than doubling earnings from $1.64 to a projected $3.82 and more than tripling the dividend from $0.29 to $1.12.
Because the stock was trading at such lofty valuations at the beginning of the period the stock produced total returns of just 3.5% annually despite growing earnings at an 8.9% rate.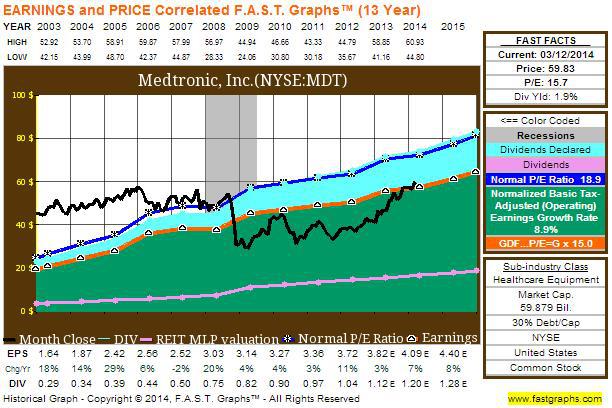 With the stock now trading near fair value and with earnings projected to grow at a 6.8% clip going forward, 7-9% total annual returns with dividends could be expected in the years ahead.
UnitedHealth Group Inc. operates as a diversified health and well-being company in the United States. The company offers health benefit plans and services for a wide range of employers and individuals. The company also provides software and information products, consulting services, pharmacy benefit management services and claims processing services. The company was founded in 1974 and is based in Minnetonka, Minnesota.
UnitedHealth is a member of the Near Challengers List, having raised its dividend for the past 4 years as it has significantly boosted the payout from an annual rate of $0.03 in 2008 to the current $1.12 level. I expect the company to once again raise the dividend with the next authorization as the last four payments have been at an equal level and they have shown a recent track record of consistent increases.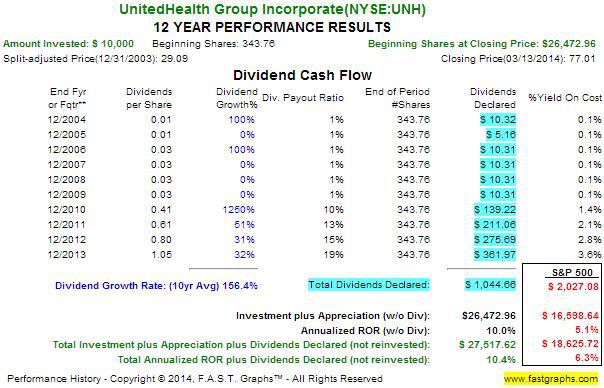 The company has also provided consistent increases in earnings as they have grown at an 11.1% rate over the last 10 years. With the stock having a low payout ratio of only around 20% of earnings, the dividend appears to be well covered and future growth in payouts could be expected to meet or exceed the earnings growth rate going forward.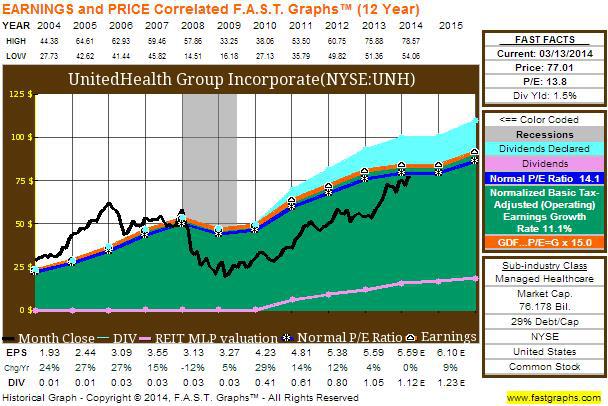 The stock is not without risk as there are still questions associated with the uncertainty of the impact of the ACA on insurers, which has resulted in the company projecting flat year over year earnings growth in 2014. However, analysts are projecting growth to once again continue the following year and in the years ahead.
Summary
The market proved to be stingy in giving deals when it came to the Health Care Sector. With a smaller list of candidates to choose from, it was difficult to find any big bargains among the group. UnitedHealth appears to be the cheapest at current levels with the others trading right near fair valuations.
There is still some uncertainty in the sector as questions as to the effects that the Affordable Care Act will have on earnings. In my personal opinion, there are more knowns that unknowns at this point and these companies should be able to continue growing their earnings and dividends at attractive rates going forward.
With the next part in the series, we will be taking a look at the deals in the Industrials Sector of the market.
Disclosure: I am long BAX. I wrote this article myself, and it expresses my own opinions. I am not receiving compensation for it (other than from Seeking Alpha). I have no business relationship with any company whose stock is mentioned in this article.
Additional disclosure: I am a Civil Engineer by trade and am not a professional investment adviser or financial analyst. This article is not an endorsement for the stocks mentioned. Please perform your own due diligence before you decide to trade any securities or other products.