Costco Wholesale Corporation (NASDAQ:COST) may not be a good return generator in the short run despite being able to produce a price appreciation of 12% over the year. It still is a good bet if you want a stable company that continues to be profitable over the long run. The organization just reported its second quarter result last week and delivered a performance that might look weak on the surface.
In this article, I will go through the company's latest performance and determine how it was more impressive than what it may have appeared to be. Later, I will discuss why investors do not have to worry about the future revenue potential of the company.
The Quarter
Positive comparable sales stood at the forefront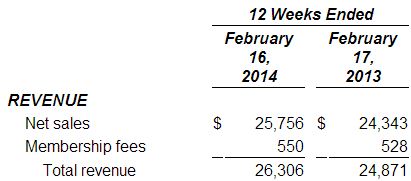 Source: Earnings Release
The company reported its total sale of $26.3 billion, reflecting a nearly 6% jump from last year's figure. The result was below what analysts expected, but given the industry's three year average growth rate of 5.5%, this was good to me. Even though comparable sales stood at half of the total growth at 3%, digging deeper revealed that it could have been higher at 5%, with the highest growth coming from international sales at 7% had gasoline price deflation and foreign exchange not put a dent in operations.
The company runs at strict margins that leave little for profit. That's their main selling point that drives lower prices and attracts customers. Therefore, merchandising costs remained significant but in control, rising proportionately to high sales and leaving a side-line of just 10% for the company. A majority of the operating income Costco derived was from its membership fee that jumped 4% from last year to $550 million and accounted for 76% of the total operating income.
EPS was Distorted due to Comparability Issues
Even though all went well for the top line it was the bottom end that received a hit with diluted EPS falling more than 15% to $1.05. This was owing to several reasons; the most important was a tax benefit of $0.14 per share that distorted the previous year's results for comparison purposes and accounted for the near 10% drop in earnings. The rest was attributable to several factors, which included weaker sales and gross margin in non-food categories, particularly during the four-week holiday season; weaker margins in the fresh foods business and a lower reported international profit from the significantly weakening foreign exchange rates.
Hence, a better product mix and currency hedging would have eliminated the earnings drop. Concluding the above results the quarter wasn't as bad as it seemed. Most important was the fact that the top line stayed positive. Focusing on that, I have some reasons that I believe will help investors understand that there's still plenty of growth left for the company.
The Future
Giving A Little Usually Results in Taking a lot
Costco enjoys an abundant 90% renewal rate when it comes to memberships. Since those memberships account for 76% of the operating income they are a vital source of earnings. To ensure this rate is sustained the company continues to provide some items even at a loss. For example, when poultry costs rose last year Costco absorbed those cost increases instead of passing them on to consumers. By continuing to sell rotisserie chickens for just $4.99 the company took a profit burn in the short run.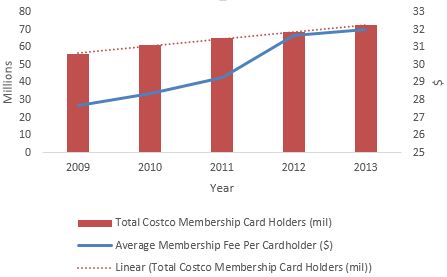 Source: Trefis
But this is going to pay off long term since poultry costs are coming back on track and already easing the company's burden. Of course, my point is to not talk about chickens, but to explain how I believe this renewal rate will be sustained and the fact that earnings will not drop in the future. Foregoing some profit today for long term leverage is a good initiative Costco has taken. That is why the company has enjoyed a growing member base since 2009 (see graph above).
International Opportunities are Limitless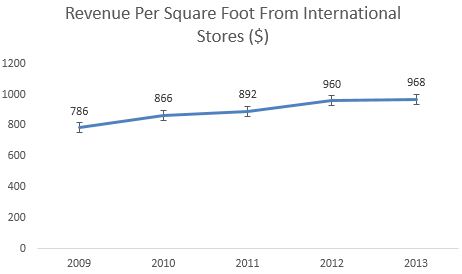 Source: Trefis
With regards to global expansion, Costco is experiencing rising per square foot revenue from its international operations (see graph above). I believe this trend will continue because the company still hasn't expanded abroad to its full potential. More than 80% of Costco's business is still in the U.S. and Canada. The international market offers higher growth because warehouses are less prominent abroad and buyers still get discounts based upon pre-existing business relationships.
With that, Costco is attractive especially to business clients who account for the majority of the company's merchandise sales since it offers cost savings without any formal relation by being solely reliant on membership. Buying in bulk requires less negotiation and is a standardized procedure that takes away price uncertainty since buyers usually buy at below market value.
Out of the 649 stores, more than 80% are located domestically if we include Canada too. This leaves Costco with potentially large opportunities abroad. Given past results, it seems that the expansion will be a success.
Bottom Line
Perhaps when Costco believes that margin generation from local operations become insufficient it will direct its resources to expand abroad. With a high renewal rate and growing revenue per square foot it is not certain whether the firm will have any top line difficulty in the future. That leaves us with only bottom line worries. With the hope that Costco will manage its currency hedging more effectively and provide a better product mix I believe the company is a good long term investment. Since the price was depressed after the announcement of the quarterly results the moment provides the best time to buy Costco. Therefore, I recommend buying the stock.
Disclosure: I have no positions in any stocks mentioned, and no plans to initiate any positions within the next 72 hours. I wrote this article myself, and it expresses my own opinions. I am not receiving compensation for it (other than from Seeking Alpha). I have no business relationship with any company whose stock is mentioned in this article.