In our modern society, we value short-term thinking, noise, attention hooks and instant gratification. And we clearly don't value long-term thinking, thoughtfulness and a solid long-term plan for building wealth. Reflection and inaction take a backseat to being busy -- after all, the investor ego requires constant affirmation. The Jim Cramers of the world are louder and more appealing to the investment community. The Warren Buffetts of our time, however, are clearly in short supply.
Jim Cramer, in my opinion, represents everything that is wrong with today's investment culture; trying to make a quick buck, trading around and Twittering stock tips has become a way of satisfying investors' needs for permanent stimulation. Warren Buffett's famous quote that "there is nothing wrong with growing rich slowly" has become irrelevant.
Jim Cramer certainly does his part to promote ultra-short holding periods and constant trading.
Some time ago, I wrote a piece about the incentives in the finance industry that aim at keeping you busy and stimulate you to be active - no matter what your costs are going to be. For the sake of your convenience, I reproduce the relevant passage below. It was part of a BlackBerry (NASDAQ:BBRY) article, in which I described Wall Street (of which Jim Cramer is a standard bearer), its motivations and emotional biases that ultimately lead investors to infinitely chase hot stocks:
Herding mentality

One of the key challenges when it comes to investing is reflected by Wall Street analysts and their portrayed herding behavior. Analysts bounce their ideas back and forth with other analysts and are mostly surrounded by individuals who work and think with one goal in mind: To stimulate investors to act, to trade, to sell, to engage in transactions.

They usually know their industry and the businesses in it, but they are surprisingly poor in forecasting inflection points. Consequently, their target prices for stocks are continually revised upward in bull markets and continually revised downward in bear markets. Investors, listening to mainstream Wall Street analysts, are unlikely to get good investment advice. The bottom line is: Investors should not want to be part of the herd and constantly trade in and out of positions which benefits the broker and rarely the investor.
And Jim Cramer clearly is the leader of the herd.
While I don't think that Linn Energy (LINE) in particular is a crowded trade or that an investment would be extremely contrarian, Cramer's recommendation to ditch Linn Energy certainly contributed to the decline in Linn Energy's share value this week. Linn Energy quoted at $30.90 on March 10, 2014, when Cramer talked about "swapping out of Linn Energy", and is down approximately 7% since Monday.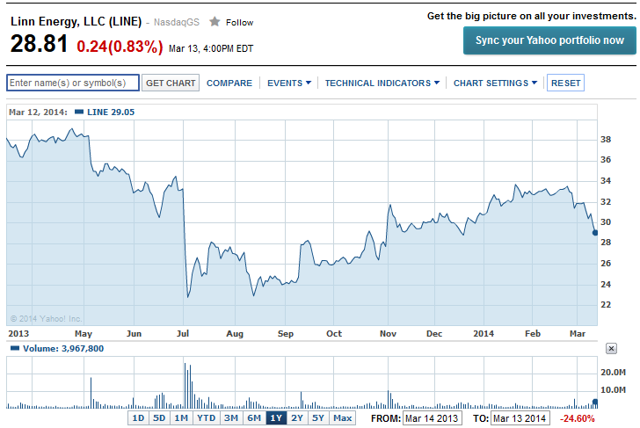 Source: Yahoo Finance
Apparently, he now favors Kinder Morgan Energy Partners (NYSE:KMP), which I hold in my income portfolio as well. I view a Jim Cramer recommendation with a high degree of skepticism, since it usually means that a herd of short-term thinkers are impacting the share price of the company and adding to volatility. Even if I hold a long position in a stock, as in the case of Kinder Morgan Energy Partners, I prefer to not have the "Cramer crowd" in my investments.
Linn Energy's minor sell-off after Cramer's announcement, however, allows investors to pick up the independent oil and gas company at a higher yield. Linn Energy pays investors $0.2416 monthly ($2.90 annually), which translates into a forward annualized dividend yield of 10.1% - which is at the higher-end of the yield spectrum.
Linn Energy has embarked on a massive acquisition spree over the last seven years, propelling the oil- and gas company in enterprise value rankings to rank number twelve (see chart below). After Linn Energy's Berry acquisition, the company is now determined to focus on its existing portfolio development, capture synergies in the Permian Basin and monetize its Wolfcamp assets in the Midland Basin.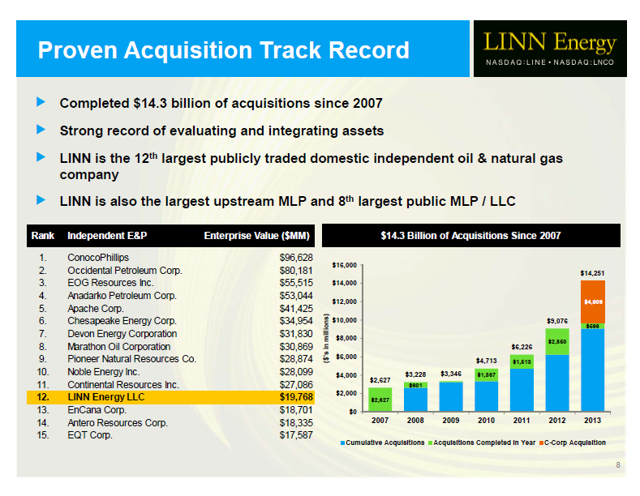 Source: Linn Energy - Raymond James Institutional Investor Conference Presentation March 4, 2014
Conclusion
I can't help but like Linn Energy, especially when considering that Jim Cramer and his herd are out of the picture. Linn Energy has a lot of potential as an independent oil- and gas company in a booming industry, even if it means that the company will grow slower on an organic basis. I think the market will regain confidence in Linn Energy when the company has proven that it can grow organically and is able to carry on with its current distributions.
With an estimated distribution coverage ratio hovering around the 1.00x level, it is my opinion that distributions are relatively safe in 2014, although I don't necessarily expect distribution increases. With first-class development assets in the Permian- and Midland Basins, Linn Energy also has the potential to surprise to the upside from an operational point of view. At the same time, Linn Energy is a promising long-term income vehicle, with a 10% yield. Long-term BUY.
Disclosure: I am long LINE, KMP, BBRY. I wrote this article myself, and it expresses my own opinions. I am not receiving compensation for it (other than from Seeking Alpha). I have no business relationship with any company whose stock is mentioned in this article.