In my recent HTGC update I have upgraded the risk profile for Hercules Technology Growth Capital (NASDAQ:HTGC) for many reasons including the willingness of management to make long-term decisions in the best interest of the shareholders instead of trying to increase net investment income ("NII") by quickly growing the portfolio and potentially sacrificing credit quality and/or portfolio yields. The amount of competition in the lending/BDC sector has been on the rise since the financial crisis leaving BDCs to make difficult decisions regarding dividend coverage. Many of my articles discuss using borrowings to leverage equity capital and increase returns but this is one of the easiest levers to pull and should only be used as a last resort. Other strategies include investing in riskier assets, accepting lower yields for the same type of investments or some of the more quality BDCs have chosen to selectively pick investments with higher yields and lower risk senior type debt investments. This involves restraint from management and the potential of having a few quarters where NII may not fully cover dividends. Of course there is the option of cutting dividends to match the NII generated from the portfolio. This is what Fifth Street Finance (FSC) chose to do last year and investors are still discounting the stock because of it.
MCG Capital (NASDAQ:MCGC) has been struggling to cover dividends of $0.50 per year on a run-rate basis after already cutting dividends in late 2012. Analysts have been actively cutting EPS projections from $0.49 to $0.30 for 2014. The question is how is MCGC going to cover dividends in the future or are shareholders going to see another cut? The CEO mentioned on the last call "Market conditions remain very challenging and in our view consistent with a peak of a credit cycle, in a noteworthy development we now observe small business commanding pricing and terms typical of larger companies. Leverages is rising, pricing continues to decline and contractual terms are becoming more favorable to issuers." This puts MCGC in a tight spot as other BDCs having been experiencing as well. The good news is that MCGC has plenty of potential capital for portfolio growth especially after taking into account that most of its current borrowing are SBA debentures and excluded from regulatory required leverage ratios. The question is what should MCGC do in a lending environment that is facing these challenges?
In an open letter Accretive Capital Partners, a major shareholder, pushed the board to take action to remove the CEO and "abandon plans to grow loan origination staff, and instead, focus on managing and monetizing portfolio assets to avoid additional losses." This is consistent with what HTGC has chosen to do and one of the reasons that I have upgraded its risk profile. I believe HTGC will continue to strategically choose quality investments with higher amounts of growth in the following quarters. The following are statements from the recent call:
"Our historical strong credit performance continues. As we took advantage of a very sloppy market, we took advantage of divesting many marginal credits and improving our credit outlook for 2014."

"we're building our cash balances right now and because we continue to under-invest in technology, I expect to see Q1 earnings to be down between $0.02 to $0.04 simply because we're sitting on a higher cash balance than we had initially anticipated, because we do not like some of the underwriting parameters or pricing that we're seeing in our marketplace today."

"That said, as of February 24, our pipeline remains extremely strong with over $1.4 billion of companies seeking financing and capital from Hercules. We remain extremely judicious in our underwriting standard and maintaining credit quality the way we have and we refuse to play the yield game by reaching down to buy transactions or giving up yield at least for the time being."

"We continue to focus on expanding our strategic direction. In 2014, we expect to make some major announcements on strategic initiatives that we are working on. We are working on expanding our product offering, our strategic partnerships and including potential acquisitions of certain portfolios. We had another interesting development occur recently that's encouraging, and that is two of our competitors have now shuttered their operations and have shut down and are in liquidation mode."
As I look at the different strategies employed by BDCs I am continually looking for restraint by management to make decisions that are not necessarily popular but in the best long-term interest of the shareholders. I am currently updating my vintage analysis to monitor and assess risk levels, using it as a starting point for further analysis based on the analysis of loans originated during a specific time period. Prior to the recent credit crisis, covenant light loans were popular among BDC investments and lead to the rise in non-performing loans and reductions in NAV. I believe we are seeing this again and I discussed these risks in relation to KCAP Financial (NASDAQ:KCAP) in my article "KCAP Financial: Will It Continue To Fall?" that specifically discussed the potential for its NAV per share to see declines in the coming quarters. For those readers who do not have access to that article this is the table I used at the time to project potential NAV issues with BDCs such KCAP, American Capital (NASDAQ:ACAS), Apollo Investment (NASDAQ:AINV), Gladstone Capital (NASDAQ:GLAD), BlackRock Kelso Capital (NASDAQ:BKCC) and of course MCGC. I did not have the information for Full Circle Capital (FULL) at the time but it would have been in the risky section as well. It is important to note that GLAD's NAV had already had significant declines through June 30, 2013 with the fair value of its portfolio at 72% of original cost and over the last six months that has improved significantly and increased it NAV per share by 17%.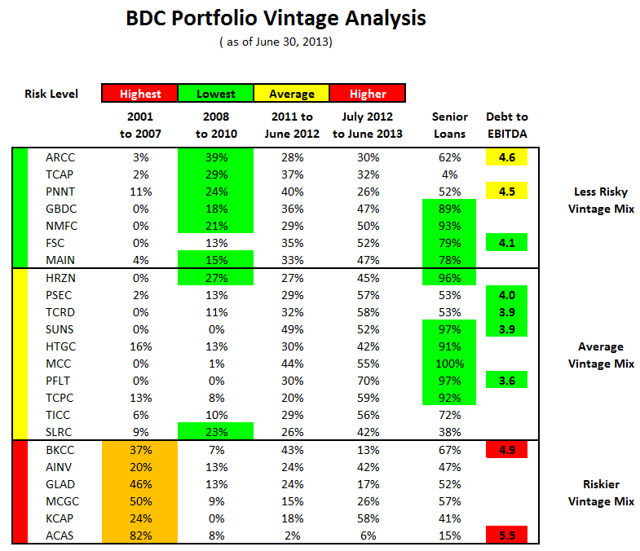 There are a few warnings signs that a BDC might be investing in riskier assets and these are some of the things I look for:
Portfolio yields continuing to increase when they are already higher than average
Portfolio mix increasingly weighted toward subordinated debt
Higher than average portfolio growth during times of increased competition (especially for BDCs that invest in subordinated debt and have higher yields)
The table below breaks out a few of these items for each BDC.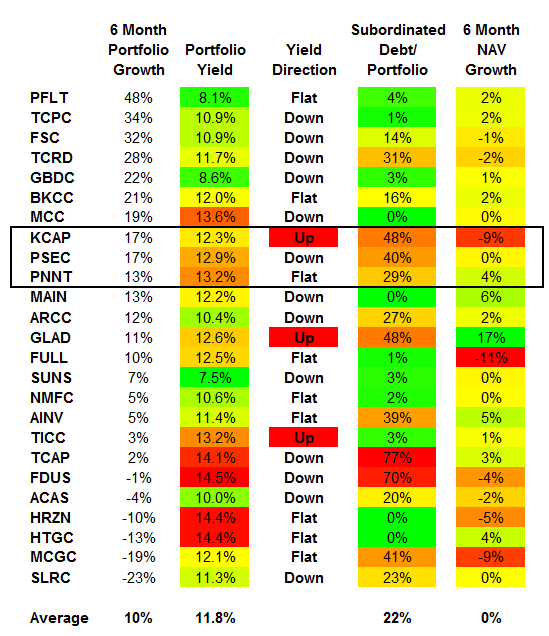 This is a shortcut that I use to analyze potential increases in risk related to vintage. In other words the BDCs that are growing portfolios faster than the others, with subordinated debt at higher than average yields in a lending environment with increased competition that should be driving yields down, are more likely to be investing in riskier loans. This could be in the form of covenant light loans or companies that have higher amounts of leverage or lower debt service coverage. There is no way to measure these issues for each company because they are not required to provide it. Over the next few weeks I will perform a more accurate vintage analysis that looks at each investment with origination dates, yield and type of loan (senior/sub/mezz/unitranche/structured products/etc). For now I believe that KCAP, Prospect Capital (NASDAQ:PSEC) and PennantPark Investment (NASDAQ:PNNT) may have increased risk from a vintage standpoint because they have higher than average portfolio growth rates over the last six months along with higher than average amounts subordinated debt or structured products such as CLOs and higher than average portfolio yields. Most likely this was because they are trying to increase returns to shareholders and cover dividends.
So back to the question of what MCGC should do to cover dividends in the coming quarters in this lending environment. Other BDCs like HTGC have more maneuvering room for various reasons including recently being able to cover dividends, having spillover income as a cushion, growing NAV per share, higher quality investments with over 90% in 1st lien senior secured debt, plenty of cash and the continual harvesting of capital gains from portfolio companies going public or being acquired as discussed in "HTGC: March 2014 Report". In my opinion MCGC should take the advice from Accretive Capital and focus on managing and monetizing portfolio assets to avoid additional losses but at the same time ramp up origination efforts and be more selective about investments going forward with an increased focus on senior debt at lower yields and realign the dividend to match NII.
Investors should only use this information as a starting point for due diligence.
Disclosure: I am long HTGC, MAIN, TCPC, FSC, ARCC, FDUS, TCRD, PSEC, NMFC. I wrote this article myself, and it expresses my own opinions. I am not receiving compensation for it (other than from Seeking Alpha). I have no business relationship with any company whose stock is mentioned in this article.
Editor's Note: This article covers one or more stocks trading at less than $1 per share and/or with less than a $100 million market cap. Please be aware of the risks associated with these stocks.