The US dollar has strengthened against the euro in the past few months, and the euro trades at 1.19 to the dollar today. In 2008, the exchange rate reached nearly 1.60. One theory suggested by some fund managers to support the case for investing in Europe is that the falling euro should help eurozone exporters as their products become cheaper. As Germany is the largest economy in Europe and also has the largest export oriented-economy, German exporters would benefit from a cheaper euro.
From a press release today:
"According to provisional data of the Federal Statistical Office (Destatis), Germany exported commodities to the value of Euro 75.3 billion and imported commodities to the value of Euro 61.9 billion in April 2010. Hence, German exports increased by 19.2% and imports by 15.7% in April 2010 against April 2009."
Factory orders rose 2.8% in the month of April suggesting exports are picking up as domestic demand is weakening. (Click to enlarge)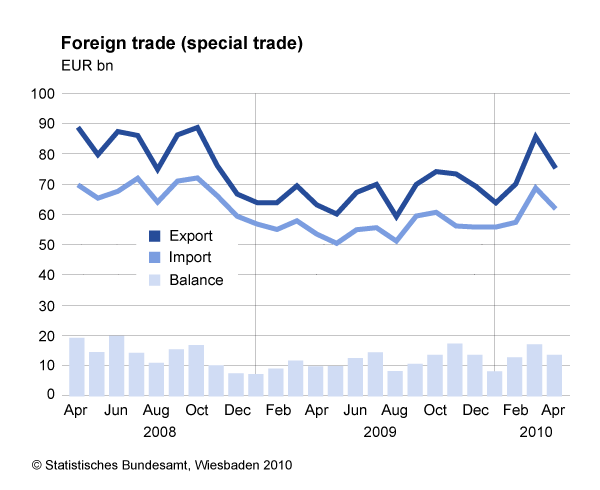 Last year Germany exported goods worth 803.2 billion euro and imported goods worth 667.1 billion euro, creating a foreign trade surplus of 136.1 billion euro. 63% of all goods were exported to EU countries in 2009 and the rest to other parts of the world. Asia accounted for about 14% of German exports.
In order to identify the largest German companies based on revenues I used Fortune magazine's Global 500 list for 2009. Some of these German companies are listed below with their ADR ticker and current dividend yield:
Volkswagen (VLKAY.PK)
Current Dividend Yield: 2.62%
Daimler (DAI)
Current Dividend Yield: 1.27%
E.ON (OTCPK:EONGY)
Current Dividend Yield: 6.54%
BASF (OTCQX:BASFY)
Current Dividend Yield: 4.38%
RWE AG (OTCPK:RWEOY)
Current Dividend Yield: 6.71%
Bayer (OTCPK:BAYRY)
Current Dividend Yield: 3.34%
Continental (OTCPK:CTTAY)
Current Dividend Yield: N/A
Siemens (SI)
Current Dividend Yield: 2.59%
Henkel (OTCPK:HENKY)
Current Dividend Yield: 1.75%
Deutsche Telekom AG (DT)
Current Dividend Yield: 9.41%
ThyssenKrupp AG (OTCPK:TYEKF)
Current Dividend Yield: 1.67%
BASF is the largest chemical company in the world. Siemens has a strong presence in many emerging markets. Henkel is a consumer products giant whose brand portfolio includes some of America's best-known brands such as Dial soaps, Purex laundry detergents, Right Guard antiperspirants and Loctite adhesive.
Since most of the firms noted above trade on the OTC markets, another easy way to gain exposure to German equities is via the iShares MSCI Germany Index ETF (NYSEARCA:EWG) or the closed-end fund The New Germany Fund (NYSE:GF).