In the pre-crisis world investors expected emerging market economies to continue to grow at above developed market levels and for emerging market GDP per capita to continue to converge to developed markets. More recently, the growing expectation of Fed monetary tightening and expectation of a stronger dollar have helped set in motion a significant reduction in emerging market exposure. Many global investors are now undoubtedly underweight emerging markets but we believe that too many of these are in fact underweight versus a neutral benchmark that continues to assume that this long term pattern of convergence will ultimately return.
We assert as an imperfect analogy that a high equity market capitalization as a percentage of GDP is effectively pricing in expected future growth in the same way that growth stocks trade at high multiples to current earnings. We believe that a relative slowdown in emerging markets and a risk of one or more country succumbing to the middle income trap point to this future growth not being achieved and is not priced into emerging market equities.
The asset allocation implication is that the benchmark to which many investors still aim to revert as the global recovery gathers pace is itself too heavily weighted towards emerging markets. While previously prevailing convergence based allocation to emerging markets may be anywhere from 20% to 50% within a global portfolio we suggest a more realistic weight nearer to 10-15%.
In this analysis we focus on the following major developed and emerging market countries represent 82% of current World GDP (IMF PPP for 2013) and 86% of current World listed equity market capitalization (World Bank for 2012).
| | |
| --- | --- |
| Developed Markets | Emerging Markets |
| | |
| Australia | Brazil |
| Canada | China |
| Eurozone | India |
| Japan | Indonesia |
| South Korea | Malaysia |
| United Kingdom | Mexico |
| United States | Poland |
| | Russia |
| | South Africa |
| | Turkey |
We suggest that historically (i.e. pre-crisis and pre- emerging market euphoria) an obvious neutral benchmark for a global asset manager would have been to allocate according to current market capitalization which would now result in a allocation of 21% to emerging markets and 79% to developed markets.
In pre-crisis times the expectation among many emerging market investors was for GDP to grow at a significant premium over developed markets and for emerging market GDP per capita to inexorably converge to developed market levels.
Looking back to the early 2000s many emerging markets had GDP per capita at 20% or less than developed markets suggesting that the potential gains from convergence were too great to ignore. This economic convergence was also expected to be accompanied by growing inward investment resulting in a deepening of financial markets, growth in equity market capitalization and appreciation of currencies. In 2002 equity market capitalization in many emerging markets was around 30% of GDP compared with average levels of 50-60% in the Eurozone and Japan and as much as 100-120% in the US and Anglo-Saxon economies adding weight to the idea of convergence potential.
| | |
| --- | --- |
| Emerging market nominal GDP has continued to grow... | ...but relative emerging market equity capitalization has declined |
| | |
With this expectation of convergence in GDP per capita and convergence in equity market capitalization as a percentage of GDP many investors considered the likely change in relative allocation weight of emerging markets that could occur over their investment horizon. It is clear that an expectation of convergence over an extended time period suggests that relative allocation to emerging markets should move further towards a GDP weighted allocation rather than a current market capitalization weight in order to capture the anticipated impact of that convergence on market capitalization based benchmarks. Indeed, an expectation of continued emerging market growth could naturally suggest an allocation based on GDP weights at some forward date reflecting a multi-year investment horizon.
Under the assumption that emerging market currencies would continue to appreciate it could also make sense to consider an emerging market allocation based on a forward PPP adjusted GDP weight. We are not suggesting that even in the most euphoric times that a majority investors had such optimistic emerging market allocations but some no doubt veered toward such extremes.
We have calculated the allocation weights that would result for emerging markets in today's world under optimistic convergence scenarios based upon current GDP and forward GDP and then under alternative less optimistic and we believe more realistic scenarios. At this point we reiterate that we are trying to establish a neutral benchmark allocation against which we would likely be underweight at this point in the cycle but which we would aim to increase allocation towards as global economies recover.
We believe that before the recent emerging market sell off many investors would have and an equity allocation corresponding to somewhere between current market capitalization and forward GDP weights and that even after the recent exit investors on average may still have a higher allocation than implied by current market capitalization. Our central scenario is lower still than a current market capitalization weight to emerging markets and we caution that all too reasonable assumptions on growth and middle income trap could lead to even lower allocations.
Emerging market allocation vs Developed markets based on various weighting assumptions

Our Central Scenario
The underlying assumption for our central scenario is that equity market capitalization as a percentage of GDP is effectively pricing in future growth in the same way that a growth stock trades at high multiples to current earnings. If emerging markets do not in fact grow as fast as previously expected and do not continue to converge with developed markets then the current market capitalization as a percentage of GDP will decline to price in this new lower growth outlook.
The analogy between market capitalization to GDP and price earnings ratio is not perfect. As we have already noted the developed markets themselves have widely differing market capitalization to GDP and this is due to structural and cultural factors which influence factors including the extent to which companies prefer public listed markets to private ownership and the extent to which companies prefer bank financing over market financing. With this in mind it not necessarily obvious whether the end point of convergence for any given emerging market country is destined to be 60% or 120% market capitalization to GDP. This may not be relevant for a country where market capitalization to GDP is currently at 25% but can quickly become an important consideration as convergence progresses.
| | |
| --- | --- |
| GDPs per capita converge at different rates and some have stalled | Equity mkt caps are still relatively high. Argentina shows how far they can fall. |
| | |
We use current market capitalization as a percent of GDP as our baseline representing a level around we believe the majority of investors will base their allocation to emerging markets. In order to put some boundaries around a central scenario we consider the market capitalization as percent GDP in 2002 corresponding to a time after the Asian crisis but before the sustained increase in emerging market valuations which peaked in 2007. The year of 2002 also corresponds to the period of growing awareness of emerging markets amongst a broader investor base driven in part by the coining of the BRIC acronym in 2001.
As a central scenario we believe that emerging market valuations still contain an element of froth but that not all of the gains since 2002 are unjustified. We adjust the market capitalizations as percent of GDP in our selected emerging market countries as follows.
Country level assumptions for equity mkt cap to GDP scenarios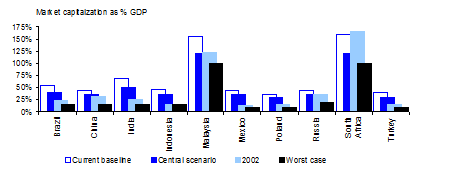 The global asset allocation implications for these country level assumptions is that the weight of emerging markets could fall from the 21% implied by current market capitalizations to 17% in our central scenario. In less optimistic scenarios we could see all the pre-crisis euphoria taken out of emerging market valuations returning market capitalization to GDP to 2002 levels resulting in a 14% allocation to emerging markets or in the event of a more widespread middle income trap among emerging markets the appropriate weight could fall to just 8% of a global portfolio.
Data sources: IMF, World Bank
Disclosure: I have no positions in any stocks mentioned, and no plans to initiate any positions within the next 72 hours. I wrote this article myself, and it expresses my own opinions. I am not receiving compensation for it. I have no business relationship with any company whose stock is mentioned in this article.