A couple of years ago, I had written some code to facilitate stock selection. You can read about the build-out of that system here. Recently, some of the output of that model is being published online, and you can see a list of the top and bottom 20, for large, mid, and small cap stocks here. You can view additional information for any specific stock here. Any stock selection software or screener is at best a start point. I see Microsoft (NASDAQ:MSFT) on the top 20 large cap list. I like Microsoft and so I decided to run through some numbers to see what long-term return potential the stock might offer.
As you can see from the quote for Microsoft, the stock is rated a strong buy. Additionally, information gained through the analysis of several key indicators suggests that the stock is attractively valued, with very decent recent momentum, good ownership quality indicated by high institutional and insider ownership, and excellent return quality indicated through return on equity indicators. The weakness is on the company's growth indicators.
Some investors like to select what they see as the best stock in a sector. Others prefer to select what they see as the best stock in an industry. And there are yet others, who simply want to own what they see as the best stock available, without regard to the sector or industry in which it operates. These are the three main capital allocation styles. The data from analysis of the key indicators suggests that the stock is potentially of interest to people of all types.
People also select stocks to a personal style bias and so we have value, growth, momentum, balanced and agnostic styled investors. While the analysis of the key indicators suggests that the stock has appeal for all kinds of stock selectors, it is of least interest to growth investors. And it would be of no interest to growth investors who don't provide any weightage to indicators other than growth indicators.
Since I wrote the code that provides the model output, let me be clear that I have pride of authorship, but nothing more. I am not marketing the system, and in fact I have little interest outside of curiosity to see where it goes, if anywhere. I am not recommending that you use it, though it would please me greatly if you did! That's pride - and pride must have its fall. So if you do use it, use it as a starting point to do your due diligence - this was intended as a code driven screener: no more. Back to pride and the fall - to try avoiding the fall let's start with a hard-nosed look at the numbers.
Why look at Microsoft now?
Firstly, Microsoft is a mega cap stock. This gives it a defensive character, which appeals to me when I perceive the markets are expensive. Secondly, the stock has a low beta. This adds to the defensive characteristics and protects downside during weak markets. Thirdly, the stock delivers a yield of 2.9%, which is a premium to the market yield. This too adds defensive characteristics to the stock. Finally, Microsoft as recently priced, includes potential alpha. Alpha is the difference between actual returns and risk adjusted returns an investor should expect from a stock. When a low beta stock includes potential alpha, downside protection is provided by the low beta, while upside total return potential is not compromised, because we earn returns from alpha in addition to the lower upside beta driven gains associated with low beta stocks.
However, I believe that we are now either in, or fast approaching the late or mature phase stage of the economic expansion. As I mentioned in a recent post, during such periods, the technology sector has displayed a historic tendency towards under-performance. Thus it might pay to wait.
Microsoft and the Buffett Benchmark
The first page of Warren Buffett's annual letter to shareholders starts with a review of Berkshire's Corporate Performance versus the S&P 500. You can see his most recent letter here. This benchmark compares the growth in Berkshire's book value versus the total return (including dividends) on the S&P 500. While this is not a perfect benchmark, it has merit. Ultimately, the change in book value reflects growth in per-share investments and earnings, which growth in turn will ultimately reflect in market prices. What is a good top level measure of management performance at Berkshire is good enough as a top-level measure of management performance at Microsoft.
How has Microsoft done applying this benchmark?
This table below displays the growth in book value at Microsoft, versus the S&P 500. As you can see, Microsoft has outperformed the S&P 500 by a wide margin. I have omitted dividends from the S&P 500 return, because like Microsoft, the S&P 500 pays out dividends, although current yields on Microsoft are at a significant premium to those offered by the S&P 500. Thus it is appropriate to compare Microsoft's book value (which excludes dividends) versus S&P 500 price gains (excluding dividends).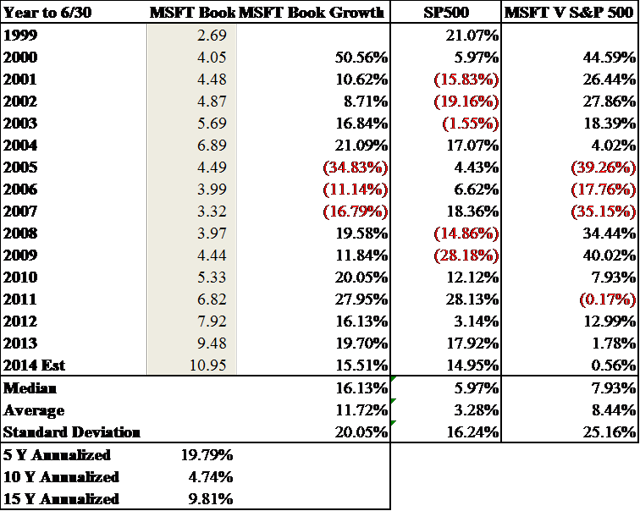 Source: Value Line Report for MSFT and my analysis.
Over the past five years, Microsoft's book value has grown at an annualized growth rate of 19.79%. This compares with annualized growth in the annual average price of 9.93%. Over the past ten years, Microsoft's book value has grown at an annualized growth rate of 4.74%. This compares with annualized growth in the annual average price of 2.65%. Over fifteen years, Microsoft's book value has grown at an annualized growth rate of 9.81%. This compares with annualized growth in the annual average price of 0%. Since the growth in market prices rewarded is lower than the growth in book, it is possible that Microsoft was expensive then, and is cheap now. Alternatively, there has been a dramatic change in forward expectations, which leaves the stock rightly valued now. Which is it? Oddly enough, history tells us that it was expensive then, and is cheap now.
What is Microsoft worth?
Mathematically, the worth of Microsoft is calculated as [1 + Long-term Growth Rate] * Sustainable Earnings * Adjusted Payout Ratio / [Long-term Return Expectation - Long-term Growth Rate].
What is the Growth Rate?
Sales Growth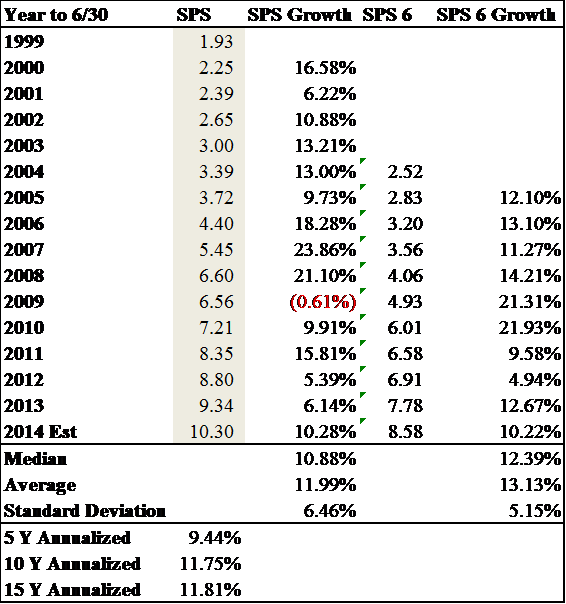 Source: Value Line Report for MSFT and my analysis.
Over-all, annualized growth has been fairly robust these past fifteen years. In recent years growth has slowed. During 2012 and 2013, growth after eliminating growth added as a result of buybacks net of dilution, has been running at an annualized rate of 5.50%. In 2014, sales growth is expected to have tended towards levels in-line with long term averages. The pessimist in me wants to look at a long-term growth rate expectation of 5.3% (roughly 7.2% per share sales growth, net of 1.9% buybacks net of dilution). The realist in me knows that Technology is a cyclical sector, and we should see at least two years of strong growth in a six year cycle, and so I am looking for closer to 7% growth.
There is much to like about Microsoft. But there is much to be frustrated about too. I am not going to get into discussing the challenges ahead of Microsoft, or the opportunities they might be creating. My worry with Microsoft is in its ability to make a success of great stuff. For example, Skype is an excellent tool for voice, messaging and video conferencing. Yet Microsoft has done very little to really popularize and give it profile. It could have been huge, but it's took a relative back seat while young upstarts like FaceTime (developed at Apple (NASDAQ:AAPL)), WhatsApp (purchased by Facebook (NASDAQ:FB)) and WeChat (developed at Tencent (OTCPK:TCEHY)) powered ahead. They seem to be falling behind in innovation in terms of technology, products and design: and that is a worry. What is comforting is that some of their past innovation has many potential years of serviceable life ahead: for now, until something better comes along. And they have scale, which allows them to be profitable "also rans" in several areas.
Earnings Growth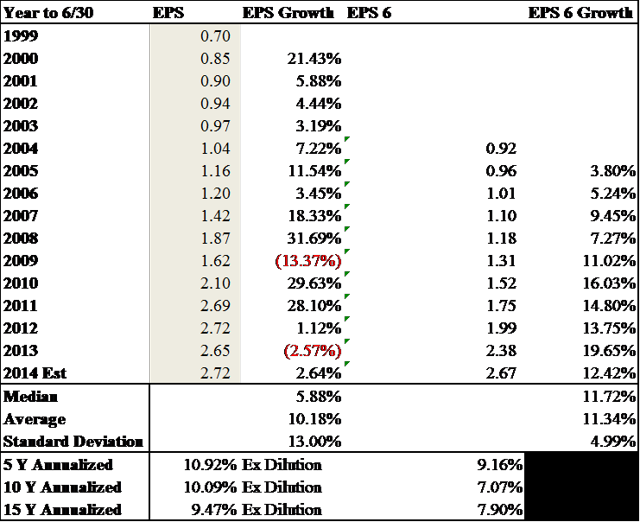 Source: Value Line Report for MSFT and my analysis.
Like sales growth, earnings growth has been robust. But earnings growth has been at slightly lower levels than sales growth. This suggests that the company is unable to meet historic margins on new growth. Also keep in mind that this data is per share growth. After eliminating that part of growth generated as a consequence of buybacks net of dilution, earnings has grown at an annualized rate of 9.16%, 7.07% and 7.9% over the past five, ten and fifteen years respectively. Based on this, I am looking for forward growth of around 7%.
What are sustainable earnings?
Earnings in the technology sector are volatile from year-to-year. When I speak of sustainable earnings, I mean the level of earnings that can be expected to occur over the course of an economic cycle, which can be grown at estimated growth rates over time. I will use the cyclically adjusted earnings per share (EPS6) of $2.67 as an estimate of sustainable earnings.
What is the adjusted payout ratio?
The adjusted payout potential is that part of sustainable earnings that we can expect the company to return to shareholders via dividends and buybacks, net of dilution.
Over the past several years, dividend per share growth has been at median rates of 17.91% (average 23.16%). Over the past five and ten years, it has grown at annualized rates of 15.53% and 20.93% respectively. The median payout ratio is 24%. However, it has been trending up towards 40%. I am looking for a payout through dividends of about 30%, which is near enough the average payout during 2010 to 2014.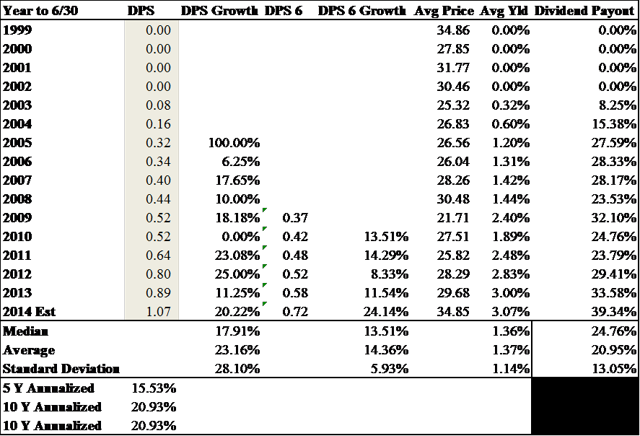 Source: Value Line Report for MSFT and my analysis.
In addition to the payout via dividends, Microsoft has been returning capital via buybacks. In the table below, you will see how the share count has reduced in recent times. Share count is declining at median levels of 1.32% (average 1.5%). Over the past five, ten and fifteen years, share count has declined at an annualized rate of 1.58%, 2.74% and 1.91% respectively. The Buyback $ column in the table below represents the value of shares bought back during a year, at the average price during the year. I divide the Buyback $ by shares outstanding at the end of the year to arrive at a buyback cost per share. The buyback cost per share is divided by earnings per share to arrive at that part of earnings per share paid out to owners via buybacks - the result is in the column labeled Payout. Thus, in addition to payout via dividends, the median payout ratio for buybacks is 9.17%. With Microsoft shares regaining in value, I expect that the payout made via buybacks will decline somewhat. I'd peg it at about 6%.
Thus, going forward, the adjusted payout ratio for Microsoft is expected to be about 36% (30% via dividends and 6% via buybacks).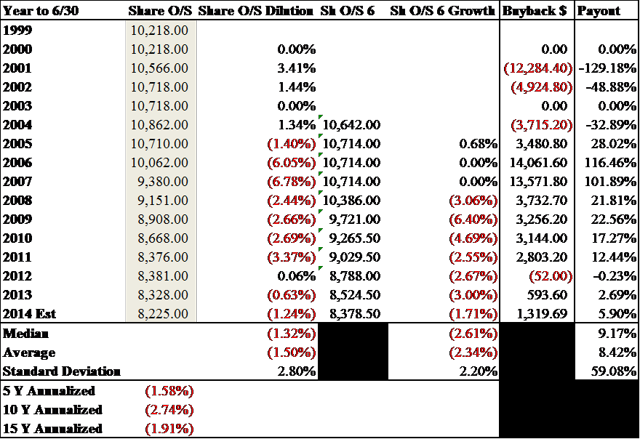 Source: Value Line Report for MSFT and my analysis.
Microsoft is not a capex intensive company. But in recent years the capital expenditure as a percentage of cash flow per share and earnings per share has been rising. In 2014 it is expected to rise to about 27.5% of earnings. So I am looking at 36% of earnings back to shareholders, and re-investment of 30% in capital expenditure and a further 34% in operating expenditure to drive growth of 7%. This re-investment of 70% of earnings will need to earn a return on equity of 10% to generate growth of 7%. Given current levels of return on equity, a 10% return on incremental equity invested is unlikely to be a problem. In fact, they will likely create sufficient firepower for acquisitions, and to hike payouts via dividends and buybacks to a level far higher than the 36% adjusted payout I am estimating.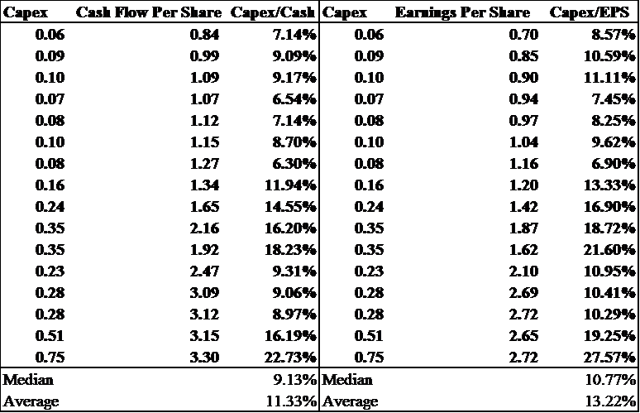 Source: Value Line Report for MSFT and my analysis.
What return should investors in Microsoft expect?
Microsoft has a beta based on a five-year regression, adjusted for beta's tendency to converge to 1, of 0.85. Based on a long-term risk free rate of 4.5%, and a long-term equity risk premium of 5.75%, we arrive in an expected market return of 9.39%: this is what investors should demand. The capital asset pricing model, which adjusts market returns for risk as measured by beta, suggests that investors should expect a long-term return of 9.39% [Risk Free Rate + Beta * (Market Return - Risk Free Rate)] from the stock.
Valuation
Mathematically, the value of Microsoft is calculated as [1 + Long-term Growth Rate] * Sustainable Earnings * Adjusted Payout Ratio / [Long-term Return Expectation - Long-term Growth Rate].
Working with $2.67 in sustainable earnings, a 7% long-term growth rate, an adjusted payout ratio of 36% and an investor return expectation of 9.39%, I value Microsoft at $43.03. Microsoft traded at $37.89 recently. Thus, we have $5.14 in potential alpha: buying at $37.89 provides a potential short-term alpha opportunity of 13.57% of the buy price. And buying at $37.89 also provides 32 basis points of potential very long-term alpha.
Of course with conviction and confidence, the value would be far higher. For instance, if confidence in sustainability of growth were to rise, we could easily see payouts rising to 50% on a sustainable basis. Were that to occur, Microsoft would be worth near $60.
I will end with my usual caution: I have looked at Microsoft and liked what I saw. I do own Microsoft, but have no intention of initiating an additional long position in Microsoft, and as a long only investor, I do not short stocks. This post is not a recommendation of any sort. Nor is it research. Nor can it be considered due diligence. It is merely an idea, or an investment thought-piece: if you like, it is a penny for my thoughts! I'd be delighted if you enjoyed it and it got you thinking, but if you buy, or if you sell, be sure to do your homework, research and due diligence first. If you did not like the post, or the thought that Microsoft does not represent an interesting buy pick - that is fine too. There are two sides to every trade. We need a seller and buyer for two parties to walk away satisfied: if you are a seller of Microsoft, be glad that there are buyers available.
Disclosure: I am long MSFT. I wrote this article myself, and it expresses my own opinions. I am not receiving compensation for it (other than from Seeking Alpha). I have no business relationship with any company whose stock is mentioned in this article.