Rail Business - an Integral Part of the US Economy
The rail transport business is an integral part of the US economy as it transports almost everything from agricultural produce to chemicals, from crude oil to building materials. The rail business will continue to derive its share of transportation in the US economy for a very long time in the future due to its inherent strengths that will be discussed in this article. This article is intended to explore the prospects of investing in rail industry player CSX (NYSE:CSX) that operates in this industry and has the distinctive feature of being a natural monopoly.
Large Economic Barriers of Rail Business
The rail business is very unique with strong cost advantages compared to other modes of transportation entry barriers and this explains why investors should consider investing in this stable industry for the long run.
Air freight is obviously the most expensive mode of transportation of goods. Land transportation through trucks is also very expensive compared to rail transport and can't compete with it. Truck drivers are in short supply even when unemployment is high. Around two hundred truck drivers are needed to transport the goods that just two railroad operators could transport. Fuel efficiency of rail is four times better than trucking per ton mile.
Water transportation is the cheapest form of transportation but it is restricted by the presence of river canals or sea. So, rail transportation has a clear cost advantage over air and road transportation and it has an advantage over water transportation because of its more wide spread reach and availability. This cost advantage is not expected to erode in many decades to come.
The rail business has huge barriers for new entrants since it would be very hard to acquire land needed and would require millions of dollars to build a mile of rail road. Existing railroads already have tens of thousands of lines spread throughout the country.
Important developments for 2014
More Oil on Rails
Rails are expected to freight more oil in 2014 since the construction of Keystone XL pipeline is uncertain due to an environmental report released by the State Department. Canadian oil is transported at a rate of 180,000 barrels per day and this can increase to 700,000 barrels per day by 2014. A Nebraska district judge also passed a judgment against the Keystone XL pine by declaring that it is illegal to force the landowners to let pipeline pass through their property. Infrastructure building is in progress to transport this additional oil. In 2013, CSX carried oil of around 50,000 carloads and this volume is expected to increase by around 50% in 2014; this volume is expected to increase further in 2015.
2. Huge Pressure on Existing Road Infrastructure
Traffic congestion on highways is a big problem for truck transportation. Congestion is a source of delays in delivery and delays can have far reaching negative consequences for the US economy whereas more cost efficient just-in-time production is needed to compete internationally. The congestion problem can only be solved by investments in infrastructure by governments in the US. However, this is difficult due to the currently bad financial position of the governments that are already burdened by debts. CSX along with the other four players of the US rail business have spent an aggregate of $11 billion in 2013 to keep rails working properly and efficiently.
Growth in Intermodal Segment of CSX
The coal transportation segment of the business went down and CSX lost $800 million in the last two years. At the same time CSX worked to grow its intermodal freight segment with the rate at which they were losing their coal business. The intermodal business was created from the partnership of trucking companies that are facing a shortage of truck drivers.
In the recent fourth results for 2013, intermodal revenues increased by 10% compared to the fourth quarter of 2012. CSX expects its intermodal business to grow further and the current volume of transported intermodal containers has the capacity to grow from 3.7 million to 9 million containers in the coming years.
CSX's Revenues Increase with Economic Recovery
With the recovery in the economy CSX is experiencing an increase in its top line. Merchandise segment revenue increased by 10% in the fourth quarter of 2013compared to the fourth quarter of 2012.
CSX sees growth in revenue as the auto industry recovers. Auto sales are recovering; 15.3 million units were sold two years ago, 16.2 million a year ago, and 16.8 million units are expected to be sold this year. The recovery of the automotive industry revenue is expected to contribute further in the coming years to CSX's top and bottom line growth.
Around 6% of CSX's business is from the housing industry. The housing industry is also recovering with 1.13 million units expected to be produced this year, and there is an expectation of around 1.5 million units in the coming years. There is room for growth in this segment.
CSX is expected to have a favorable outlook for its first quarter of 2014. CSX expects a favorable outlook for the transportation of goods that make up 82% of the volume that includes agriculture products, automotive, chemicals, domestic coal, forest products, minerals and intermodal.
The US economy grew at a CAGR of 2% and CSX grew its non-coal business, which makes up 82% of the total business, at a CAGR of 4%. CSX is running efficiently and it's positioned to continue this growth in the coming years.
Decent Returns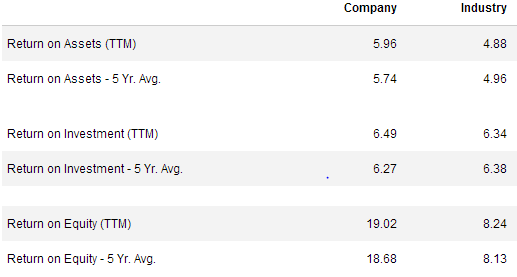 CSX makes decent returns, as can be seen in the table above. Return on asset for trailing twelve months is 5.96% and the average of the last five years is 5.74% and both are above the industry averages. Return on investment for TTM and five year average are near the industry average. Return on equity is more than double for both TTM and the last five years at 19.02% and 18.68%, respectively. This phenomenal return on equity is mainly a result of a high total debt to equity ratio of 91.15% compared to the industry average of 29.32% but for a stable business it's not very risky to lever returns on equity through high level of debts.
Valuation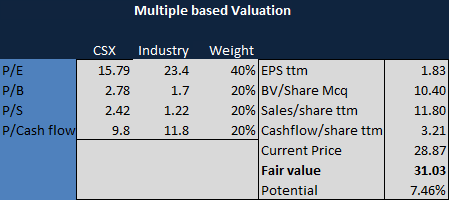 I valued CSX on the basis of relative price multiples. Valuation shows an upward potential of 7.46% on the current price levels.
Conclusion
CSX is included in the list of the world's most admired companies and CSX truly deserves this recognition. In 2013 CSX achieved leadership in safety performance along with record high customer satisfaction, revenues, and EPS. CSX is worth investing in for the long term since it is a key player in the rail industry which is the blood line of the US economy and its importance is not going to change for many decades to come. CSX's valuation shows that it is undervalued at its current price and investors should consider investing in CSX.
Disclosure: I have no positions in any stocks mentioned, and no plans to initiate any positions within the next 72 hours. I wrote this article myself, and it expresses my own opinions. I am not receiving compensation for it (other than from Seeking Alpha). I have no business relationship with any company whose stock is mentioned in this article.