From time to time, there are great start-up stories that challenge the status quo and change the way people think about innovation and businesses. The most famous story in recent years is Facebook (NASDAQ:FB). In its footsteps was WhatsApp Inc., which Facebook acquired for an astounding $19 billion.
Recently, Nguyen, a phenomenon that emerged out of Vietnam and became viral in the western world. This story does not involve billions of dollars in transactions, or a college-dropout who becomes a billionaire. It is about a 28-year-old computer programmer who created a mobile game - called Flappy Bird - that became exceedingly popular in a matter of months. It provided him with $50,000 a day in passive income - an amount that would be envied by many people.
The Flappy Bird Story
According to Rolling Stone, Dong Nguyen created Flappy Bird for fun and for sharing with other players. He could not predict Flappy Bird's success and did not market it other than posting a screen shot and occasional messages on Twitter (NYSE:TWTR).
The mobile game had some initial struggles. It went live on Apple's (NASDAQ:AAPL) App Store on May 24th last year and was lost in the thousands of new apps published there each month. At first, Nguyen thought that his game was a flop - until several months later, when the game went viral on Twitter. Many players complained about how hard the game was and even went to the extreme of cursing it. Other players praised it for its humor, simplicity and addictiveness. By February 2014, his game rose to the top and became the most popular app in more than 100 countries. At its peak, the game provided him with $50,000 a day - all from in-game advertising.
Then, the unexpected happened. Nguyen realized that Flappy Bird was too addictive and that many people's lives were disrupted because of it. For example, some people would complain about the game on Twitter and break their phones in frustration. His "simple life" was also disrupted because of the constant criticism from people around the world and because of the media that was constantly following him. He eventually took down Flappy Bird and stated that he wanted "peace" on his Twitter account. As of now, Flappy Bird is still being played by many players who have already downloaded the game, and it is still generating thousands of dollars for Nguyen each day.
The Rise of Mobile Games and its Implications for Investors
While the Flappy Bird story is fascinating, it is not uncommon for developers to be earning thousands of dollars from the apps that they release on the Apple App Store or the Google (NASDAQ:GOOG) Play Store.
According to a recent Apple Press Release, the company reported that customers spent over $10 billion on the App Store in 2013, including $1 billion in December alone. Apple's developers have now earned $15 billion on the App Store, which is much larger than Google's payout to app developers even though Google's Android Operating System has the largest market share and the most app downloads (source: App Annie Index).
Apple's App Store still earns much more revenue than Google's. The reasons are that iOS users in general tend to spend more money on apps, many developers prefer to develop their apps for iOS first before developing them for Android (due to Android's fragmentation), and apps on iOS are often more optimized than Android's, which creates better experiences for users. Google has larger market shares in mobile OS and app downloads, but when it comes to revenues, Apple's iOS and App Store are far more superior.
The app industry is growing faster than most investors are aware of. According to Gartner, the research group believes that mobile apps will be downloaded more than 268 billion times, and that they will generate more than $77 billion in revenue by 2017. Within the app market, mobile games generate the most revenue (see images below).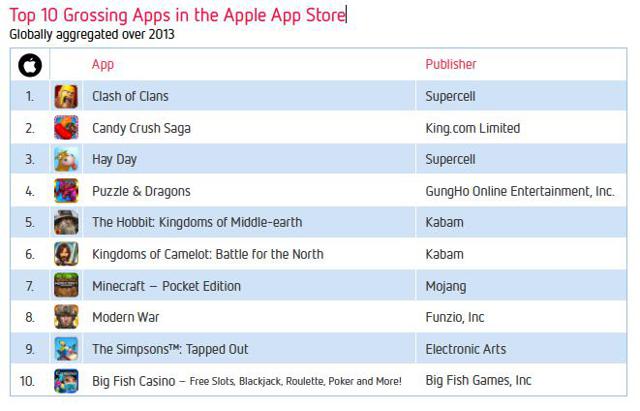 Source: Distimo Publication, December 2013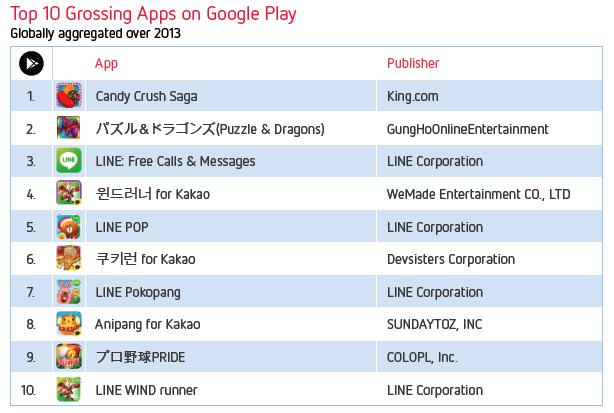 Source: Distimo Publication, December 2013
Since Apple and Google are the two market leaders in mobile platforms, they will benefit the most from the rapid growth of mobile apps. This is shown in Apple's latest quarterly report, which revealed that Apple's iTunes (including the App Store), Software and Services had the largest net sales growth compared to iPhone, iPad and Mac sales (see image below).

Source: Apple's Q1 2014 Financial Report
Both Apple and Google collect 30% of all revenues generated from apps, while the remaining 70% goes to the app publisher. It is an exceptionally profitable business model because the platform providers - Apple and Google - can earn millions of dollars from popular apps - such as Candy Crush Saga and Angry Birds - without spending the money to develop them. The app development costs and risks are shifted to the app publishers.
Should You Invest in Mobile Game Companies?
Since the app industry - particularly mobile games - is growing rapidly, one question you may ask is whether or not to invest in mobile game companies, such as Zynga (NASDAQ:ZNGA) or King (BATS:KING) (an upcoming IPO company and the maker of Candy Crush Saga).
Mobile game companies, like traditional game companies (e.g. Electronic Arts), tend to have unpredictable sales growth and profitability. They often have high development costs and low profit margins. Their businesses are entirely dependent on the popularity of their games. If their games are not popular for any reason, their earnings for the entire quarter would be impacted. Every year, they need to develop new games, invest millions of dollars in research and development, and hope that their games will generate a lot of sales.
Instead of investing in mobile game or app maker companies, I think it is far better to invest in Apple and Google because they are the two dominant mobile platforms that do not bear the risks of making mobile games, and they collect 30% of all revenues generated from games and apps.
The Bottom Line
If Gartner's prediction is correct, Apple and Google will benefit the most from the rapid growth of the app industry, which is expected to grow to $77 billion in revenue by 2017. While both companies have very different business models, one thing they have in common is that they are both market leaders in mobile platforms. And the mobile device and app industry will likely be a two-horse race between them for many years to come.
Source: Rolling Stone, Apple Press Release, Apple Q1 2014 Financial Report, App Annie Index, Gartner and Distimo Publication.
About the Author: Victor Liang is a co-founder of Intelligent Stocks, a stock recommendation service that is dedicated to helping investors outperform the market.
Disclosure: I am long AAPL, GOOG, FB. I wrote this article myself, and it expresses my own opinions. I am not receiving compensation for it (other than from Seeking Alpha). I have no business relationship with any company whose stock is mentioned in this article.
Editor's Note: This article covers one or more stocks trading at less than $1 per share and/or with less than a $100 million market cap. Please be aware of the risks associated with these stocks.