Overview
After closing at an all time high last Friday, the S&P dropped 2% this week, leaving some to wander if the current bull market has run its course. The bull market we are currently in has lasted five years, which is exactly how long the previous bull market lasted before turning.
With the stock market near its all-time high, now might be the perfect time to consider moving or placing a good percentage of your stock portfolio into defensive stocks. The two industry sectors thought of as "defensive" are non-cyclical consumer and utilities. Within these two sectors, I believe there are a good number of investment opportunities available that will limit your losses in the event that we are indeed at or near the end of the bull market.
To help narrow down attractive stocks I want to focus on only stocks that meet the following three criteria.
PE ratio under 20x
Dividend yield at or above 3%
Reasonably acceptable performance during past bear markets
Utilities
When researching attractive opportunities in the utilities industry, my first move was to go back and look at companies that I have previously written about and find out which of those companies qualify as possible investments based on the criteria listed above. Back in September, I wrote two articles related to utilities, one about water stocks, and the other about electric stocks.
After reviewing, I noticed neither of the water stocks met the criteria (both having dividend yields less than 3%) but two of the electric stocks did. Consolidated Edison (NYSE:ED) and Hawaiian Electric Industries Inc. (NYSE:HE) both have PE ratios under 20x (15.10x and 15.40 respectively), both have dividend yields over 3% (4.60% and 5.00%), and both have performed well during the past two bear markets.
During the 3/24/2000 to 10/9/2002 bear market, the S&P fell 49.15% while Consolidated Edison rose 39.90% and Hawaiian Electric rose 48.33%.
During the 10/9/2007 to 3/9/2009 bear market, the S&P fell 56.78%. Both Consolidated Edison and Hawaiian Electric fell during this time, but at considerably lower levels (31.53% and 46.10%). When factoring in total returns, the difference is even greater, with the S&P falling 55.25% compared to 25.61% and 41.39% for Consolidated Edison and Hawaiian Electric.
Besides Consolidated Edison and Hawaiian Electric, the following utility stocks meet the criteria listed above (PE ratio under 20x, dividend yield over 3%, and outperformed S&P during the last two bear markets):
Consumer Non-Cyclical
Consumer non-cyclical stocks comprise a large variety of industries such as: Tobacco, Office Supplies, Crops, Food, Beverages and Personal/Household Products. Below is a list of stocks that meet the criteria that has been outlined.
In the chart below, you can see that each of the non-tobacco stocks not only outperformed the S&P during the 03/24/2000 to 10/09/2002 bear market, but actually gained in value while the S&P fell 49% over the same time period.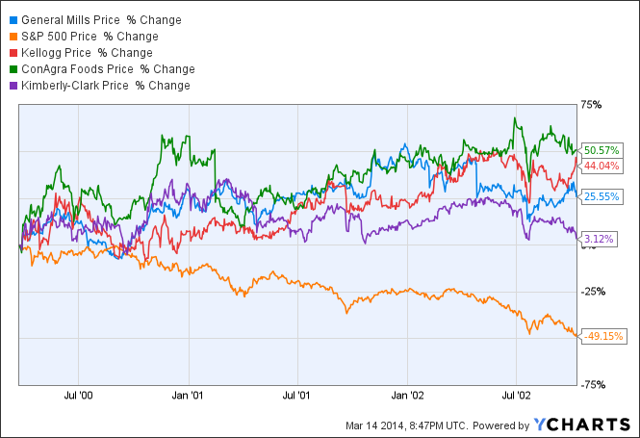 The two tobacco stocks that were trading during this period, Altria and Reynolds American, performed even better, gaining 88.98% and 108.2% over the same time period. When you factor in that these stocks generally have dividends higher than most other non-cyclical consumer stocks, that makes their performance even more impressive. And while their performance during the 10/09/2007 to 03/09/2009 bear market isn't nearly as impressive, they did still manage to outperform the broader market.
In addition to the stocks I've already mentioned, there are a number of stocks that just barely miss the criteria above, but I feel are still worth taking a look at if you want to move toward defensive stocks. These include:
Conclusion
Whether or not the bull market is nearing its end is something I don't even want to guess at. But I do know that at some point we will be seeing another bear market. With the current bull market now at five years plus, I think now is a good time to consider allocating a higher percentage of your portfolio toward defensive stocks. What percentage will vary greatly based on each individual investor's wants and needs.
Each of the companies listed above I feel have strong future outlooks. I believe the stocks will perform reasonably well if the market continues up, but will be even more valuable to investors if the market begins to slow down. As always, I suggest individual investors perform their own research before making any investment decisions.
Disclosure: I have no positions in any stocks mentioned, and no plans to initiate any positions within the next 72 hours. I wrote this article myself, and it expresses my own opinions. I am not receiving compensation for it (other than from Seeking Alpha). I have no business relationship with any company whose stock is mentioned in this article.