In a previous article I pointed out the degree of dependency Salesforce.com (NYSE:CRM) has on customer prepayments it records as deferred revenue to support its balance sheet. Many SA reader comments have correctly pointed out that customer prepayments are a low cost source of funding and may be preferable to borrowing or the dilution that could accompany an equity issue, and of course they are right.
The risk in reliance on customer prepayments is the liquidity issue that may arise if those prepayments begin to disappear which may occur if customers move to shorter termed contracts or balk at prepayment altogether. The negotiating power may lie with the customer in instances where Salesforce.com is dependent on both the prepayments and the revenues and the customer has economical alternatives. The "stickiness" of Salesforce.com revenues is therefore a critical issue.
Salesforce.com last November advised analysts that it did suffer from attrition but that the attrition was more than offset by increased revenues from existing customers, presenting these two slides.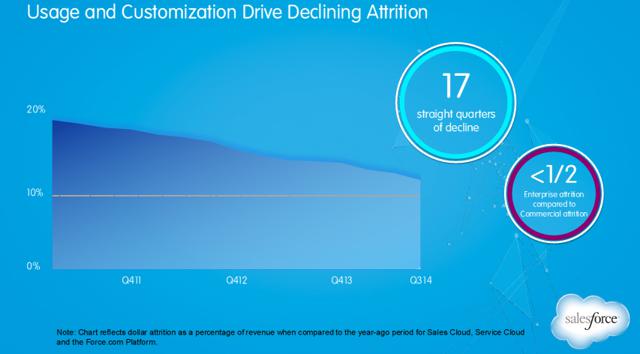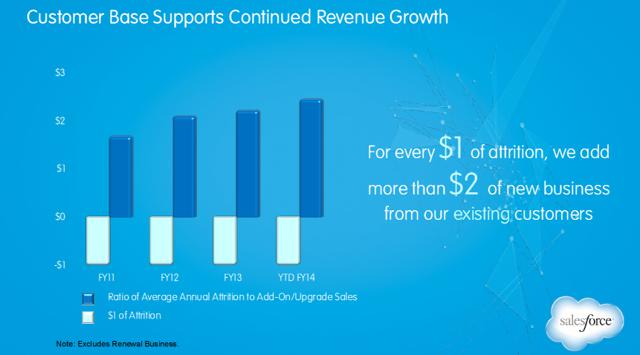 Source: Salesforce.com November 2013 presentation
Salesforce.com annual reports disclosed in 2009 that it had 15 million subscribers and in 2010 had 104,000 customers without updating the number of subscribers. The company has reported neither data point since 2010.
Notwithstanding, we can infer some data points from Salesforce.com pricing of its services, set out below.

Source: Salesforce.com website
If one assumes that Salesforce.com has at least retained its 15 million subscribers (defined to be individual users) the average user in fiscal 2014 paid less than $25 a month. If Salesforce.com held onto its 104,000 customers from 2010 the company's average customer paid less than $40,000 a year for the service.
I presume but don't know that Salesforce.com's customer base and number of users is growing, not shrinking. If that is so, the growth must be in the lower priced tiers or revenues would be much higher than reported. I think it is fair to say the Salesforce.com customer base comprises primarily small businesses. To the extent Salesforce.com has any large customers, the number of very small customers paying less than $40,000 a year and less than $25 a user would have to be much greater to make the numbers balance.
Small businesses are typically fragile with high failure rates.

Source: Small Business Trends
That concentration among small businesses makes Salesforce.com a very risky stock to own. If the current business cycle peaks and we enter another recession, you might see Salesforce.com join the ranks of small businesses struggling to survive, and the customer prepayments it relies on for cash flows may turn out to be a more costly source of financing than plain vanilla debt or equity.
I created a simple model of Salesforce.com assuming it maintains its current ratios but growth slows post 2015 to 15% in 2016 and 10% in 2017. The results show a markedly increased dependence on rapid growth in customer prepayments to stay solvent.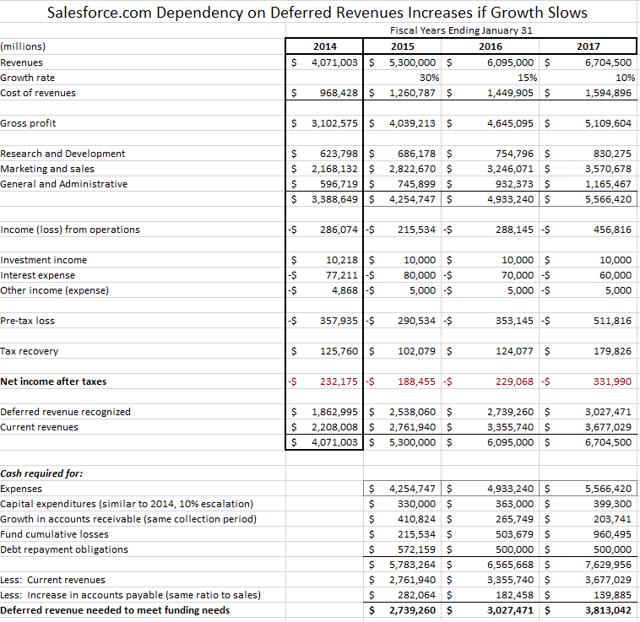 Source: Salesforce.com financial statements, Michael Blair analysis
If that is not frightening to investors, a peek at the same model with a 5% annual decline in revenues might be.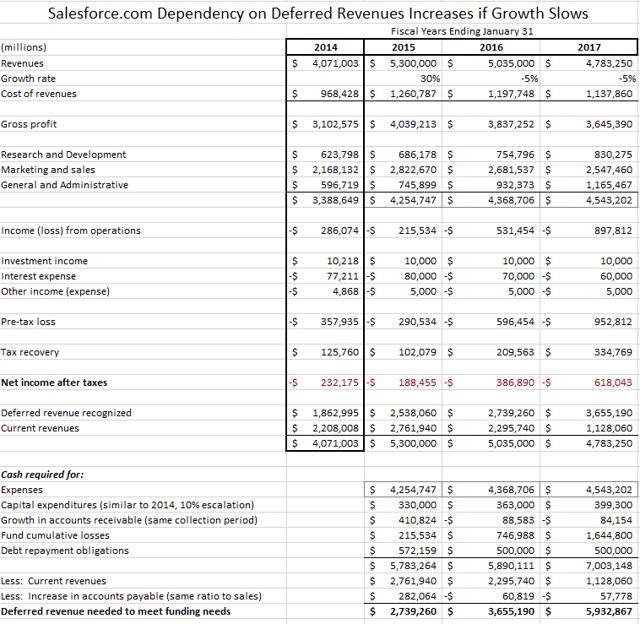 Two years with a 5% annual decline in revenues and Salesforce.com by 2017 would need $5.9 billion in customer prepayments to balance its books, an amount that would exceed its revenues. At the same time, many small customers would experience their own financial problems in an economic downturn if the past is any guide.
Think slowing growth can't happen? Pay close attention to what is going on in Russia, Latin America, Africa and China and what those trends may mean for the world economy in a year or two. And good luck with your Salesforce.com investment if we go into a recession with the typical devastation to small businesses that results.
I am short the name.
Disclosure: I am short CRM. I wrote this article myself, and it expresses my own opinions. I am not receiving compensation for it (other than from Seeking Alpha). I have no business relationship with any company whose stock is mentioned in this article.