I have a "hold" rating on Sprint Corp (NYSE:S). Intense competition and an evolving U.S. telecom industry are likely to keep the stock price checkered in the near term. Greater focus on postpaid subscribers and the deployment of 4G LTE are likely to portend well for the stock price. Expense reduction through the implementation of the Network Vision Program will have a positive impact on the company's margins. However, a weak balance sheet and cash flow burn in the recent quarters remain headwinds for the company.
In a highly competitive U.S telecom sector, ruled by two key players, mainly AT&T (NYSE:T) and Verizon (NYSE:VZ), S needs to continuously work to improve its subscriber base and grow its top line number.
Lagging Behind Peers - Focus Shifts to Postpaid Subscribers
In the past, the company has focused on improving its EBITDA and churn rate, but the focus has recently shifted to increasing postpaid subscribers due to tough competition in the industry. In 2013, the company observed a continuous loss in its postpaid subscriber base. However, the rate of loss has been moderating in recent quarters, as shown in the graph below. The moderating loss rate of postpaid subscribers is a good signal for investors as it highlights its efforts to effectively compete with its peers by having a stabilized subscriber base in the future. The following chart shows net postpaid additions for S in the last four quarters of 2013.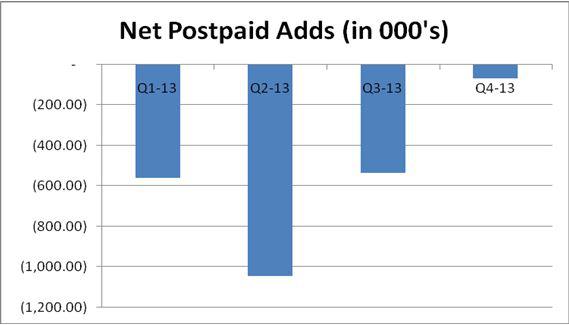 Source: Company's Quarterly Earnings Report
In 4Q2013, the company also observed an almost 2% YoY increase in postpaid ARPU to $64.11. The company also managed to slightly improve its churn rate to 2.09% and 2.15% in 3Q2013 and 4Q2013, respectively, as compared to 2.63% in 2Q2013. I believe S needs to put in further efforts to stabilize its customer base. The following chart shows the company's postpaid ARPU in the recent quarters.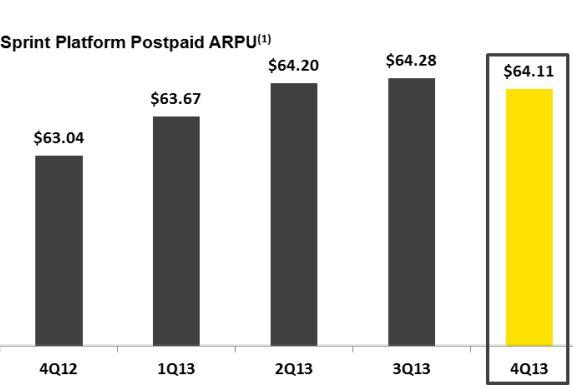 Source: Company's Earning Release
The following table shows the quarterly trend for the postpaid churn rate for S.
| | | | |
| --- | --- | --- | --- |
| Q1-13 | Q2-13 | Q3-13 | Q4-13 |
| 2.09% | 2.63% | 2.09% | 2.15% |
Source: company's Quarterly Earnings Report
Despite the fact that the company recently experienced a slight improvement in APRU and churn rate, it has been constantly struggling to improve its share of gross postpaid additions in the industry. In an intense competitive environment, the company's share for gross additions has been the weakest among its competitors. In efforts to expand its market share, S has been lagging behind its peers in terms of its gross postpaid additions share in the market. The following table shows the share of gross postpaid additions for S, T-Mobile (NASDAQ:TMUS), VZ and AT&T in four quarters for 2013.
| | | | | |
| --- | --- | --- | --- | --- |
| | Q1-13 | Q2-13 | Q3-13 | Q4-13 |
| S | 17% | 15% | 15% | 17% |
| TMUS | 11% | 18% | 18% | 18% |
| VZ | 42% | 38% | 39% | 39% |
| AT&T | 2% | 29% | 28% | 26% |
Source: Company Reports and Calculations
4G LTE deployment - Road to Success
In 2013, S made healthy efforts to improve its 3G network and deploy its 4G LTE network. By the end of the fourth quarter of 2013, the company's 4G LTE network covered 200 million people. Also, the company has rolled out its 4G LTE services in 340 markets. With 4G LTE, S will be able to address intense competition in the industry by providing faster data speed, improved service quality and better signal strength. I believe the full deployment of 4G LTE network will portend well for the company's subscriber base and revenue. Moreover, the company has the technology road map scratched out for the future by utilizing its core competencies. With its 2.5GHZ spectrum, S is expected to cover 100 million people by the end of 2014.
Network Vision Plan - Operating Cost Cut Down
The company's Network Vision Program, which started in 2012, is expected to be completed by the end of 2014. The program is focused on enhancing network coverage, call quality and data speed for customers. The program will be able to support multiple spectrum bands and signals on single multimode signal stations, which will result in lower operating expenses as wireless data traffic continues to grow.
Price War Through Merger
There is speculation about the company's potential merger deal with TMUS. SoftBank's (OTCPK:SFTBF) President is very enthusiastic about the merger; he promises price wars if the deal succeeds. SFTBF President said, "I would like to provide an alternative to the oligopolistic situation that two-thirds of American households can only get access to one or two providers. I'd like to be a third alternative with 10 times the speed and lower price."
In my opinion, if the deal is undertaken, it will create an oligopoly of three equally strong competitors. AT&T and VZ will feel real competition if the merger plan of S and TMUS goes ahead. I foresee a very low probability of a merger between TMUS and S, as the potential deal is likely to face scrutiny from antitrust regulators, the FCC and the Department of Justice.
Weak Balance Sheet-Burning Cash Flows
The company has a relatively weaker balance sheet and credit outlook as compared to its competitors. S has a debt-to-equity ratio of 1.25x, higher than T and TMUS. Also, the interest coverage ratio of -1.13x for S is the weakest among its competitors, as shown in the table below. S, with its negative interest coverage ratio, is currently leading toward a questionable situation about its ability to pay future interest on its borrowings. The following table shows debt-to-equity and interest coverage ratios of S, VZ, T and TMUS.
| | | |
| --- | --- | --- |
| | Debt to Equity | Interest Coverage |
| Sprint | 1.25x | -1.13x |
| AT&T | 0.80x | 8.05x |
| VZ | 2.15x | |
| TMUS | 1.0x | 3.20x |
Source: Morningstar and Wikinvest
Another headwind for the company remains its weak cash flow position. S experienced free cash flow burn in all four quarters of 2013. Also, the initiatives taken by the company to improve its service quality and the deployment of the 4G LTE network are likely to keep the company's free cash flow under pressure in the near future. I believe the weak cash flow position of the company remains a concern for investors.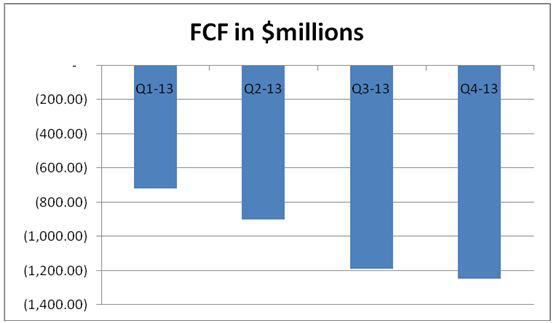 Source: Company's Earnings Report
Conclusion:
A weak subscriber base as compared to its peers, free cash flow burn and a weak balance sheet remain a concern for investors. However, I believe the company is likely to benefit from strategies like increased focus on postpaid subscribers, deployment of the 4G LTE network and the completion of the Network Vision Program. I have a hold rating on S and believe the stock price will remain mixed in the near term due to intense competition in the industry.
Disclosure: I have no positions in any stocks mentioned, and no plans to initiate any positions within the next 72 hours. I wrote this article myself, and it expresses my own opinions. I am not receiving compensation for it (other than from Seeking Alpha). I have no business relationship with any company whose stock is mentioned in this article.