Oil and gas drilling and exploration companies have been strong investments over the past two years as the economy healed. Unstable gas prices forced many companies to find liquid plays. That shift in the energy sector forced companies to invest heavily and, as a result, demand for oilfield services companies increased. Oilfield services companies provide engineering, product and services necessary to complete complicated drilling and exploration activities. These companies also provide infrastructure, equipment and intellectual property to develop, explore, extract and transfer natural gas and oil.
With the steady growth in the economy, oilfield services companies are generating record growth over the past two years. Further, economic indicators show more stability in the coming days. The entire energy sector is making massive investments to find new sources of production while enhancing existing assets. This, in turn, increases the demand for oilfield services companies like Schlumberger NV, (NYSE:SLB) and National Oilwell Varco (NYSE:NOV).
Both companies are showing momentum and have been generating strong growth. These companies are also well set to capitalize on the demand arising from increased investments in the energy sector. Let's take a look at both companies to point out which one is in a better position to generate big profits this year. I will also evaluate which one is offering an attractive entry point.
Where Does National Oilwell Varco Stand?
National Oilwell Varco operates in three business segments: Rig Technology, Petroleum Services and Supplies, Distribution and Transmission. However, it is spinning off its Distribution and Transmission segment to focus on its other two core businesses in which it is an industry leader. The spinoff will enhance its operational efficiencies and allow it to focus more on its core businesses. The company's other business segments have generated strong results over the years. Last quarter, Rig Technology generated 16% growth over Q3 and a 14% increase over the prior year's quarter. The Petroleum Services and Supplies segment has built momentum; the most recent quarter it generated 6% growth.
The company is looking to capitalize on rising demand. It has been investing heavily in both segments to increase and improve products, technology, facilities and services. These investments include strategic acquisitions of CE Franklin, Wilson and NKT Flexibles into its existing infrastructure. These acquisitions enhanced its portfolio with products such as composite tubulars, downhole drilling motors, progressive cavity pumps, flow line, sucker rod services and chokes. These acquisitions also set up the company for future growth arising from deepwater drilling rigs, floating production technologies, jack-up rig fleet retooling and shale technology expansion.
Further, National Oilwell Varco has divested certain real estate and non-core assets acquired with its Ameron and Robbins & Myers acquisitions to reduce cash payments. These acquisitions and dispositions helped the company meet an unexpected increase in demand and allowed it to generate record revenues with a record order backlog, which ultimately resulted in large cash flows for the company. For the full year 2013, the NOV's consolidated revenue reached $22.7 billion, an increase of 14% over the prior year of $20 billion. In this current year, it is expecting a mid to high single digit increase in revenues.
National Oilwell Varco has increased capital investments in the last year. Still, it remains in a strong financial position, with cash available to reinvest in its existing businesses, strategic acquisitions and capital expenditures to meet both short- and long-term objectives. At the end of fiscal 2013, it had cash and cash equivalents of $3.436 billion. Consequently, it has 2.57 times more cash available to meet short-term liabilities. The company's debt-to-equity ratio of 0.1 is well below the industry average of 0.4.
Further, its operating cash flows were at $3.3 billion when capital expenditures were only $669 million and dividend payments are only at $389 million. Consequently, free cash flows are high at $2.7 billion. NOV has doubled dividends in 2013. However, its ability to pay dividends not only looks safe, it has significant potential for future dividend increases as both operating and free cash flows increase and continue to provide adequate cover to NOV's dividend payments.
Where Does Schlumberger Stand?
Schlumberger NV supplies technology, integrated project management and information solutions to customers working in the oil and gas industry worldwide. Schlumberger is capitalizing on the demand that is appearing from higher exploration and development activity offshore and in key land markets. Demand for its product and services is strong in the Middle East, Asia, Saudi Arabia and the United Arab Emirates. Strong exploration activities add considerable growth for the company in Malaysia and Australia; deepwater exploration work and strong project management activity occur in Latin America.
With strong exploration activities all around the world and with strong software and multi-client seismic sales, Schlumberger has been able to achieve 8% growth in revenues. Strong activities in Malaysia, Saudi Arabia and Middle East regions added 11% growth in its International Area revenue. Its margins also expanded by 200 basis points internationally. Consequently, it has generated 15% growth in pretax income in 2013. Exploration and production activities continue to remain strong, as evident by expected increased spending from ConocoPhillips, Devon Energy and Occidental Petroleum. Further, the global economy is expected to remain strong and companies focus toward liquid plays. E&P activities are expected to be strong in international regions and, with the positive outlook for deepwater in the Gulf of Mexico, the company is looking to generate high single digit growth again in the 2014.
Operating cash flows expanded from $6.8 billion to $9.8 billion in 2013 with solid top and bottom line growth. Thus, free cash flows expanded to $5.8 billion, which covers dividend payments of only $1.6 billion. Schlumberger has been also working on buying back shares, which is further enhancing dividends and earnings per share. With the predicted high single digit growth in top line and double digit growth in operating earnings, cash flows will again increase considerably. Therefore, we can expect a huge increase in dividends as what already happened recently when the company had a 28% increase in dividends.
Which Is a Good Stock to Buy?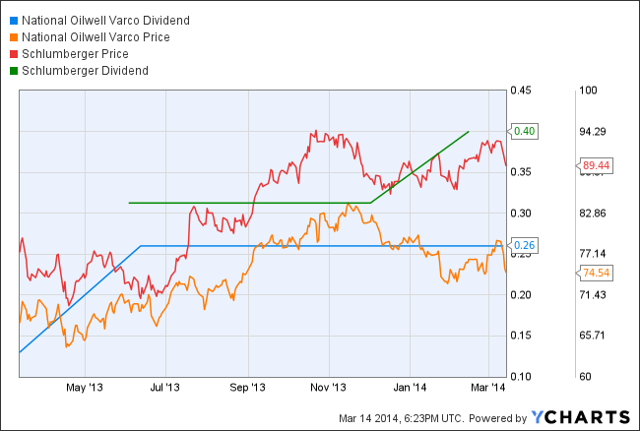 NOV Dividend data by YCharts
| | | | |
| --- | --- | --- | --- |
| | NOV | SLB | Industry Average |
| Price/Earnings TTM | 13.8 | 17.7 | 22.5 |
| Price/Book | 1.4 | 3.0 | 2.3 |
| Price/Sales TTM | 1.4 | 2.6 | 1.6 |
| Rev Growth (3 Yr Avg) | 23.5 | 17.4 | 15.6 |
| Net Income Growth (3 Yr Avg) | 11.8 | 16.4 | 14.0 |
| Operating Margin % TTM | 15.0 | 19.6 | 11.9 |
| Net Margin % TTM | 10.2 | 14.5 | 7.2 |
| Debt/Equity | 0.1 | 0.3 | 0.4 |
| ROE TTM | 11.0 | 18.1 | 10.2 |
Source: Morningstar.com
National Oilwell Varco and Schlumberger are generating strong growth in the top and bottom lines. Both are well set to continue the trend this year. Looking at financial ratios, Schlumberger looks to be on top. It has been generating high revenue growth and has high margins. However, looking at valuations, NOV is currently offering a much better entry point, trading at only 13.8 times to earnings. NOV has also generated strong growth and is well set to keep its momentum. The upcoming spinoff definitely adds value to its remaining business. Both companies have raised dividends in the last year and are in a position to make more increases this year. However, their yields are not high, so we cannot consider them for a dividend portfolio. This means both are considered more for value stocks than dividends. Apply a simple rule, which most investors do: buy at a dip with strong fundamentals, and sell when it reaches fair value.
Considering this approach, NOV looks to be in the better position. After reaching its 52-week high late last year, it came down significantly. It is currently trading at a discount over SLB and the industry average. Its increasing dividends also allows investors to keep patience and hold the stock until it again regains momentum, which it is likely to do with strong growth prospects in place. It has invested heavily in its business. The drilling industry is predicted to grow as it has grown in the past year. Oil production is also expected to increase, with stable prices, while gas prices are likely to remain sluggish. NOV's Rig Technology and Petroleum Services businesses have the capability to capitalize on the demand.
Disclosure: I have no positions in any stocks mentioned, and no plans to initiate any positions within the next 72 hours. I wrote this article myself, and it expresses my own opinions. I am not receiving compensation for it (other than from Seeking Alpha). I have no business relationship with any company whose stock is mentioned in this article.