Please realize you use these recommendations at your own risk. I am not a registered financial advisor. If for any unforeseen reason I do not post the recommendations for the next period, please sell the ETFs and go to cash.
Shown below are the March 17, 2014 ETF recommendations for the tactical strategies I have discussed in my Seeking Alpha articles. Updates are made semi-monthly (two times per month). The next period starts on March 17th. March 17th is the day to make your trades on these strategies.
Here are the ETFs recommended in the various strategies:
1) First Trust IPO Index Fund (NYSEARCA:FPX)
2) Guggenheim Spin-Off ETF (NYSE:CSD)
3) iShares Dow Jones Real Estate REIT (NYSEARCA:IYR)
4) PowerShares Intellidex Pharmaceuticals ETF (NYSE:PJP)
5) AdvisorShares Peritus High-Yield Bond ETF (NYSEARCA:HYLD)
6) SPDR Barcap Global Ex-U.S. Bond ETF (NYSEARCA:BWX)
7) Guggenheim Zacks Multi-Asset Income Index ETF (NYSE:CVY)
8) SPDR Nuveen S&P High Yield Muni Bond ETF (NYSEARCA:HYMB)
9) Schwab Dow Jones U.S. REIT Index ETF (NYSEARCA:SCHH)
In this article, I have presented the results for 2014 in a different format than I have used previously. For each strategy, I have listed the ETF selections for each period and their total return in that period. Also included in the listings are the benchmark results for comparison. After the listings, I have shown a graphic representation of the results in 2014. These results were prepared using the ETFreplay software.
All of the strategies show positive returns in 2014, and almost all have produced better results than their corresponding benchmark. All of the equity strategies are giving a bullish (risk on) signal at the present time.
Please note that the dates are different by one business day on some strategies versus other strategies. This is caused by the updating sequence. Either the strategies are updated at the prices on the last day of a period, or they are updated at prices at the end of the first day of a new period. Either way, the trade day is March 17th for the next period.
*Aggressive SSSEquity2 Strategy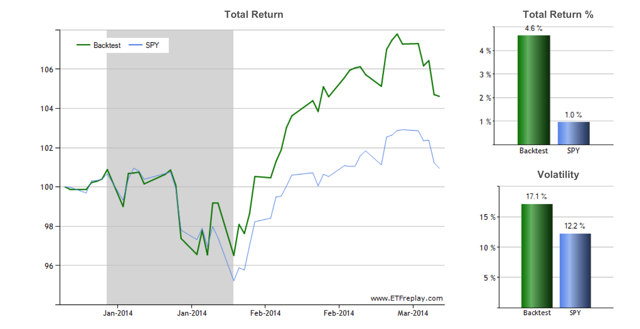 Aggressive SSSEquity4 Strategy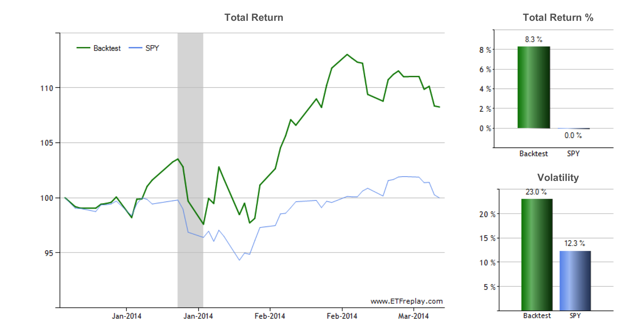 *Moderate AllAssetsExceptBonds Strategy
Please note for the AllAssetsExceptBonds Strategy: I have made some slight modifications to this strategy. I have simplified the ETF universe (only 10 ETFs now), and I have gone to three ETFs selected for each period rather than two ETFs for each period. The backtested results are much better, and the volatility is much less with these modifications. I'm always trying to improve the strategies.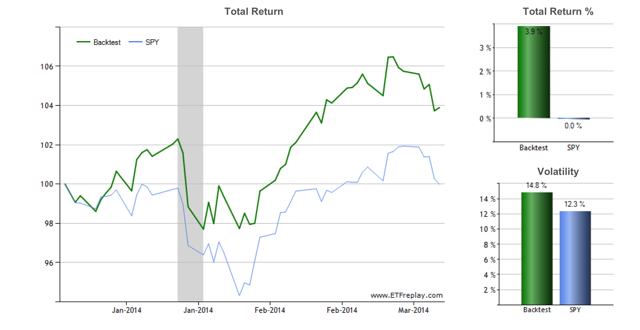 Conservative AssetBlend Strategy
This AssetBlend Strategy combines the AllAssetsExceptBonds Strategy (60%) and the Bond-Only Strategy (40%).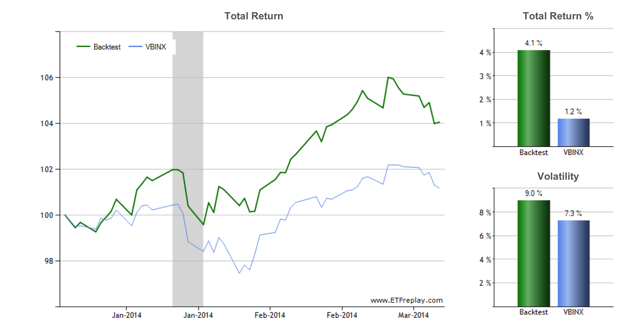 This SSS2 Strategy combines the SSSEquity2 Strategy (60%) and the Bond-Only Strategy (40%).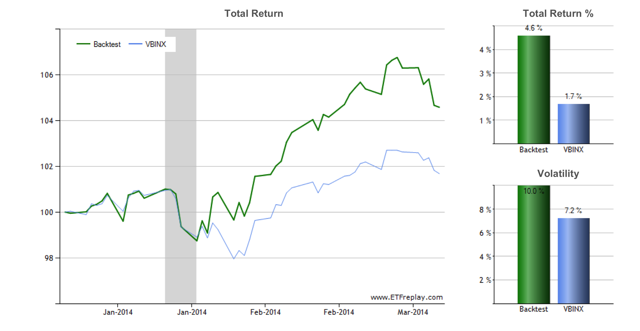 *Conservative Unified Tactical Strategy (UTS)- Best used on large accounts ($100K-$1000K)
This UTS strategy combines the SSSEquity2 Strategy (30%), the AllAssetsExceptBonds Strategy (30%), and the Low Volatility Bond Strategy (40%)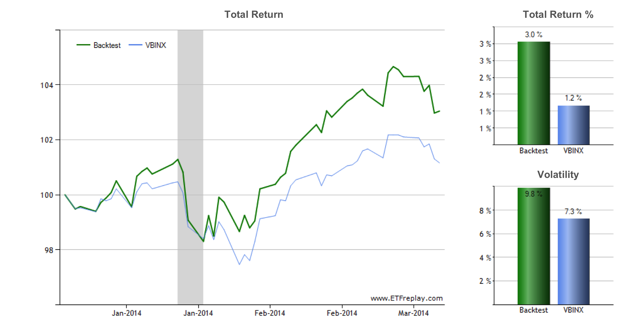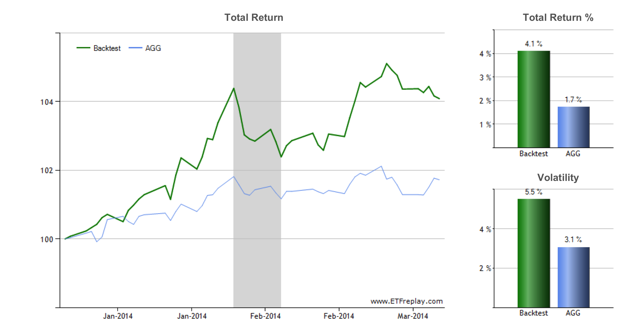 *Low Volatility Bond (NYSE:LVB) Strategy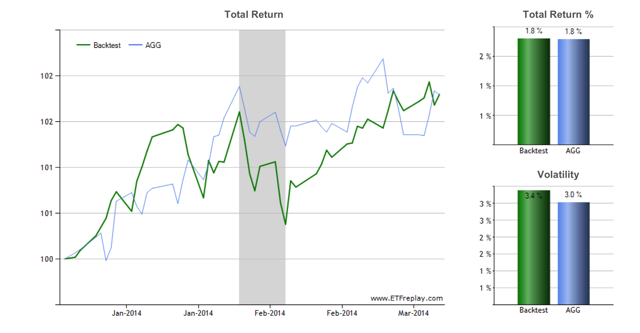 *Simple Bond Strategy on HYLD/SHY - Trade on Day of 3 Day & 25 Day Moving Average Ratio Crossover
Please note: If you are interested in the HYLD/SHY strategy, I can send you the signal the day it occurs. Please send me a SA message asking to be included on the HYLD/SHY alert list.
Buy: Dec.31, 2013 Sell: Open Trade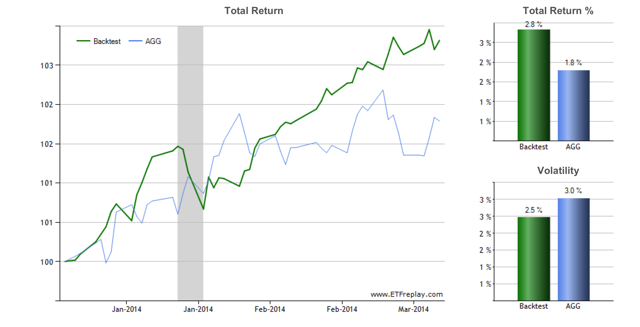 RisingRateBondStrategy (RRBS2)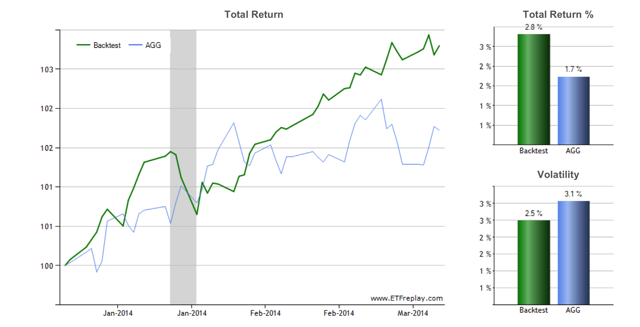 RisingRateBondStrategy (RRBS3)
This strategy (RRBS3) has produced the same results as RRBS2 so far in 2014.
Conservative Schwab-Commission Free Strategy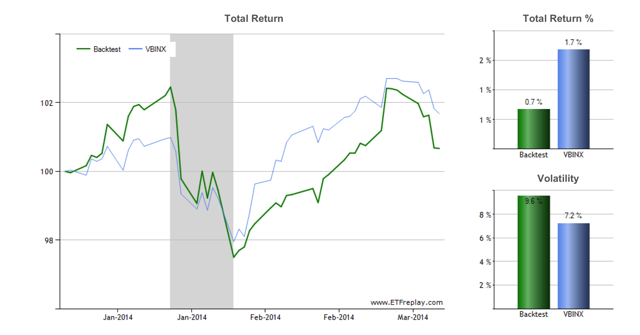 These strategies have been backtested over a limited timeframe and shown to produce good growth with minimum risk, but future results may be dependent on factors not considered. Use these recommendations at your own risk.
* I have my real money invested in these strategies
Disclosure: I am long HYLD, FPX, CSD, IYR, PJP, BWX, CVY, HYMB, SCHH. I wrote this article myself, and it expresses my own opinions. I am not receiving compensation for it. I have no business relationship with any company whose stock is mentioned in this article.