INVESTMENT THESIS
Local is a leading player in the high value, high growth Local Search market.
The market is undervaluing Local's shares relative to competitors even on extremely conservative valuation measures.
The Company's recent management transition will be a catalyst to eliminate the undervaluation of the Company's shares.
Local Corp. continues to execute with cost reductions, new product initiatives to drive growth and strong performance in its high margin network product.
Finally, Wall Street is taking notice with three Wall Street institutions taking a collective position over 20% the stock.
COMPANY DESCRIPTION
Local Corporation (NASDAQ: LOCM: $1.84) is a local media company specializing in connecting local businesses with online consumers. The Company reaches consumers on its proprietary sites including Local.com and Krillion.com, its mobile app Havvit, and via its network of third-party U.S. regional media websites.
Local Corp. provides digital media services to small and medium sized businesses acquired through the Company's legacy direct sales business. The Company also enables third parties to distribute their advertiser listings on its sites. The Company generates revenue principally from display advertising and performance ad units such as pay-per-click, pay-per-call, lead generation and subscription ad units.
The Company uses patented and proprietary technologies and systems giving users of its Owned and Operated websites and its Network relevant search results for local businesses, products and services, event information, ratings and reviews, and driving directions. By distributing this information across its Consumer Properties, the Company is able to reach users that its direct advertisers and advertising partners wish to reach.
Local Corp. has a network of approximately 2,100 partner sites making it possible for more than a million consumers to locate and buy the products and services every single day.
MANAGEMENT
There was a recent management change at Local. On January 13, 2014, the founder, CEO, and Chairman Heath Clarke stepped down. He remains a director on the Board of Directors. Fred Thiel took over as Chairman of the Board and interim CEO.
Fred Thiel has a very strong background. He should help company strategy and operational execution. Thiel served as managing partner of the Software IT Group at Triton Pacific Capital Partners, a private equity firm making equity investments for itself and its investors in lower middle market companies, from January 2007 until the end of 2012. As part of his role at Triton Pacific Capital Partners, Thiel served on the boards of four of its portfolio companies Custom Credit System, LP, DB Technology, LLC, Assetpoint, LLC and Vayan Marketing Group, LLC. Custom Credit Systems, LP is an enterprise software company providing commercial lending automation solutions to major banks. DB Technology, LLC is an enterprise content management software company providing solutions to healthcare providers. Assetpoint, LLC is an enterprise software company providing enterprise asset management solutions to major corporations. Vayan Marketing Group, LLC, is an Internet media marketing company providing customer acquisition services to major consumer brands. Thiel has been an operating partner with Graham Partners, a mid-market private equity firm since 2008. From January 2004 to December 2006, Thiel was founder and managing partner of TechStarter Ventures, a venture capital and technology incubator focused on developing Web 2.0 technologies and social media, human resources and project management related web properties. Prior to TechStarter, Thiel was CEO of GameSpy Industries from January 2002 through January 2003. Thiel is presently a director of three private companies, including Predixion Software, Inc., B&B Electronics, Inc., and OCTANe LLC.
Michael Sawtell is the President/Chief Operations Officer. Sawtell has more than 20 years of operational leadership experience with public and private companies. For the past three years, Sawtell has been president and COO at Local Corporation. Previously, Sawtell was founder and CEO of DigitalPost Interactive, an online digital media company and parent company of the Rovion business, which was acquired by Local Corporation in April 2011 and subsequently sold to Gannett, Inc. in October 2012. Sawtell was also founder of TheFamilyPost.com, an award-winning family media sharing platform, as well as the founder of WebsitesforHeroes.com, a digital media platform used by thousands of soldiers in Iraq and Afghanistan.
Ken Cragun is the Chief Financial Officer. Cragun has more than 20 years of senior level financial experience, and most recently served as the company's interim CFO.
PRODUCTS
Local Corp.'s products allow customers to take advantage of the high value of local search. The Company's products shift local search from a low value low content world, where customers are only thinking about what to buy and where to buy it, to a high value high content world where local search is focused on product information, proximity, price history, price alerts, and in-stock availability.
Local.com
Local Corp.'s flagship local search site, Local.com helps consumers find the best local products, services, events and activities. Using the Local.com website or mobile site, consumers can search for local products and services. Local.com has received numerous industry awards and remains one of the most visited and fastest growing local search sites on the web.
Krillion
Krillion is a localization engine that provides aggregated and structured local product shopping data to Local Corp.'s business customers and channel partners. The Company pioneered local shopping search and are committed to the continuous growth of its platform supporting multi-channel retailers and brands looking to engage consumers wherever they research products and where to buy.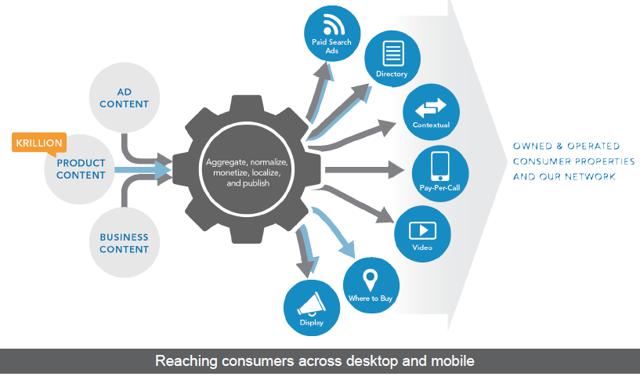 Network
Local Corp. helps online publishers access the growing number of local searches, attract more visitors, and build new revenue streams by providing an industry leading, turnkey content and paid search solution.
Local Corp.'s customers get access to a complete hosted and monetized local content solution for shopping or business that is compatible with any device. The Company can integrate its high-performing paid search ad solution, and get access to more than 250,000 advertisers who want to reach consumers in the markets its clients serve.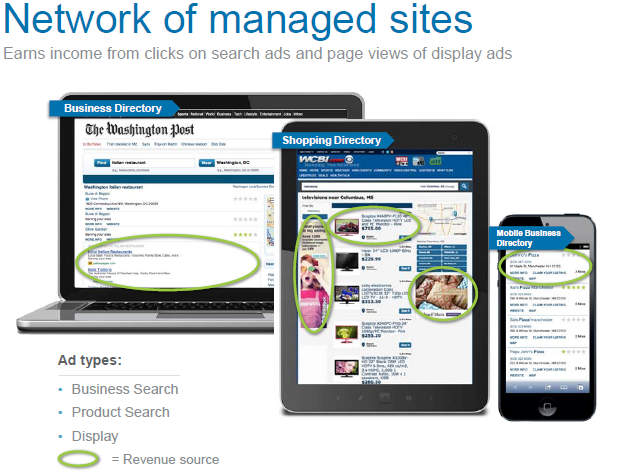 Havvit
Local Corp. takes advantage of the mobile Local Searches through its Mobile App Havvit. Havvit allows customers to customize their local shopping experience. Customers can add their favorite items, track those items, and compare the prices and availability at different stores in their vicinity.
INTELLECTUAL PROPERTY
Local Corp. has strong technology and IP portfolio with a proprietary platform and expertise. Local Corp. has 12 patents and 7 patents pending. Local's patent's include web indexing (for indexing local web sites across the web), pay-per-call for local and commercial searches via a mobile device (multiple patents), dynamic cascading menu search (for product search on tablets and smartphones), bulk domain registration and content management (for very large-scale SEO). Local is attempting to monetize its IP. Local received a favorable Markman ruling against Fry Electronics. Another Seeking Alpha contributor wrote a good article on the potential for monetization.
VALUE PROPOSITION
Local Search is extremely valuable proposition to advertisers with a significant pay-per-click premium for Local Search over National Search. As the table below illustrates, the average pay-per-click premium of Local Search is 191%.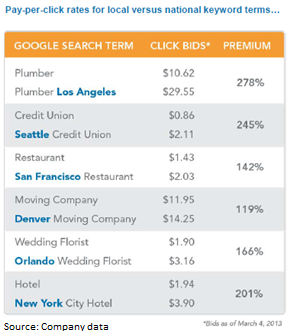 Local Search garners a premium, as it is more likely to lead to a sale. According to National Retail Federation 2011, 80% of the $11 trillion consumer expenditures in the US is spent within 20 miles of home. Additionally, over 92% of adults research products online before buying them in store. These two pieces lead to individuals searching local prior to purchasing local. Local Searches have a higher conversion rate and therefore the cost of local advertising is much greater. This premium pay-per-click rate makes Local Corp.'s owned and operated website and its network much more valuable than a national search engine.
MARKET OPPORTUNITY
BIA/Kelsey projects total U.S. local media ad revenues to grow from $132.9 billion in 2013 to $151.5 billion in 2017, representing a 2.8% compound annual growth rate (CAGR). Online/digital advertising revenues will drive growth increasing at a 13.8% CAGR from $26.5 billion in 2013 to $44.5 billion in 2017. During the same period, traditional advertising revenues will see little growth increasing from $106.4 billion in 2013 to $107 billion in 2017.
According to Mark Fratrik, chief economist at BIA/Kelsey, "a range of factors will drive local ad revenues higher in 2014 and through the end of the forecast period,"… "A slightly improving U.S. economy, positive outlook by investors, the 2014 elections and Olympics, as well as ad spending around the Affordable Health Care Act, which comes out of the local ad pie, will all contribute to increased local ad spending."
Location targeted mobile advertising revenues, which are growing at a faster pace than overall mobile advertising, will increase from $2.9 billion in 2013 to $10.8 billion in 2017, accounting for 52% of overall U.S. mobile ad spending in 2017. Total mobile ad spending will grow from $7 billion in 2013 to $20.7 billion in 2017.
WHAT IS THIS OPPORTUNITY WORTH?

The table above illustrates Local Corp.'s current valuation compared to its peers. The market is clearly undervaluing Local Corp. relative to peers. Assuming Local is valued at a 30% discount to its cheapest peer, an EV/Sales multiple of 2x is warranted. On an EV/Sales multiple of 2x, Local's shares have almost 300% upside and should trade closer to $7.00 per share.
WHY BUY NOW?
First, the market is undervaluing Local Corp. relative to peers. By placing a very conservative EV/Sales multiple on Local, its shares have almost 300% upside.
The recent management change provides a catalyst to close the undervaluation of the Company's share price. Fred Thiel has significant experience in running technology companies and improving a company's strategy and operations.
Local Corp.'s recent introductions of the Krillion platform and Havvit app for mobile provide the Company with new opportunities for growth. The Company plans to grow rapidly through existing operations, Krillion, and Havvit/Mobile.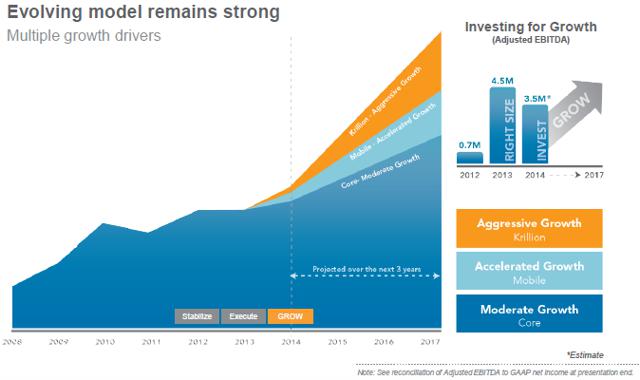 Also illustrated above, despite flat growth in 2013, Local Corp. grew Adjusted EBITDA from $0.7 million to $4.5 million, by reducing its cost structure. Local was able to reduce all aspects of operating expenses. It decreased operating expense by 22% in 2013 compared to 2012, with a decrease of $22 million to $100 million from $122 million. Adjusted EBITDA will decrease slightly in 2014 due to additional investments in mobile.
Local's Network revenue is increasing at a rapid pace. Network revenue grew more than 100% over Q4 2012. With Krillion and Havvit, owned and operated revenue growth should return.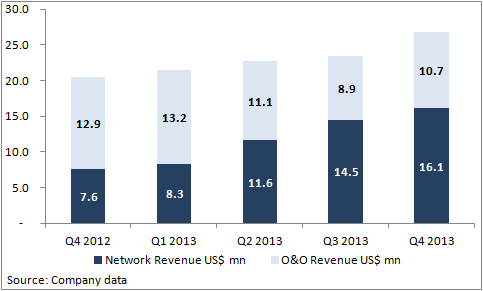 The growing share of Network Revenues is healthy for Local's profitability as Network revenues have a much higher margin, illustrated below.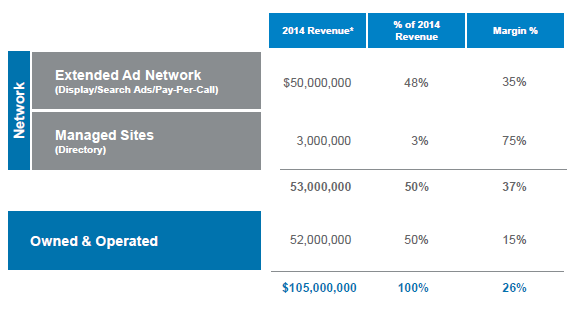 Major Wall Street institutions are noticing the strength in Local's operations. Goldman Capital Management has been increasing its stake in Local over the past year with Goldman's total stake at 13.22%. In addition, BlackRock initiated a 3.62% position. Finally, The Tail Wind Fund out of Bermuda has 6.6% position in the fund. Tail Wind has annualized returns above 24% since 1995 so their position is a very good sign.
Technical Analysis by Harry Boxer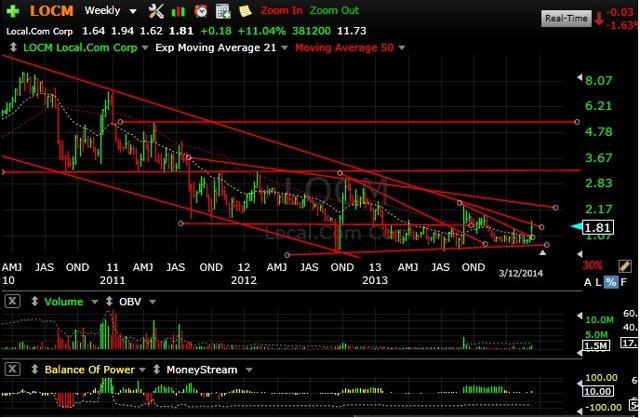 After a 2.5-year decline, Local Corp.'s shares dropped from near $9 to under $1.50. The Company's shares bottomed in Sept 2012 and doubled off the lows followed by nearly a year-and-a-half of pullback, retest, and basing, setting up Local Corp. for a potential major advance. Over the last week, the Company's shares surged to near $2, breaking its major declining top line resistance. Local Corp. is now in a bullish consolidating wedge formation, which we believe can lead to higher levels. The Tech Trader believes targets going forward are near $3 then $5.50 and $8 longer term.
WHAT COULD GO WRONG:
The biggest risk for the shareholders is that if the losses continue and Local would have to do a highly dilutive financing.
The Company is performing a search for a new CEO, and while this is taking place, the Company is without a full-time leader.
High hopes for Local revolves around their recently released Havvit App that assists people when they are out shopping. There are several similar apps coming on the market. It may be difficult to monetize the App in the near future.
Once a new CEO is hired, we would anticipate that there will be several management changes and until a team is refreshed and cohesive, the losses will continue.
The Company has several patents and has recently won the Markman Hearing. Usually winning the Markman Hearing is positive, but the legal team may not win the trial in their case against Fry, and that would negate the value of the patent portfolio.
CONCLUSION
We recommend the shares of LOCM because:
Local is a leading player in the high value, high growth Local Search market.
The market is undervaluing Local's shares relative to competitors even on extremely conservative valuation measures.
The Company's recent management transition when complete will be a catalyst to a much higher valuation of the Company's shares.
Local Corp. continues to execute with cost reductions, new product initiatives to drive growth and strong performance in its high margin network product.
Finally, Wall Street is taking notice with three Wall Street institutions taking a collective position over 20% of the shares.
Disclosure: I have no positions in any stocks mentioned, and no plans to initiate any positions within the next 72 hours. I wrote this article myself, and it expresses my own opinions. I am not receiving compensation for it. I have no business relationship with any company whose stock is mentioned in this article.
Additional disclosure: My associate Marc Melendez assisted me in writing the article. We feel that in addition to "a long idea" we are recommending the shares of Local Corporation because institutions own more than 20% of the outstanding shares.
Editor's Note: This article covers one or more stocks trading at less than $1 per share and/or with less than a $100 million market cap. Please be aware of the risks associated with these stocks.