3D Systems' (NYSE:DDD) share price suffered a 38% correction from its early January all-time highs, as valuation concerns emerged and as the stock had a massive run in late 2013, squeezing the shorts out of their positions. Some of the concerns I had when I wrote my previous article on 3D Systems are almost gone now, as 3D Systems is now trading at just a slight premium over Stratasys (NASDAQ:SSYS), and the company's P/S ratio has gone down considerably together with its share price. I believe that the downside may be limited to 10% to 15% from the current price, based on the past P/S ratio trends. The stock could consolidate further, as it may digest the latest move down, and might also depend on the general market environment, which was mostly unfavorable to momentum stocks in the last couple of weeks.
Bad publicity should be good for long-term investors
3D Systems has received some bad publicity recently. Barrons recently published a column titled "Beware 3-D Printing", which caused a sharp drop of all of the 3D printing-related companies. The column cited Whitney Tilson's short case for 3D Systems and the company's recent profit warning, and that 3D printing remains slow. 3D Systems also faces increased competition from printing services firm Shapeways and leading metal printer maker EOS. Two days later, BofA/Merrill brought the share price down further, after the firm said that the company's printer mix is "shifting towards cheaper systems that tend to have lower materials attach rates". While those are legitimate concerns, I believe that the valuation is now much more favorable, as I will analyze later in the article. I also think that the recent bad publicity should help long-term investors to get a better price entry in the next couple of weeks.
Are valuation concerns gone?
While my most important reason to favor Stratasys over 3D Systems in the short run has been 3D Systems' premium over Stratasys, the premium has come down considerably, since 3D Systems corrected 38% from its all-time highs, while Stratasys is just 18% off its all-time high price. 3D Systems' P/S ratio has come down to 12.2, while Stratasys' TTM P/S ratio stands at 11.5. However, their forward 2014 P/S ratios are almost the same. 3D Systems' 2014 P/S ratio is 8.9, while Stratasys' is 8.8. In my most recent article on Stratasys, I compared the strengths and weaknesses of both companies, and argued that Stratasys is currently a better trade/investment than 3D Systems. Now, when the valuation argument is almost gone, we have a more level playing field, with Stratasys being more successful in the consumer segment, and 3D Systems having a big advantage in metal printing. I still think Stratasys should perform better for the other reasons I mentioned: better margin performance and a more focused approach, given the number of acquisitions 3D Systems has done in the last couple of years.
Where the bottom might be?
If you take a look at the P/S ratio chart of 3D Systems and Stratasys in the last two years, there is a clear trend of P/S ratio expansion. Stratasys' performance is more aligned, with a more manageable trend, while 3D Systems went wild in the second half of 2013. I believe that both stocks may bottom at a TTM P/S ratio of 10, since that was the bottom of the range since the spring of 2013. Given the strong revenue growth trends, both 3D Systems' and Stratasys' P/S ratio will contract in the next couple of quarters even if the share price stays the same. Worst case scenario might be a TTM P/S ratio around 7, but we might need a very bad market environment to get there. A previously stated and more optimistic bottom price would translate into 10% to 15% downside for 3D Systems. This would coincide with a technically important level of $50, which might serve as psychological level of support, as well as a point of major accumulation in the spring and summer of 2013.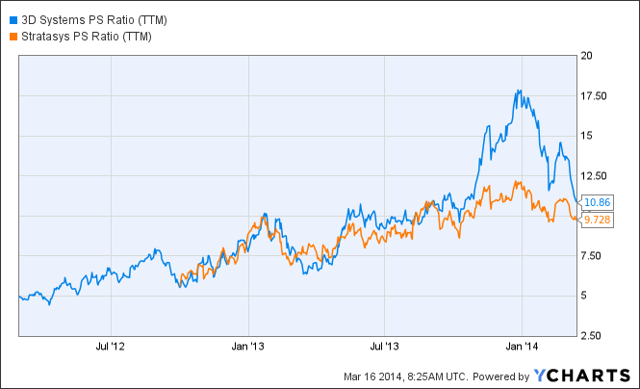 Source: ycharts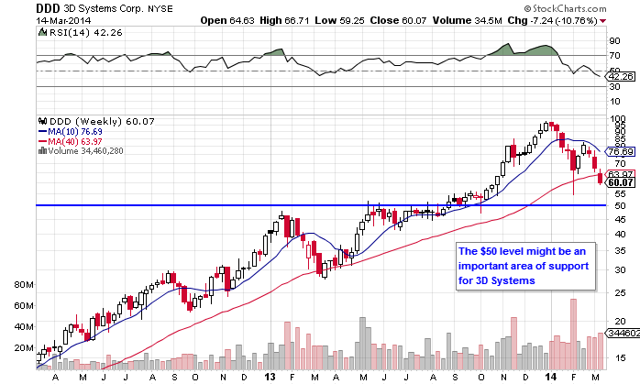 Source: Stockcharts.com
Conclusion
While 3D Systems might continue to consolidate in the next couple of weeks, the downside may be limited to 10% to 15% from the current price. Bad publicity might also help long-term investors here, since the hype and excitement about the 3D printing industry brought the valuation to nose-bleed levels, and now may help long-term investors get a better price entry. Stratasys may continue to perform better in the next couple of weeks/months, but 3D Systems is now in a much better position than it was just a few weeks ago. The bottom could very well be around $50, which might serve as an important psychological and technical level of support.
Disclosure: I have no positions in any stocks mentioned, and no plans to initiate any positions within the next 72 hours. I wrote this article myself, and it expresses my own opinions. I am not receiving compensation for it (other than from Seeking Alpha). I have no business relationship with any company whose stock is mentioned in this article.