VMware (NYSE:VMW) passed a major hurdle recently. Its share price finally rose above $100, which was an important resistance level. Although the market's reaction to its most recent earnings report was negative initially, the share price moved higher in the next couple of weeks. The recent acquisition of AirWatch will add to the company's strong foundation and will enable its customers to engage their mobile workforce, and help VMware better compete in the emerging mobile arena. EMC (EMC), the majority shareholder of VMware, might benefit from the recent strong showing of VMware. However, when the growth trends of the two companies are compared, I believe it is better to own VMware. Although its valuation is quite higher than EMC's, VMware's growth levels are as much as three times higher, and VMware has more room for expansion.
Benefits from the AirWatch acquisition
VMware announced in mid-January that it acquired AirWatch, which provides "best-in-class, secure, enterprise-mobile management to thousands of businesses around the world." AirWatch is a company that was started to take advantage of the mobile explosion, with the fast adoption of smartphones and tablets, and its strong penetration into the enterprise market. The acquisition will help VMware offer a broader set of products to its customers and help them optimize the mobile cloud. AirWatch has more than 10,000 customers globally and more than 1,600 employees. AirWatch's offerings will be a part of an expanded portfolio of mobile solutions that are complementary to VMware's portfolio. AirWatch will certainly accelerate VMware's long-term growth. In its 2014 revenue guidance, management included expectations of approximately $75 million from AirWatch. AirWatch revenue is expected to increase significantly over the next couple of years, with further increases in use of mobile devices in the enterprise market.
EMC is set to benefit from VMware's growth, and vice versa
With VMware being an important strategic asset to EMC, it might positively affect EMC's share price going forward. I wrote about EMC in late September 2013, suggesting that the upside may be limited, and that EMC might trade in a narrow range in the six to twelve months. This has been a good assessment, since the stock traded between $23 and $27 since the article was written. However, EMC's most recent quarterly report was very good, with accelerated revenue growth, which was above 10% for the first time since Q1 2012. However, 2014 guidance was light, but the company might be downplaying the expectations in order to provide revenue and earnings ahead of expectations.
Good news surrounding the two companies has prompted new initiations and raised price targets. Wunderlich started EMC at a "buy," stating that the company is "grossly undervalued". FBR has upped its PT to $120 from $115, and stated that checks have been "incrementally positive."
EMC's price performance might be important for VMware and the other way around. Their share prices have shown a strong correlation for the most of the time in the past, and these trends should continue in the future. EMC is still below its early 2012 all-time high, which might be the next obstacle and an important level of resistance, while VMware is still below its 2007 high of $125.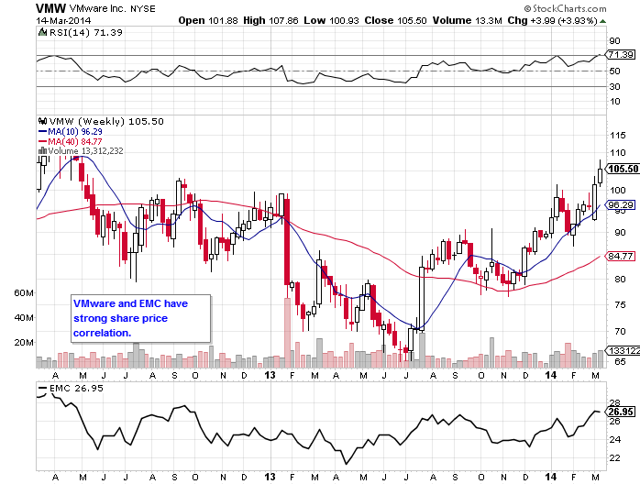 Source: Stockcharts.com
VMware's upside makes it a more favorable investment than EMC
In my previous article on VMware, I stated that it might be reasonable to expect VMware to be trading at an EV/EBITDA multiple between 20 and 30. This translates into 20% upside from the current price on a TTM basis, and up to 50% based on a forward 2014 EV/EBITDA. However, if VMware is to reach the upper end of its valuation, we should see accelerating growth going forward, which I believe is achievable with the AirWatch acquisition and other growth initiatives. On the other hand, EMC's upside still seems quite limited. If the growth does not pick up significantly (which is not expected right now), EMC's upside might be between 10% and 20%, with a price level of $30 being a major long-term resistance level.
Conclusion
The recent AirWatch acquisition and strong growth expectations going forward put VMware in a favorable position to deliver long-term gains for its shareholders. VMware's potential upside of 20% to 50% makes it a better trade/investment than EMC, which I believe has between 10% and 20% upside in the next six to twelve months. Both stocks should have strong share price correlation, but VMware should move twice as much as EMC, making it a more volatile investment than EMC, but potentially more rewarding too. The kid (VMware) is certainly a better choice here.
Disclosure: I have no positions in any stocks mentioned, but may initiate a long position in VMW over the next 72 hours. I wrote this article myself, and it expresses my own opinions. I am not receiving compensation for it (other than from Seeking Alpha). I have no business relationship with any company whose stock is mentioned in this article.