Opening:
Apple (NASDAQ:AAPL) is having a difficult time convincing legacy iPhone users to upgrade to the latest and greatest iPhones due to changes that some view as minimal. Although a 64-bit processor, an M7 co-processor and a fingerprint scanner seen on the iPhone 5S is insane, many convenience users do not see it as enough to dish out the funds for a full upgrade. There is no reason to think that the general two-year upgrade cycle has to be rushed, although Apple is set to release radical changes in its iPhone 6 that will help sales. With a 4.7" and 5.7" iPhone 6 planned, changes will no longer be minimal in nature. Regardless, Apple's future sales will be based in large part on iPhone replacements - a key area of sales for the giant.
(Source)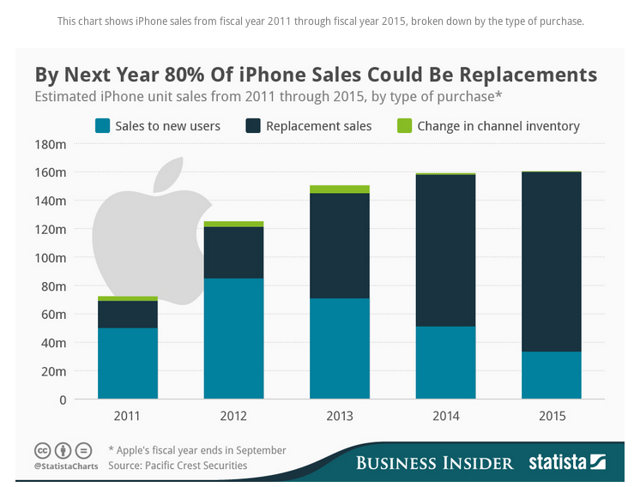 Looking forward, an estimated 90M iPhone replacement sales will take place. This number is set to grow to an estimated 130M iPhone replacement sales in 2015. These figures are up considerably from only ~10M in 2011, ~30M in 2012 and ~70M in 2012.
Replacement Sales Margins:
Replacement sales will have lower margins than new phones for three reasons.
Older versions of the iPhone are less expensive to buy.
Overall, the cheaper price of the used iPhone, coupled with the purchase price from the company looking to resell it, eats into profits on the device.
Future iPhone Sales:
(Source)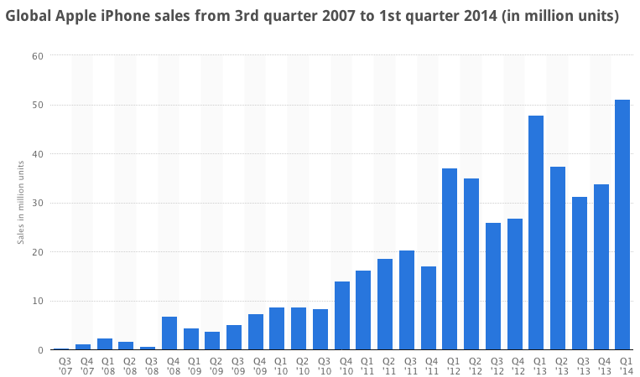 Apple's Q1 iPhone sales were boosted by the iPhone 5S, an event they will likely see again when the much anticipated iPhone 6 debuts. The ability of consumers to purchase a replacement phone over a new version will add to Apple's revenue moving forward.
Mainly due to the fact that these phones are being sold, twice. First to the original consumer, and then to the second one. Profit margins on the second sale will be undeniably much smaller than original and new iPhone sales - due to a lower sale price and the cost to purchase the phone from the consumer looking to sell their phone to be a replacement.
Americans alone have spent $5.9B on replacement iPhones from 2007-2012. Warranty programs like Square Trade and others will benefit moving forward - while also increasing the value proposition to the consumer at a low additional cost.
Apple is well aware of the depth of replacement iPhone sales, as 70% of the company's sales come from people buying a replacement iPhone.
Externalities:
The real gold in this scenario for Apple is not initial revenue from replacement sales, it is a broadening and strengthening of the company's moat. This includes everything from iMessage and FaceTime all the way to the lucrative App Store and accessories for these devices. This is a large source of revenue outside of initial sales - Apple reported $10B in sales for the App Store in 2013. Increased device sales from replacement iPhones, in addition to new device sales, will increase income from all of the branches linked to device sales, such as accessories and the App store.
Considerations:
Calculating Apple's profit margin from replacement phones is difficult. The amount they are subsidized, which versions are subsidized, the cost for Apple and others to buy back various conditions and versions of the iPhone coupled with sale prices are all very difficult to gauge. They key aspect is the broadening of Apple's ecosystem usage and its accretive value to new iPhone sales.
Conclusion:
iPhone replacement sales are going to be a large part of Apple's future. Profit margins on replacement phones will be undeniably lower than new product sales. A key aspect of these large replacement sales projections is the widening of Apple's moat. More consumers will want accessories for their iPhones and more will be using the App Store - whether it be for new or replacement iPhones.
Disclosure: I have no positions in any stocks mentioned, and no plans to initiate any positions within the next 72 hours. I wrote this article myself, and it expresses my own opinions. I am not receiving compensation for it (other than from Seeking Alpha). I have no business relationship with any company whose stock is mentioned in this article.
Additional disclosure: This article is informational and is in my own personal opinion. Always do your own research and contact a financial professional before executing any trades.