As part of my effort to build out my experimental real world high yield portfolio I am in the process of researching several different energy MLPs. My methods initially were based in spread sheet comparisons. I would create databases of different companies within an industry and compare their operational metrics. It seemed like a fast and easy way to separate the wheat from the chaff but there is a problem with this approach. Often times, an energy MLP's short-term difficulties may result in an investor discarding what is an otherwise amazing opportunity. Such is the case with BreitBurn Energy Partners (BBEP).
Partnership Overview: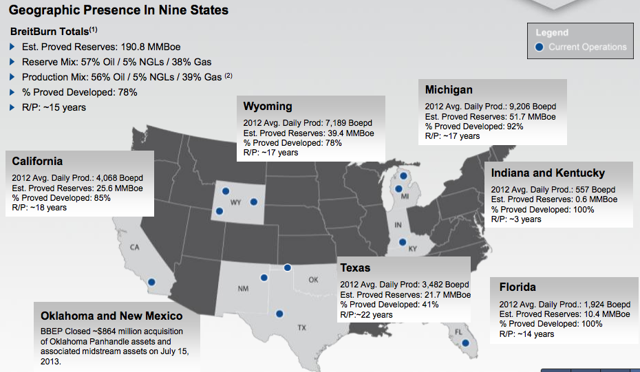 Source: Wells Fargo Annual Pipeline, MLP, and Energy Symposium
BreitBurn Energy Partners is a diversified oil and gas producer that operates 5,600 wells in 9 states.
It owns 925,000 acres which includes 135,000 in the Utica Shale region.
Though previously heavily overweighted in gas, after its Postle and Northeast Hardesty field acquisition in 2013, Breitburn's reserve and production mix is now 57% oil, 38% gas.
The Partnership is focusing on growing the more lucrative oil portion of its portfolio.
Recent Difficulties:
| | | | | | | | | |
| --- | --- | --- | --- | --- | --- | --- | --- | --- |
| Company | Yield | Revenue growth (3yr) | Earnings growth (3yr) | ROA | ROE | Operating Margins | Net Margins | DEBT/EBITDA |
| VNR | 8.36 | 69.6 | 39.6 | 2.4 | 5.7 | 25.3 | 12.5 | 3.54 |
| BBEP | 9.9 | 21.3 | na | -1.2 | -1.4 | 7 | -6.9 | 6 |
| LRE | 11.58 | -6.3 | na | -9.8 | -23.1 | -35 | -42.3 | 3.65 |
| QRE | 10.7 | 20.6 | na | 3.5 | 9.1 | 23.9 | 13.4 | 3.92 |
| LINE | 10.06 | 44.5 | na | -5 | -13.4 | -11.1 | -29.2 | 6.5 |
| ARP | 10.38 | 10.7 | na | -5.6 | -11.1 | -12 | -22.8 | 16.4 |
| Industry AVG | | -12.1 | -15.9 | 2.7 | 5.9 | 18.8 | 7.9 | 3.54 |
Source: Morningstar.com
As seen in the above table BreitBurn Energy has struggled recently with profitability and operational efficiencies. It badly underperforms the industry average in ROA, ROE, operating margins, net margins and debt levels. At first glance Vanguard Natural Resources (NYSE:VNR) or QRE Energy (NYSE:QRE) seem better MLPs. However, things are not always as they first appear.
Catalysts For Growth:
BreitBurn has proven itself a master of growing through acquisitions. Since 2011 the partnership has purchased 12 assets for a total of $1.8 billion. The partnership has $600 million in additional acquisitions in the pipeline.
The most recent acquisition has been its most important as it began the transition away from gas (which has more price volatility) toward more stable and profitable oil.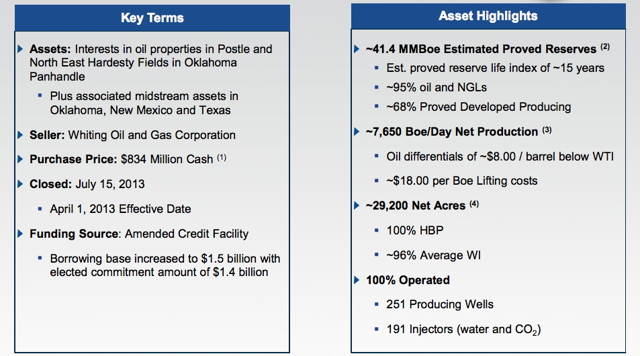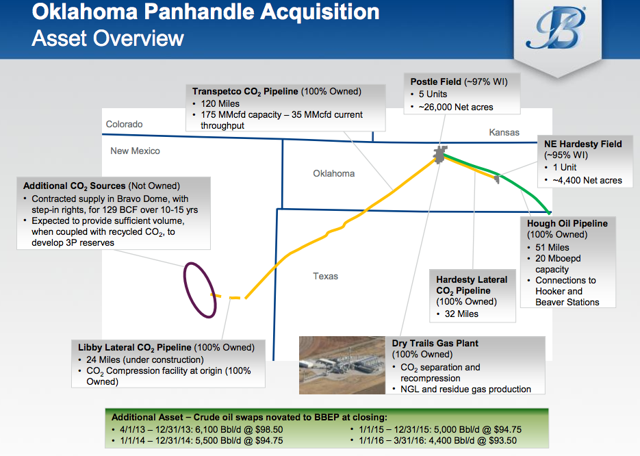 Source: Wells Fargo Annual Pipeline, MLP, and Energy Symposium
BreitBurn's acquisition strategy has been marked by a disciplined approach. The company has a 15 person acquisition team that carefully analyzes potential assets to ensure that they are immediately accretive to DCF and distributions. This approach has resulted in strong increases in production over time.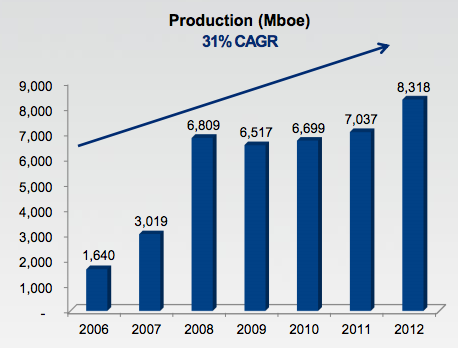 Source: Wells Fargo Annual Pipeline, MLP, and Energy Symposium
During the Q4 2013 earnings call management indicated that:
Reserves increased 43% year-over-year from 149.4 MMBoe to 214.3 MMBoe.
Production had increased by 32% over 2012.
Adjusted EBITDA increased by 34%.
Distribution coverage ratio decreased to .93 in Q4 2013.
Reasons for the decreased DCF:
1. Average realized sales price per BOE was $61.10 for 4Q 2013, which was $4.06 lower (6.2% lower) than the $65.16 realized during 3Q 2013 (partially offset by a 4.5% increase in total sales volume).
2. Maintenance capital was estimated to be $29.2 million for 4Q 2013 which was $3.4 million higher (13.3% higher) than the $25.8 million shown for 3Q 2013.
3. Cash Interest Expense was $24.7 million for 4Q 2013 which was $3.0 million higher (13.8% higher) than the $21.7 million shown for 3Q 2013.
One of the most important things for potential investors to consider is that BreitBurn has done a good job hedging its production. 76% of its production for 2014 has been hedged at very good prices; $93.7/barrel for oil and $4.95/mmbtu for natural gas. This means that the company has locked in favorable prices for its commodities and now has far greater predictability in its cash flows. This will allow the company to continue its main strength - strong and consistent distribution growth.
Distribution Projections: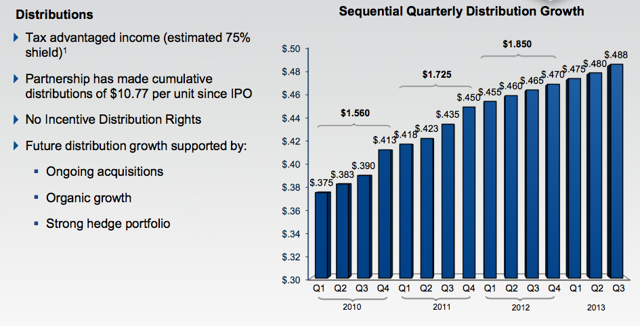 Source: Wells Fargo Annual Pipeline, MLP, and Energy Symposium
BreitBurn has raised its distribution for 15 consecutive quarters. Since IPOing in 2006, its rate of distribution growth has been 3% CAGR. At the end of 2013 BreitBurn transitioned to a monthly distribution and raised its payout by 4%.
27.5% increase in production.
Adjusted EBITDA increase of 36% to $505 million.
$600 million in acquisitions to be immediately accretive to DCF and distribution growth.
This strong growth is expected to continue. Analysts are projecting a 107% increase in revenues over the next five years.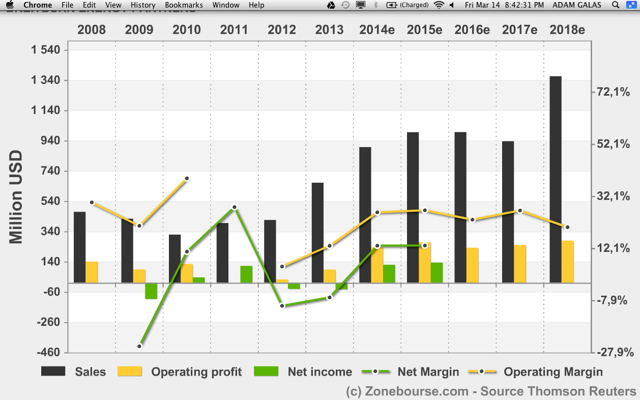 Source: 4-traders.com
Investors can expect an acceleration in the distribution growth rate, as well as strong growth in revenues, EBITDA and DCF. From its historical 3% CAGR it has increased to 4% in 2014. I believe it will achieve 5% CAGR powered by massive growth in EBITDA and DCF. This may not sound like such an exciting projection but it makes BreitBurn Energy Partners a potentially very profitable investment.
Valuation and Future Returns:
To determine the fair value of BreitBurn I first ask what its total returns will be over the next five years. I use a simple formula for estimating this:
Total Return=(Yield+Distribution CAGR)*average yield
This takes into account current income, capital gains and distribution reinvestment.
With BreitBurn I estimate a five-year total return of 15-16.1% and anticipate a distribution growth rate of 4-5% CAGR.
To determine a fair value I use the stock market's 1871-2013 long-term return of 9% CAGR. With dividend reinvestment this becomes 11.1%. I set this as my discount rate.
At an average return of 15.55% CAGR I expect a total return of 106% which gives a 2018 price of $41.44. Discounting by 63% (what the market's 11.1% is expected to return) gives the fair value.
Fair Value: $25.42
Discount to Fair Value: 21%
Technical Analysis:
Note: I am a long-term fundamental investor. I advise the use of technical analysis only for timing additions to one's portfolio. I advise against market timing in terms of when to sell. The optimal income investment will never be sold, only bought.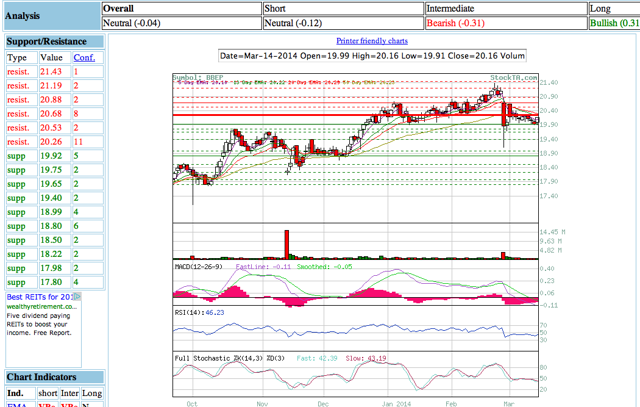 Source: stockta.com
The technical indicators show that the short-term trend is not favorable. There is massive resistance at $20.26 and only moderate support beneath the current price. The RSI and Full Stochastic indicate a slight negative trend that has not reached completion. Interested investors should consider waiting for a pullback before initiating a position.
Conclusion:
Upon more careful examination one finds in BreitBurn a wonderful opportunity for high monthly income and strong distribution. The partnership is likely to continue to execute on its strategy of disciplined, accretive acquisitions and reward unitholders with market beating long-term total returns. At the current price BreitBurn Energy Partners is trading at a discount to fair value. Technical indicators show that the unit price is likely to drop in the short-term. Therefore long-term investors should wait to initiate or add to their positions.
Disclosure: I have no positions in any stocks mentioned, and no plans to initiate any positions within the next 72 hours. I wrote this article myself, and it expresses my own opinions. I am not receiving compensation for it (other than from Seeking Alpha). I have no business relationship with any company whose stock is mentioned in this article.