The Buckle, Inc. (NYSE:BKE) is a retailer of casual apparel, footwear, and accessories for men and women, with tops and denims accounting for over 70% of sales. Headquartered in Kearney, Neb., Buckle has approximately 8,600 employees and currently operates 450 retail stores in 43 states compared to 440 stores in 43 states a year ago. This includes the recent closure of two stores, including two stores post-holiday in fiscal December. The company purchases products from manufacturers within the United States as well as from agents, who source goods from foreign manufacturers.
2013 Review
On March 14, Buckle released its full-year results, ended Feb. 1, 2014. The following is a brief summary of management's earnings call transcript. Net income was down to $162.6 million from $164.3 million a year earlier. Sales were up 0.4% and gross margins down 0.4%. The company expects its capital expenditures in 2014 to be in the range of $48 million to $53 million, primarily for new stores and remodeling of stores, IT investments, and construction of a new office building. Sales per square foot were down $ 14, and were offset by the company increase in the number of stores from 440 to 450. In 2014 Buckle expects opening 17 new stores and remodeling of another seven.
Long-Term Data
Over the last 10 years, Buckle has shown an almost continuous increase in revenues averaging nearly 12% with a corresponding increase in free cash flow (FCF), as can be seen in Graph 1 below. Note also that capital expenditure has been reduced considerably over the last five years, contributing to FCF of 11% in 2013 compared to an increase in net sales of 6%. FCF/sales are remarkably and consistently high, well above the 5% deemed to be minimum acceptable value to be classed as a good investment. A company that can convert 12% or more of sales into free cash flow is doing something right.
Click to enlarge images.
Graph 1 (in Millions)

Source for data: Morningstar.
Table 1 (in Millions)

Source for data: Morningstar.
Looking at the efficiency figures of the company, the return on equity (ROE) shows a consistent effort to improve returns for investors. That has been especially true over the last four years as Buckle has obtained values that are among the best in the industry, an outstanding performance. The same is true for return on asset (ROA) and asset turnover, a clear sign of the high efficiency of the company.
Table 2 (in Millions)

Source for data: Morningstar.
The growth in revenue over the last few years is more erratic, with average growth for 2013 of nearly 6%. That's a warning that Buckle should find other sources of revenue in order to maintain its market share and keep ahead of the competition.
Table 3 (in Millions)
Source for data: Morningstar.
Buckle's financial health is in good shape for the immediate future, with no debt and 89 million in working capital as of the end of 2013. The Q4 2013 dividend yield is 1.9%, about average.
Analysis
The historical data in the tables above looks pretty good to me from a medium- to long-term investment point of view. However, as noted above, in 2013 Buckle's sales were just above 2012 sales, with a slight decrease in gross margins. I believe this is no great cause for concern because Buckle performed better than some of its competitors, such as American Eagle (NYSE:AEO). Recent Q4 sales reports from its retails competitors has put in evidence a general decline of end-of-year sales. However, improving economic conditions and decreasing unemployment should see Buckle have better figures in 2014, plus continuing expansion with 17 new stores openings planned for this year.
There are some associated risks in this sector that could impact negatively on the company's sales. As described extensively in its 2012 annual report, some of the goods Buckle sells are manufactured abroad and imported. Therefore they are subject to political instability overseas and possible increases in taxation and import duties in the U.S. The planned expansion of the company could be impacted by difficulties in opening new stores due to lack of suitable locations or difficulties in negotiating suitable lease terms. Failure in the company's computer systems or security systems could also impact sales figures. Also, the company is dependent on a single distribution facility in Nebraska, a single point of failure. All of the risks mentioned above are inherent in this sector, apart from the last one. Nevertheless, larger companies might be in a better position to face some of the problems I listed because of their larger and more widespread resources.
I calculated an estimate of the value of the company using discounted cash flow (DCF) and included in the calculation a modest growth forecast of 2%. That is perfectly achievable in my view, considering Buckle's planned opening of 17 new stores, representing a potential 3.8% increase in sales. I believe Buckle is currently selling at the correct price.
In 2013, Buckle used over $20 million of its own cash in investing activities, a sign that it will continue the trend of steady growth and expansion. Taking into consideration past performance, I think Buckle has a good chance of continuing and improving on its long-term trend in the medium term because of improvements in U.S. economic indicators, coupled with Buckle's management putting the excess capital they have at their disposal to good use.
Discounted Cash Flow Intrinsic Valuation
There are several ways to get to an estimate of the intrinsic value of a company and gauge how appropriate an investment is. In this case, I prefer the DCF method. In this example, I used 2014 FCF as the basis for the calculation and then I calculated the future values for the next 10 years. I determine the discounted FCF by multiplying each year FCF by the discount factor. I use 8.5% as the long-term discount rate. The discount rate is normally the 30-year U.S. treasury bond (the risk-free rate), but as interest rates are very low at this time, I prefer using the average cumulative rate of return of the overall stock market, which is near 9%. I then take the discounted FCF for year 10 and calculate the perpetuity value and discount that as well, arriving at the final total equity value. Below is my own spread sheet with data taken from Buckle's 2012 report.
Table 4 (in Millions)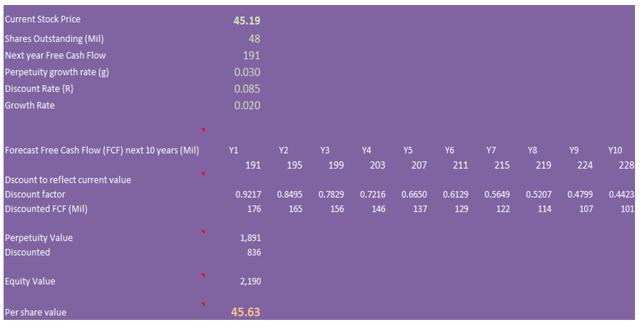 Profitability can be gauged by looking at the common size income statement, and putting every line in context by looking at them as a percentage of sales. The operating and gross margins are above average for the industry.
Disclosure: I am long BKE. I wrote this article myself, and it expresses my own opinions. I am not receiving compensation for it (other than from Seeking Alpha). I have no business relationship with any company whose stock is mentioned in this article.