Sirius XM Holdings Inc. (SIRI) made some good news at the end of last week. John Malone's Liberty Media (LMCA) dropped its bid to buy the remaining shares of Sirius XM Holdings. In January 2014, John Malone offered to buy the remaining shares of Sirius XM Holdings for $3.68 per share. Liberty Media released a statement on March 13, 2014 reaffirming that the company will remain a 53% owner of the satellite radio company, but would abandon its takeover bid for Sirius XM Holdings:
"We are creating two new tracking stocks, Liberty Media and Liberty Broadband," said Greg Maffei, Liberty President & CEO. "This is another step in Liberty's process of offering investors greater choice, transparency and focus. We expect to complete the creation of the new tracking stocks by the third quarter. In light of the tracking stock distribution, our offer for SiriusXM is no longer applicable. Depending on market conditions, we look forward to further discussions with the SiriusXM Special Committee. We remain enthusiastic owners of 53% of SiriusXM.
Liberty Media's takeover bid received some criticism, most notably from shareholder advocate Ralph Nader -- who, by the way, is also a Fannie Mae (OTCQB:FNMA) shareholder. On January 16, 2014 Ralph Nader attacked John Malone for 'lowballing Sirius XM shareholders' arguing that the company is worth much more than the $3.68 offered by John Malone.
I have previously argued, that Sirius XM Holdings is worth substantially more than the market price of $3-4 per share at the time. From a standalone point of view, Sirius XM's underlying operating performance as well as financial strength has been outstanding. Its subscriber - adjusted EBITDA - and free cash flow growth has been nothing short of impressive since 2009.
Immediately after Liberty Media announced that it is dropping its bid for Sirius XM Holdings, the satellite radio company issued a press release on March 14, 2014 announcing a resumption of its suspended share repurchase program (previous volume of $2 billion):
NEW YORK, March 14, 2014 /PRNewswire/ -- SiriusXM today announced that it intends to resume its common stock repurchase program. Yesterday, Liberty Media announced that its January 3, 2014 proposal to acquire all outstanding shares of SiriusXM common stock not owned by Liberty Media is no longer applicable. SiriusXM had previously suspended its stock repurchase program in connection with Liberty Media's proposal.

Shares of common stock may be purchased from time to time on the open market and in privately negotiated transactions, including in transactions with Liberty Media and its affiliates. The Company will fund the repurchases through cash on hand, future cash flow from operations and future borrowings. Repurchases will be made in compliance with all SEC rules and other legal requirements and may be made in part under a Rule 10b5-1 plan, which permits stock repurchases when the Company might otherwise be precluded from doing so.
Also, Sirius XM Holdings used the opportunity to reaffirm its guidance for 2014:
Net subscriber additions of 1.25 million,
Revenue of over $4.0 billion,
Adjusted EBITDA of approximately $1.38 billion, and
Free cash flow approaching $1.1 billion.
The guidance is upbeat and follows a record year for Sirius XM Holdings in 2013. In 2013, the company achieved record revenues of $3.8 billion, an adjusted EBITDA of $1.17 billion and free cash flow of $927.5 million. Total net subscriber additions for the full-year 2013 stood at 1.66 million.
Merrill Lynch Buy rating
Recent events (and an optimistic outlook) prompted Merrill Lynch to reinstate Sirius XM Holdings with a Buy rating and a target price of $5 per share -- which marks about 45% upside potential from Friday's closing price of $3.44.
(Source: Yahoo Finance)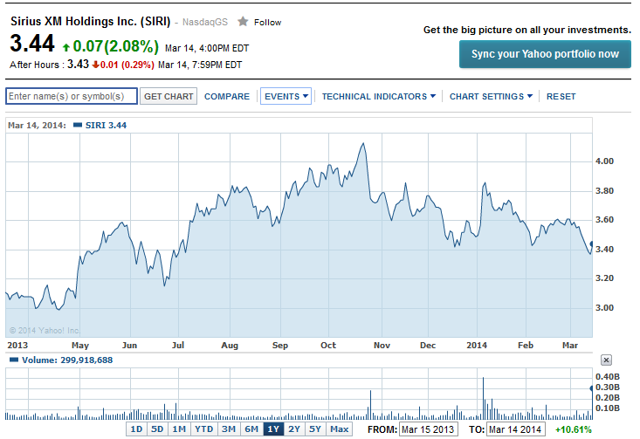 Conclusion
I think Sirius XM Holdings is worth more on a standalone basis than as part of Liberty Media or any other media conglomerate. From a standalone perspective, the company is more transparent and allows investors to more accurately value its free cash- and earnings prospects. Sirius XM Holdings also has stepped forward and announced the resumption of a meaningful share repurchase program to reassure the market after Malone's bid fell off the table. Sirius XM Holdings is an extremely free cash flow-strong company and its outlook suggests that 2014 will be another record year for the company. Long-term BUY.
Disclosure: I am long SIRI, FNMA. I wrote this article myself, and it expresses my own opinions. I am not receiving compensation for it (other than from Seeking Alpha). I have no business relationship with any company whose stock is mentioned in this article.