As part of my research effort into building an experimental dividend growth portfolio I have started researching railroad stocks. As one of the largest and oldest railroad companies, Union Pacific (UNP) represents a great dividend growth play on two future megatrends that will forever change America.
Company Overview: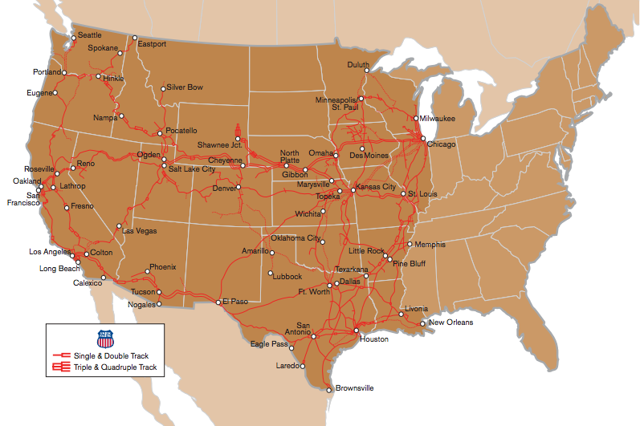 Source: Union Pacific 2012 Factbook
Union Pacific Operates:
50,753 miles of total track
8,391 locomotives
72,775 freight cars
53,921 highway containers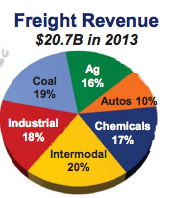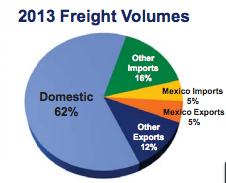 Source: J. P. Morgan Aviation, Transportation & Industrials Conference Presentation
The company is very well diversified throughout every sector of the economy. As the US economy expands Union Pacific is poised to prosper.
Catalyst For Growth:
The US census projects an increase in population of about 100 million to 420 million by 2050. According to the Federal Rail Administration annual per capita freight requirements are about 40 tons. This indicates an increase of 4 billion tons of additional freight traffic over the next 36 years. Union Pacific is expected to benefit from a 35% increase in railway shipments during this time.
Global population is projected to grow from 7-9 billion and by 2050 the UN anticipates that food production will have to double to feed the larger world population. Currently the US exports $136 billion in crops. A doubling of this amount would result in a massive increase in agricultural rail shipments. This will greatly benefit Union Pacific and its shareholders.
Long-Term Performance: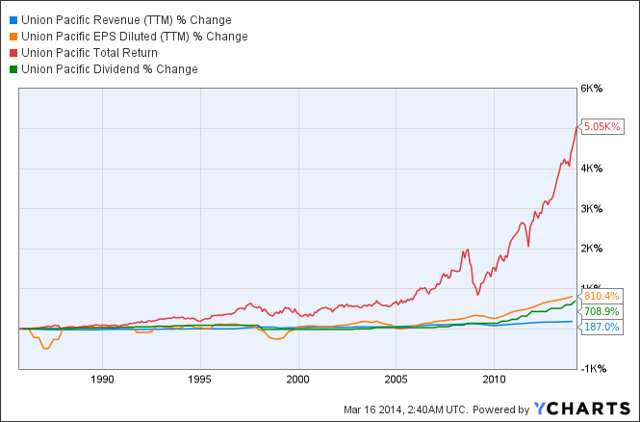 Union Pacific has been a very steady investment over the decades. Over the last 28 years the company has returned:
Revenue growth of 3.84% CAGR
Earnings growth of 8.21% CAGR
Dividend growth of 7.75% CAGR
Total Returns (including dividend reinvestment) of 15.1% CAGR. Over this same time the market returned 9.62% CAGR.
Recent Performance:
According to the Q4 2013 earnings call:
Operating revenue was up 7% to a record $5.6 billion.
Record performance for the quarter with 16% increase in EPS to $2.55/share.
Record low operating ratio of 65%. The operating ratio is a measure of efficiency. It indicates that 65% of revenues are required to operate the business. This measure has been trending down since it was 79.3% in 2007. Management plans to drop it below 65% by 2017.
Volume up 2%, despite weakness in chemical and coal shipments.
Strongest growth in grain shipments, up 90%.
Full Year Results:
Revenues up 4.76% to $22 billion.
Earnings a record $4.4 billion, $9.42/share.
$3.6 billion in cap-ex.
ROIC up .7% to 14.7%.
Dividend increase of 14.5% after 15% increase in 2012.
Payout ratio 31%, goal is 30-35%.
Future Performance: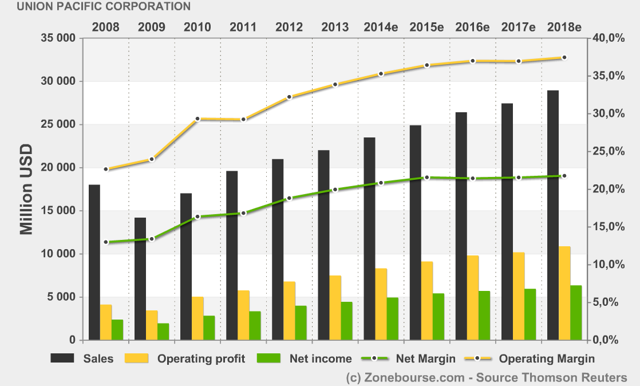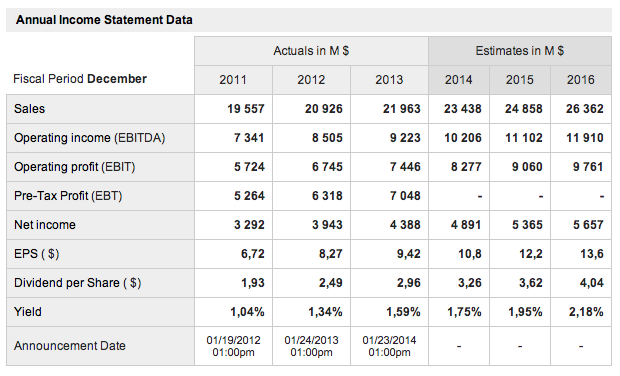 Source: 4-trader.com
Over the next 3 years analysts are projecting:
Revenue growth of 6.3% CAGR.
Earnings growth 13.6% CAGR.
Dividend growth of 10.1% CAGR
Valuation and Future Returns:
Based on the projected growth I model 2018 EPS of $17.55/share. I apply the historical 18.04 PE ratio to achieve a 2018 price of $316.61. To this I add the $20.25 in anticipated dividends to get a total share value of $336.86. This is a total return of 12.72%, 13% CAGR with dividend reinvestment.
The stock market's 1871-2013 return is 9% CAGR, 11.1% with dividend reinvestment. By discounting the projected 2018 price by this rate, I get the present day fair value.
Fair Value: $209.27
Discount To Fair Value: 11.5%
Technical Analysis:
Note: I am a long-term fundamental investor. I present this technical analysis to help interested investors decide whether or not to initiate a position at this time. I do not advise using technical analysis for anything other than timing buys. Ideally one would only buy Union Pacific and never sell.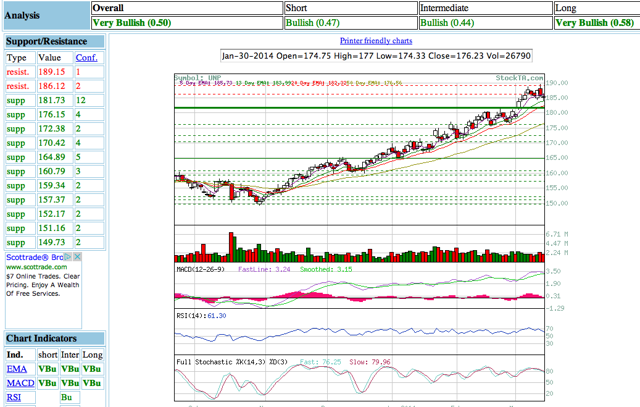 Source: stockta.com
As seen from the above table Union Pacific is in a powerful bullish uptrend. There is very strong support at $181.73 with only token resistance above. The most recent candlestick pattern is bullish as well. Interested investors can buy with confidence that no short term price drop is imminent.
Conclusion:
For 151 years Union Pacific has been on the leading edge of American economic prosperity. The world is faced with the prospect of massive growth in food demand and the US population expanding by 100 million. Union Pacific stands ready to prosper from these megatrends and patient investors are invited to jump onboard the gravy train to riches and prosperity.
Disclosure: I have no positions in any stocks mentioned, and no plans to initiate any positions within the next 72 hours. I wrote this article myself, and it expresses my own opinions. I am not receiving compensation for it (other than from Seeking Alpha). I have no business relationship with any company whose stock is mentioned in this article.