This is part 7 in a continuing series of articles discussing building a portfolio of dividend income equities. The strategy seeks to use value investing principles and apply them to stable companies offering reliable dividends. Further safety is sought by diversifying through a wide range of industry segments and often using multiple tickers in each of those segments.
Series parts 1, 2, and 3 lay out the philosophy, strategy, and methods of the Tortoise Strategy and Use of Covered Option Writing to boost performance. I recommend readers review each of these first 3 initial parts. Beginning with part 4, each subsequent installment reviews and analyzes one of the 16 tickers identified in the preliminary screen (listed in part 4). A full index of links to the complete series, including future installments as they occur, is available here.
Altria Group, Inc.
| | | | |
| --- | --- | --- | --- |
| Altria (NYSE:MO) | $ 36.34 | $ 1.92 | 5.30% |
Altria , headquartered in Richmond, Virginia, was founded in 1919. It engages primarily in the manufacture and distribution of cigarettes and smokeless tobacco products in the United States and internationally. It also produces and distributes wine under several labels and has a portfolio of leveraged and direct finance leases in transportation, power, retail, and manufacturing.
Altria has provided a very strong history of growth over its lifetime in both its share price and dividend distributions. The few sharp price retrenchments in 1993, 1999, and 2002 recovered quickly. Throughout the past several decades, Altria has consistently raised its dividend through increased cash distributions, share splits, or direct spin-offs to shareholders.
(source: yahoo.com)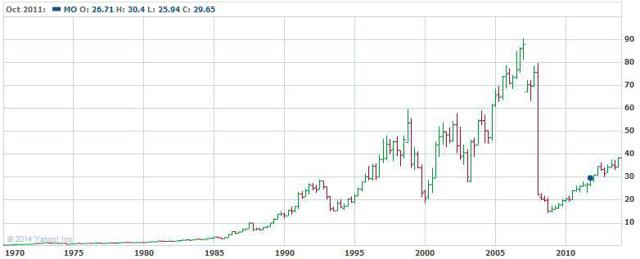 On March 30, 2007, a spin-off of the Kraft Foods subsidiary (publicly traded since 2001) was concluded through distribution of the remaining stake of shares (88.1%) to Altria shareholders. On March 28, 2008, a similar spin-off of Philip Morris International was completed with 100% of shares being distributed to Altria shareholders. These notable spin-offs are responsible for the steep reversal of 2007-2008 seen on the price chart. While the Altria shares lost price with these divestitures, overall shareholder value including their newly issued units increased value significantly.
Price rose sharply as investors bid up shares offering yields that would shame a loan shark. In 2008, as the company restructured to maximize shareholder value and switch from a poly-industrial international conglomerate into individual companies (each more focused on an industry and market segment) prices moderated, distributions adjusted to the redefined company activities and cash flows, yields began to find an equilibrium point as MO transformed into a dividend income equity best valued based on yield rate.
As clear from the YDP Chart, this yield rate has settled into the 5% range, balancing distributions in a reciprocal relation to price to keep yield steady and at competitive risk adjusted rates with other dividend income equities in diverse markets and industry segments.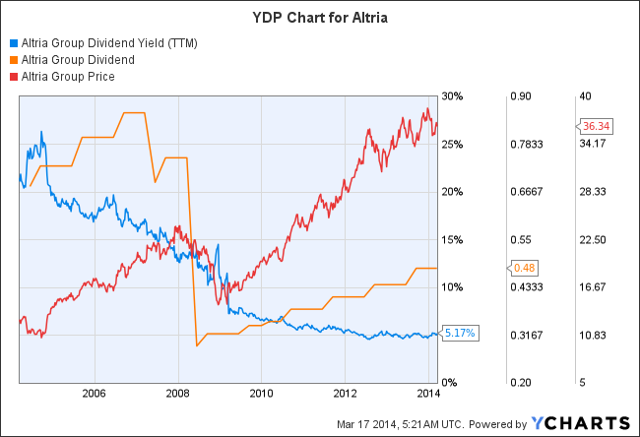 MO Dividend Yield (TTM) data by YCharts
At its current share price of $36.34 and a distribution of $1.92, Altria's yield is at 5.30%. A price move to $38.40 will bring yield into balance with the current distribution levels, returning to the 5.0% equilibrium of Y=D/P (where Y is Yield, D is Distribution, and P is price). For those not familiar yet with YDP charts, I refer you to my introductory article on YDP chart analysis and its precursor article with several YDP chart interpretation examples.
A brief technical chart analysis indicates the prior resistance level of $35.57 during last February's consolidations became the new support level after the breakout of February 27 and subsequent strong rise in share price. Resistance is expected to be strong at $36.95, the prior support level that shares broke through to the downside after holding above those levels for November 2013 through January 2014. Another slightly higher resistance level is present and still persists around $37.50 as it was established during the same period.
The current payout ratio is uncomfortably high at 81%. However, this is in line with and even to the low side of the payout ratio the company has been able to sustain while raising distributions regularly since 2009.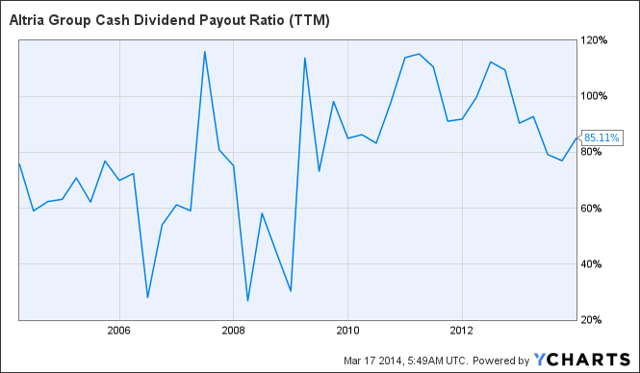 MO Cash Dividend Payout Ratio (TTM) data by YCharts
Given this historical context, the company's status as a cash cow that is able to adjust capital expenditures to a great degree in managing its cash flow, and continuing favorable growth trends in its alcohol and lease financing segments, the dividend is judged safe and likely to continue its historic growth pattern.
Altria's traditional value metrics compared with its competitors show it to be on a solid footing at current prices. P/E, margins, and PEG all compare favorably. The Price/Book for Altria is the one exception. At 17.36, it is very expensive in traditional value terms. However, this just re-enforces the thesis that investors value this company on its income distribution stream. Altria's operating margins continue to grow and are considerably higher than its nearest competitors, Reynolds America (NYSE:RAI) and Lorillard (NYSE:LO).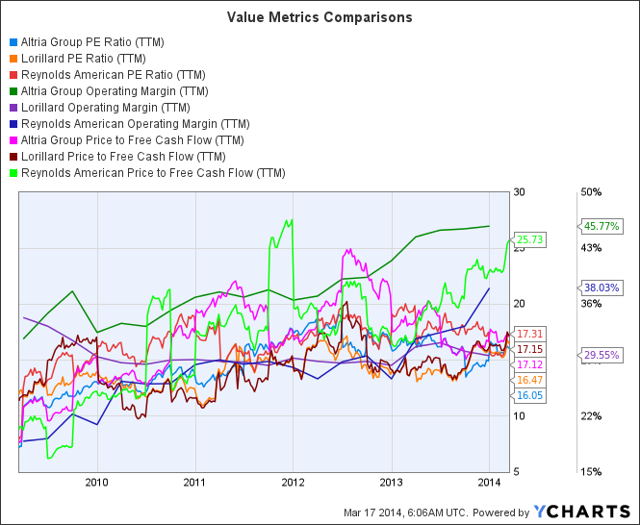 MO PE Ratio (TTM) data by YCharts
Altria appears to be a good choice for dividend income investors right now:
Present shares at $36.34 and a 5.30% yield are good value based on traditional metrics and historical yield rates.
The 5.0% true value yield based on YDP analysis indicates immediate upside potential to $38.40/share (a 5.67% gain).
Recent consolidation and breakout establishing a $35.57 support level indicates an asymmetrical upside potential of 2/1 currently and longer term growth of both price and distributions adding to the attractiveness of shares.
Resistance $36.95 and $37.50 will create some headwinds against the advance to $38.40. Breakout with gap to the upside is possible and even likely at some point however.
Covered Options to boost performance:
Buy Altria shares at market price in the $36.34 range now. Concurrently sell the 5/02/2014 Covered Call with $37.00 Strike for a premium of $0.52. If the contract expires in 46 days unexercised, the premium boosts your yield by an annualized 11.35% (absolute yield for 46 days of 1.43%). In the event the shares rise beyond $37.00 and the contract is exercised at closing day, the $0.52 premium plus $0.66 gain on option Strike over your $36.34 cost basis provides an absolute gain of $1.18 (3.25%) for the 46 day period. This represents an annualized rate of an impressive 25.79%.
(source: schwab.com)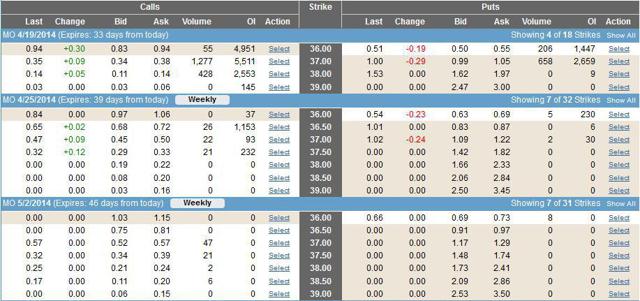 Investors should keep in mind the potential for breakout to $38.40 and consider if they wish to trade off call premium yield for higher Strike Price. This should be weighed against resistance levels as discussed, timing (46 days is a short period to break through 2 resistance levels), and that positions can always be closed by buying to cover or allowing call away and then repurchasing shares. Rolling forward to new Strike price and later dates are also alternative strategies to watch as trends continue to develop after establishing your initial positions. Personally, I feel comfortable with the returns offered by any of the potential results of using the $37.00 Strike 46 days out and it is the one I currently suggest.
Conclusions:
Buy Altria now at $36.34 range.
Use covered calls to boost income yield by 11.35% annual rate.
Monitor positions and trends closely to adjust hedging in the event a breakout breaches resistance levels and makes call away more likely. Consider higher initial contract Strikes if you want to reduce call-away risk.
Currently, the shares are ex-dividend for the Call Option periods discussed. Take possible dividend capture call-away into consideration if choosing longer contract periods into June and beyond.
In part 8, I will discuss Phillip Morris (NYSE:PM). Each subsequent part of the series will discuss and evaluate one more of the original 16 tickers identified in the preliminary screen for building your Tortoise on Steroids portfolio.
I hope you will join me as I detail the use of covered option writing on quality dividend income equities to develop a model portfolio for the Super Tortoise. Simply click on the bold link labeled FOLLOW above the title at the top of this article to get an email notice of my new articles when they are published.
Disclaimer: I am not a licensed securities dealer or advisor. The views here are solely my own and should not be considered or used for investment advice. As always, individuals should determine the suitability for their own situation and perform their own due diligence before making any investment.
Disclosure: I am long LO. I wrote this article myself, and it expresses my own opinions. I am not receiving compensation for it (other than from Seeking Alpha). I have no business relationship with any company whose stock is mentioned in this article.