Freeport-McMoRan Copper & Gold Inc. (NYSE:FCX) stock price has recently significantly declined, and it lost 17.7% of its value since the beginning of the year, as copper and gold prices dropped. Nevertheless, I consider FCX's stock as a real good combination of value and growth high-yielding dividend stock, and in my opinion, after the retreat in its stock price, it is now an excellent opportunity for a long-term investment in a good company at a cheap price.
The Company
Freeport-McMoRan Copper & Gold is the world's second largest copper producer and a major producer of gold and molybdenum. The company is also a small oil and gas producer in the U.S. Freeport-McMoRan has mines in Indonesia, North America, South America and Africa. The company was founded in 1987 and is headquartered in Phoenix, Arizona.
Valuation Metrics
The table below presents the valuation metrics of FCX, the data were taken from Yahoo Finance and finviz.com.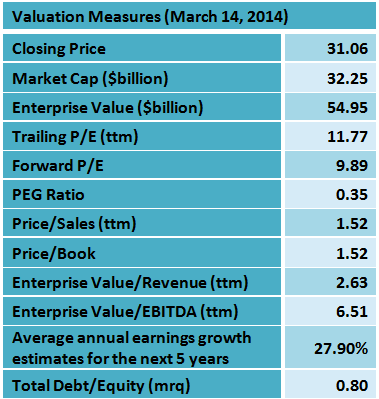 Freeport-McMoRan's valuation metrics are extremely advantageous; the trailing P/E is very low at 11.77 and the enterprise value-to-EBITDA ratio is also very low at 6.51. According to Yahoo Finance, FCX's next financial year forward P/E is very low at 9.89 and the average annual earnings growth estimates for the next five years is very high at 27.90%. These give an exceptionally low PEG ratio of 0.35, one of the lowest among S&P 500 companies. The PEG Ratio - price/earnings to growth ratio is a widely used indicator of a stock's potential value. It is favored by many investors over the P/E ratio because it also accounts for growth. A lower PEG means that the stock is more undervalued.
Latest Quarter Results
On January 22, Freeport-McMoRan reported its fourth-quarter and full-year 2013 financial results, which beat EPS expectations by $0.04 (5%). Net income attributable to common stock for fourth-quarter 2013 totaled $707 million, $0.68 per share, compared with net income of $743 million, $0.78 per share, for fourth-quarter 2012. Net income attributable to common stock for the year 2013 totaled $2.7 billion, $2.64 per share, compared with $3.0 billion, $3.19 per share, for the year 2012.
In the report, chief officers of the company said:
Our fourth-quarter results reflect strong operating performance in our global mining and oil and gas businesses. As we enter 2014, we are positive about our large and diverse portfolio of assets and resources, which provide attractive near-term and longer term growth opportunities. We remain focused on building value for shareholders through strong operations, investing prudently in our financially attractive projects, achievement of our debt reduction initiatives and providing cash returns to shareholders.
Dividend
During 2013, FCX paid $2.3 billion in common stock dividends, including $1.0 billion for a supplemental dividend of $1 per share paid on July 1, 2013. FCX started paying dividends in 1995, but had interrupted the payments during the years 1999 to 2002 and in 2009. The forward annual dividend yield is very high at 4.02% and the payout ratio is at 85%. The annual rate of dividend growth over the past three years was at 7.77% and over the past five years was at 4.37
FCX's dividend is paid every quarter, as shown in the charts below.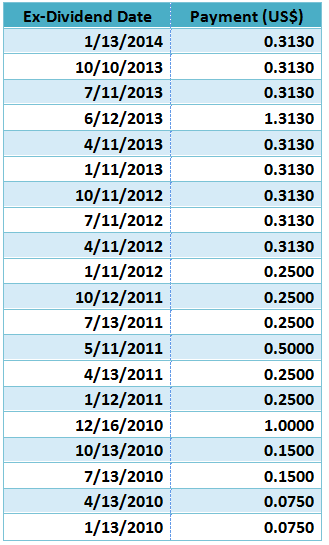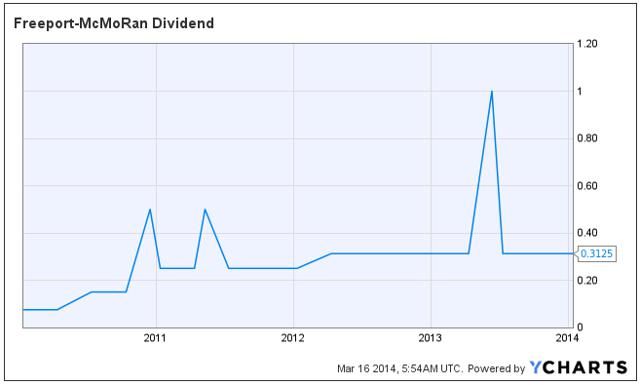 Competitors and Group Comparison
A comparison of key fundamental data between Freeport-McMoRan and its main competitors is shown in the table below.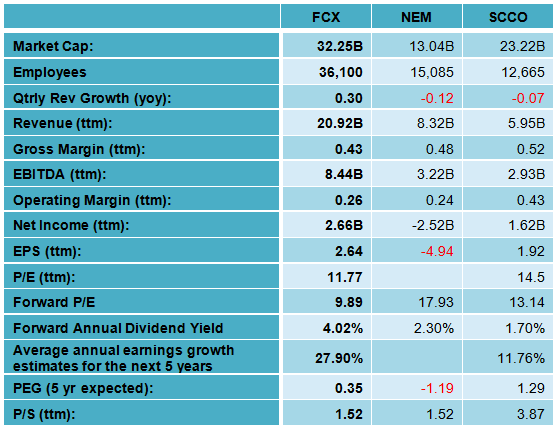 Source: Yahoo Finance
FCX's valuation metrics are much better than those of its main competitors. FCX has the strongest earnings growth prospects, the lowest forward P/E ratio, and by far the lowest PEG ratio among the group.
FCX's margins have been much better than its industry median, its sector median and the S&P 500 median, as shown in the table below.

Source: Portfolio123
Technical Analysis
Personally I am using only fundamental analysis for my investment decisions. After many years of experience, and after having tried all kinds of decisions making including technical analysis, I have reached the conclusion that relying on fundamental information is giving me the highest return. Nevertheless, some investors are successfully using technical analysis to find the proper moment to start an investment (I am not talking about traders; my analysis is only for investors). The charts below give some technical analysis information.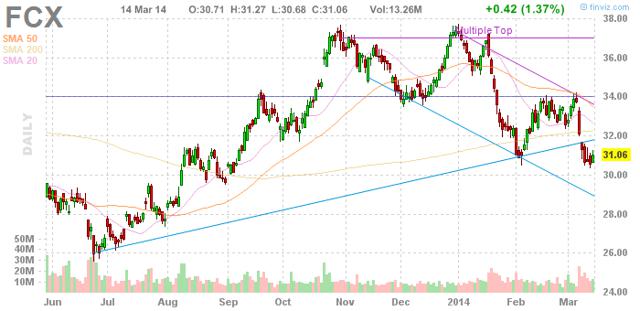 Chart: finviz.com
The FCX stock price is 5.33% below its 20-day simple moving average, 7.73% below its 50-day simple moving average and 3.79% below its 200-day simple moving average. That indicates a short-term, mid-term and long-term downtrend.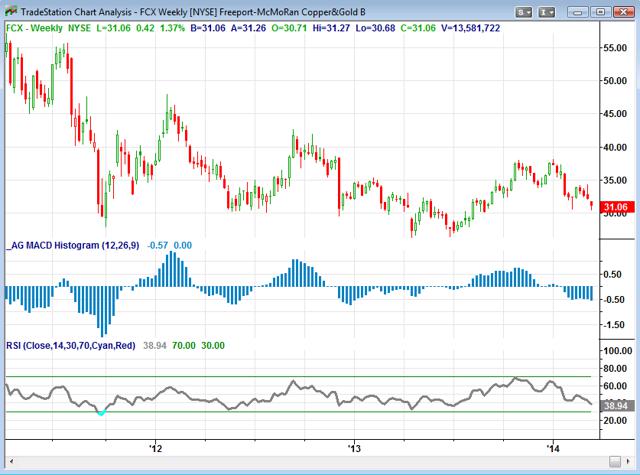 Chart: TradeStation Group, Inc.
The weekly MACD histogram, a particularly valuable indicator by technicians, is negative at 0.57 and descending, which is a bearish signal (a rising MACD histogram and crossing the zero line from below is considered an extremely bullish signal). The RSI oscillator is at 38.94 which do not indicate oversold or overbought conditions.
Analyst Opinion
Analysts opinion is divided, but most analysts recommend the stock. Among the twenty two analysts covering the stock, five rate it as a strong buy, nine rate it as a buy, seven rate it as a hold and one analyst rates it as a sell.
Peter Ward, an analyst at Jefferies (A four star rated analysts according to TipRanks) recommended the stock with a buy rating.
Discussion
Copper is the main product of the company accounted for 64% of sales in 2013. Although London Metal Exchange's copper inventories have declined recently, the price of copper has continued to drop, as shown in charts below. The decline in copper price is due to a significant increase in global copper supply and weaker demand in China, the world's largest consumer of copper, where recent industrial production and GDP growth have been weaker than expected.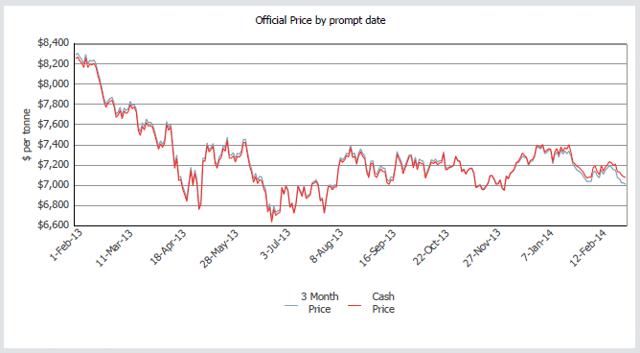 Source: London Metal Exchange
Gold accounted for 14% of sales in 2013; the average realized price for gold fell 27.4% to $1,220 per ounce in 2013. Gold price has started to improve recently, and it has surged about 15% from the beginning of the year to $1,379 per ounce on March 14, 2014.
Gold April-2014 Contract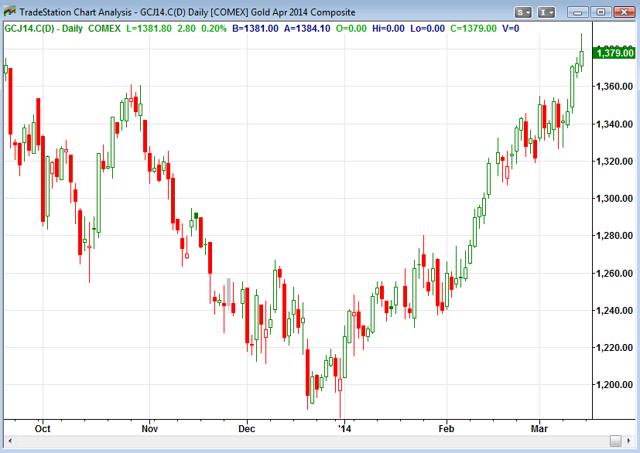 Chart: TradeStation Group, Inc.
With the acquisition of Plains Exploration & Production (NYSE:PXP) and McMoran Exploration (NYSE:MMR) in June 2013, the FCX is now also a small oil and gas producer in the U.S. Oil and gas accounted for 14% of sales in 2013.
Molybdenum accounted for 4% of sales in 2013; Demand for molybdenum depends mostly on the level of global steel production. Molybdenum sales totaled 22 million pounds in 4Q13 and 21 million pounds in 4Q12.
My Take
In my opinion, copper price is ready to improve due to declining LME inventories and improvement in the U.S. housing market. Furthermore, Freeport-McMoRan is succeeding to reduce the cost of copper production; net cash costs for copper on a consolidated basis were $1.16 per pound in 4Q13, down 24.7% from $1.54 per pound in the prior-year quarter due to cost-control efforts. Gold price has already increased 15% this year, and it is in a clear uptrend. Regarding oil and natural gas, I don't see a significant decline in price in the coming months. As a result, FCX will benefit from better prices for copper and gold and lower cost of copper production.
Risk
Declines in the market prices of copper, gold and/or oil could adversely affect the company's earnings, cash flows and asset values and, if sustained, could adversely affect its ability to repay debt. Fluctuations in the market prices of copper, gold or oil can cause significant volatility in the company's financial performance and adversely affect the trading prices of its debt and common stock.
Conclusion
Freeport-McMoRan has compelling valuation metrics and very strong earnings growth prospects, its PEG ratio is extremely low at 0.35 one of the lowest among S&P 500 companies. Furthermore, by expanding its business also to oil and natural gas production FCX is decreasing its exposure to copper and gold prices volatility.
All these factors lead me to the conclusion that FCX stock is a smart investment right now. Furthermore, the very rich growing dividend represents a gratifying income.
Disclosure: I have no positions in any stocks mentioned, but may initiate a long position in FCX over the next 72 hours. I wrote this article myself, and it expresses my own opinions. I am not receiving compensation for it (other than from Seeking Alpha). I have no business relationship with any company whose stock is mentioned in this article.