Chipmaker Advanced Micro Devices (NASDAQ:AMD) has had a pretty indifferent year so far. AMD hasn't managed to deliver any return to shareholders so far, with a weak fourth-quarter performance being the primary reason behind the stock's travails. It issued a sorry outlook and with rival Nvidia (NASDAQ:NVDA) gaining momentum, AMD will probably have a tough time going forward. However, there are certain positives that should help AMD perform well in the future.
What's working for AMD
The company has completed its restructuring, creating a more efficient business model with significantly lower operating expenses by executing a three-step strategic turnaround to accelerate, and ultimately transform itself.
A successful ramping up of AMD's strong and diverse set of new products should generate strong revenue growth and a return to profitability in the second half of the year. Moving forward, AMD's strategic transformation through diversification of its portfolio, and by driving a larger percentage of its revenue from semi-custom, ultra-low power client embedded dense servers and professional graphics could be growth drivers.
Also, Sony (NYSE:SNE) and Microsoft (NASDAQ:MSFT), the two main gaming console manufacturers, could boost AMD's revenue in the future. Sony and Microsoft have been reported to sell more than 7 million units of their consoles in less than two months, combined. This is more than double the number of prior-generation consoles sold in their first quarter of introduction. AMD sees this as a huge opportunity to increase game console SoC (System on Chip) shipments for the year and reach new heights from its semi-custom design pipeline.
AMD's embedded business had achieved continuous revenue growth throughout 2013. Looking ahead, its unparalleled processor designs can drive further growth as AMD begins offering both x86 and ARM-based solutions in 2014.
Product pipeline
AMD is on the verge of launching one of the industry's first 64-bit ARM server SoCs in 2014 for dense servers. AMD will offer both x86 and ARM solutions, backed by its years of experience in the server market and industry leading fabric technology. This could be a differentiating factor from peers as it brings an expanded set of solutions to this important market. AMD plans to start sampling its new ARM-based SoCs later this quarter, and is seeing strong interest from both traditional server OEMs and end-market customers like cloud providers.
AMD is optimistic about driving additional growth based on incremental investments. It plans to further strengthen its product offerings, expand its partnership with key software developers, and secure more design wins. Apple's new Mac Pro desktop, with dual AMD FirePro GPUs, is a solid example of its product innovation and design wins.
AMD is focusing on its traditional business by accelerating the transition to its new R9 and R7 graphics chips. These are driving significant sequential increase in GPU revenue and average selling prices on account of strong demand for its latest graphics chips. AMD is also shifting its focus from the PC desktop market to the mobile GPU market. It expects to gain market share in the graphics market in 2014 based on the new R7 and R9 discrete mobile GPUs.
In addition, higher shipments of higher-end APUs and FX CPUs pushed up desktop processor revenue in the fourth quarter. Shipments of the newest APU, Kaveri, for the desktop market are expected to fuel future growth by delivering a significant performance advantage versus competitive offerings. Kaveri integrates HSA features that can improve performance and power efficiencies when running modern workloads and supports mantle API for a better gaming experience.
AMD's powerful design for notebooks with Kaveri, and its move toward the next generation low power Mullins and Beema SoCs, which deliver twice the performance per watt of its previous offerings, look like a winning strategy.
Also, AMD continues to drive a richer product mix by focusing on parts of the market where it is under-represented and has significant growth opportunities. It has secured a significant number of new commercial client design wins with tier one OEMs which will be launched in the second half of the year.
AMD's objective this year is to achieve revenue growth and profitability by leveraging its differentiated IP and products to further expand its businesses, participate across a broader part of the traditional PC market, and to create a more balanced and consistent revenue stream. Also, it will continue to pursue efficiencies in its business model that will further reduce operating expenses.
But a threat that can't be ignored
AMD, however, is going to have to shrug off competition from Nvidia in order to gain market share in the PC gaming segment. Nvidia has released a new GPU known as Maxwell, based on the Kepler architecture. Maxwell will be a direct rival to AMD's R9 270. While the R9 270 is faster than Maxwell, it consumes less power. The R9 270 consumes around 50% more power when idle and 42% more power under load than Maxwell.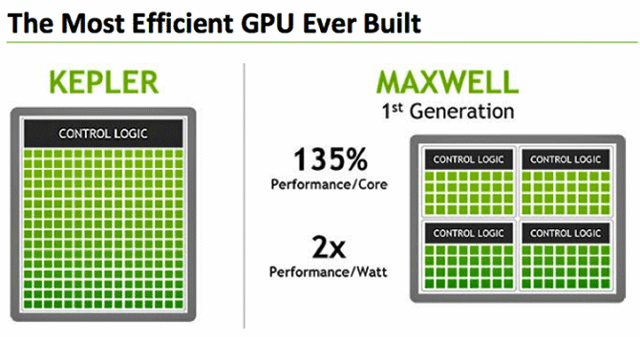 Image credits: Forbes
But what's even more striking is the price difference. Nvidia's Maxwell comes in two variants that are priced at $119 and $149, respectively. However, AMD's R9 270 is being sold for $179. And Nvidia is going to enjoy the price advantage in the future too as AMD is planning to draw its R9 series to a close by launching Radeon 280, which is to be priced at $279. AMD's GPU prices have been on the rise due to cryptocurrency mining.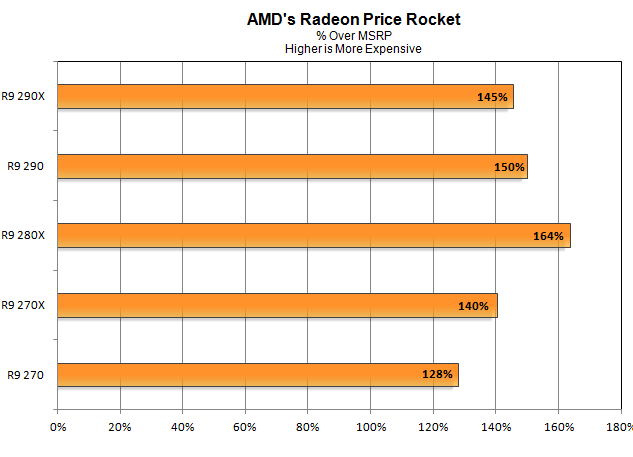 Source: extremetech.com
The chart above depicts the difference between official AMD GPU's MSRPs and present selling prices. This considerable rise in the prices can hurt AMD's PC gaming market and give Nvidia a chance to zoom ahead.
Conclusion
AMD, no doubt, is making a lot of effort to turn its business around. The company is looking to launch better and more efficient processors, and its presence at key OEMs such as Microsoft, Sony, and Apple could drive growth in the long run. Analysts are also upbeat about its prospects with earnings expected to grow at a CAGR of 56% in the next five years. However, the company faces serious threats from Nvidia on both pricing and performance of GPUs, which means that there will be a lot of headwinds in the way before AMD could achieve its long-term target.
But, at a forward P/E ratio of 24, investors with an appetite for risk can certainly take a closer look at the stock and consider initiating a long position.
Disclosure: I have no positions in any stocks mentioned, and no plans to initiate any positions within the next 72 hours. I wrote this article myself, and it expresses my own opinions. I am not receiving compensation for it (other than from Seeking Alpha). I have no business relationship with any company whose stock is mentioned in this article.