Brazil put out an astounding growth rate in Q1 2010, albeit versus very easy comps from a year earlier when the world was frozen. Unfortunately with all the world now one big quant fund algorithm, correlations amongst markets are very high and, despite the news, the Brazilian market has just been thrown in with the rest. (Click to enlarge)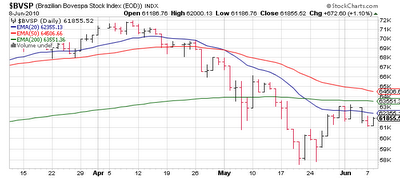 Still some exciting figures (which will be impossible to replicate) that showcase again why Brazil is the most exciting market in the Western hemisphere -- a country where the middle class is expanding, not shrinking as we see in the U.S. Now, much like China, the central bank needs to worry about slowing down the economy, which is a nice problem to have.
Brazil's economy grew at the fastest annual rate since 1995 in the first quarter, expanding 9% from a year earlier. On the supply side, the industrial sector in the first quarter expanded by a robust 14.6% from a year ago. The biggest "surprise" on the demand side came from investment, which grew 7.4% from the year-ago period.
Across the nation, companies are struggling to keep up with demand that's been rising as unemployment hovers near a record low 6.8%, salaries rise and the 30 million Brazilians who have left poverty since President Luiz Inacio Lula da Silva took office in 2003 increase spending. Retail sales rose 15.7% in March from a year earlier, the highest on record.
"What makes Brazil unique is the strength of domestic demand," said Neil Shearing, a senior emerging-markets economist at Capital Economics Ltd. "Retail sales have been staggeringly strong over the past three or four months."
Yields on Brazil's interest-rate futures contracts rose to a 13-month high, boosting bets on an interest-rate hike. "These GDP numbers completely removed any doubt that the bank will raise the rate by less than 75 basis points."
Via Bloomberg:
Brazil is running out of beer cans and farmers are leaving crops in the field as surging demand and Chinese-like growth leads to shortages in Latin America's biggest economy. Cia de Bebidas das Americas, the region's largest brewer, had to import beer cans for the first time in its 125-year history after local supplies were exhausted. Acucar Guarani SA, the country's third-biggest sugar producer by market value, left 10% of its crop sitting in the fields an extra 40 days because of a shortage of tires for its harvesters, even after the commodity hit a 29-year high in February.
"National demand is growing at a Chinese pace," said Teles in a telephone interview. "That's why the central bank will keep raising the Selic and the Finance Ministry is trying to reduce pressure on the bank by cutting spending."
Inflation quickened to a 12-month high of 5.26% last month.
Exports account for 10% of Brazil's GDP compared with about 33% for Chile and 17% for Argentina, meaning that any slowdown in Europe is unlikely to significantly impact growth, Bank of America said in a May 28 report. "What makes Brazil unique is the strength of domestic demand," said Neil Shearing, an emerging markets economist at Capital Economics Ltd. "If this isn't a V-shaped recovery, I don't know what is."
[May 21, 2010: The Economist - Brazil: Too Much Government Spending?]
[Oct 20, 2009: Ben Bernanke's Money Printing Parade Forces Brazil to Slap a Tax on Outside Investors]
[Oct 27, 2009: Goldman Sachs - "Hazardous" to Underweight Brazil]
[Sep 23, 2009: Brazil's Credit Rating Raised to Investment Grade]
[Aug 11, 2009: BW - Brazil's Coming Rebound]
[May 16, 2008: Brazil is Sexy]