The 180 day lockup period following the September 20, 2013 IPO of ClubCorp Holdings, Inc. (NYSE:MYCC) will come to an end on March 19, 2014, permitting some of the membership-based leisure firm's outstanding shares to be sold.
Private equity firm KSL Capital Partners and its affiliates hold most of the soon-to-be-unlocked shares; MYCC directors and executives will also be permitted to sell their shares at the conclusion of the lockup period. The sudden increase in the supply of shares available on the market will likely cause a decline in the price of MYCC shares, presenting a potential short opportunity for aggressive investors.
Shares Unlocking
MYCC offered 18.0 million of its 63,769,730 outstanding shares of common stock through its September IPO; the remaining 45,769,730 shares will be unlocked for sale on March 19. Over 40 million of these shares are held by KSL Capital Partners and its associates. KSL will likely choose to sell some of its stake in MYCC in order to raise capital and to cash in on share prices that remain fairly strong - approximately $3.15 per share better than the firm's $14 IPO pricing - but which have fallen consistently since mid-January.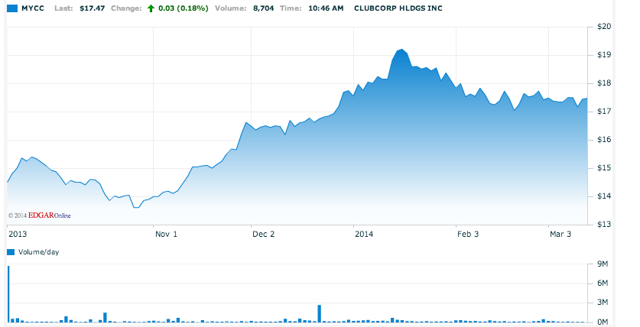 (Nasdaq.com)
The executives and directors of MYCC collectively own approximately 1.5 million shares that will be unlocked on the 19th, and though they are not under any particular pressure to sell their shares, many may choose diversify their portfolios or simply cash in after sitting on their shares for six months.
Business Summary
MYCC owns and operates 152 clubs, including 103 golf or country clubs and 49 business, alumni, and sports clubs. The company derives nearly half of its revenues through the membership dues it receives from approximately 360,000 members. Eighty-one of the country and golf clubs and one of the other clubs are located on real estate owned by MYCC, allowing the firm to maintain control of its assets and to sell under-performing clubs. The firm's facilities are spread across 24 states, the District of Columbia, and a pair of foreign countries. MYCC continues to expand its holdings aggressively, having acquired eight golf and country clubs and one additional club between 2007 and mid-2013.
Risk Factors For MYCC Shareholders
MYCC's extensive real estate holdings do present some risks, as the value of the firm's assets is inevitably deeply tied to the real estate market. This means that an economic downturn could do tremendous damage to the firm, as it would no doubt struggle to maintain membership while simultaneously declining in asset value.
MYCC is also significantly (though hardly insurmountably) indebted, and will be forced to put much of its revenues towards debt service in coming years.
Disclosure: I have no positions in any stocks mentioned, and no plans to initiate any positions within the next 72 hours. I wrote this article myself, and it expresses my own opinions. I am not receiving compensation for it (other than from Seeking Alpha). I have no business relationship with any company whose stock is mentioned in this article.