Disney (NYSE:DIS) has been the iconic name in entertainment for nearly 90 years and has transformed the Mouse House into an investment dynamo. Among those who have served to keep Disney current is Ann Sweeney, head of the Disney/ABC TV Group. However, her recent interest in leaving Disney to become a TV director has caused the investment community to wonder about her motives, as well as the company's future.
Disney Leadership
Bob Iger, Disney's current CEO, will be ready to leave in 2016, which means the search for a replacement is already underway. After 12 years at Nickelodeon and 3 years at FX, Sweeney rose through the Disney ranks and has headed the Disney/ABC TV Group since 2004. Sweeney was not being considered in the running for the CEO position of the Disney conglomerate, which could make her decision to take her career in a new direction more understandable.
The Search Is On
Other names are in contention for the Disney top spot, including James Rasulo, the company's chief financial officer, and Thomas Staggs, chairman of the theme park unit. The two men have significant experience at Disney and would provide a smooth transition for company. However, it could be that the company is looking for a more innovative vision for the future that only fresh blood could provide.
Sheryl Sandberg, who sits on the Disney board, is another name frequently mentioned. With her background at Facebook and Google, she has the foresight necessary to provide a vision for the future.
Disney's Progress Under Current Leadership
The Disney Company had a strong showing in 2013, with stock rising steadily over the past five years. Last year alone saw a 32% increase in stock price, boosted by Oscar-winning Frozen, which has already grossed over $1 billion, and which is likely to go higher as the economy improves and people again start spending more for entertainment. The recent rise in theme park entry prices will also help to boost profits for the company. Disney has been successful in supplying the right entertainment for their audiences' needs while still keeping a close eye on their bottom line.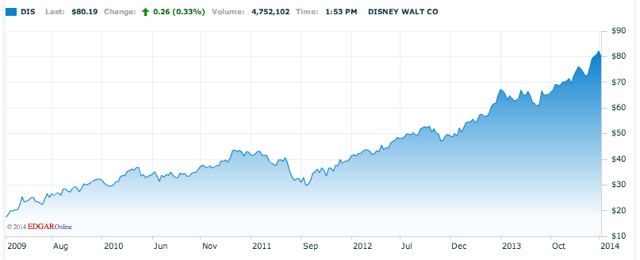 (Nasdaq.com)
Disney's Stock Outlook
The people at Disney have a record of staying abreast of changes in the culture, which makes it a good bet for a solid investment in future years.
The search for a CEO for the company is likely to be both thorough and forward thinking, keeping Disney in the forefront of the entertainment industry as it moves into the next decade.
Disclosure: I have no positions in any stocks mentioned, and no plans to initiate any positions within the next 72 hours. I wrote this article myself, and it expresses my own opinions. I am not receiving compensation for it (other than from Seeking Alpha). I have no business relationship with any company whose stock is mentioned in this article.