EMC Corp. (EMC), a storage solutions provider, spent most of 2013 treading water while equities returned over 30% during the year. 2014 has been a different story so far, as the stock has finally turned up as investors shift from high-flying growth and momentum stocks to more reasonably priced equities with solid but not spectacular growth prospects.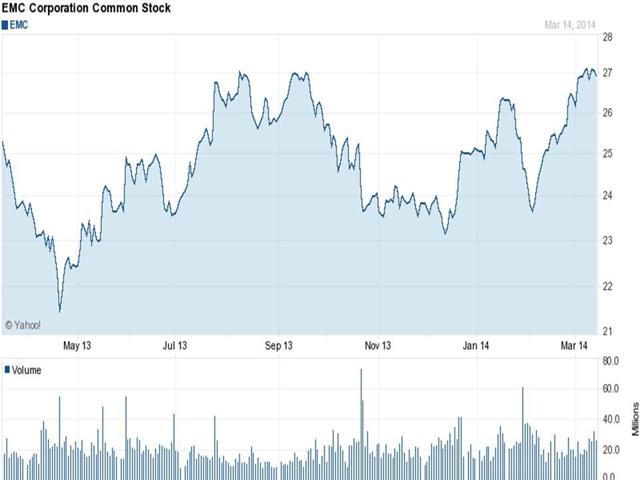 I believe this rise will continue for EMC for a variety of reasons.
Underappreciated Assets:
EMC owns 80% of virtual server software provider, VMware (NYSE:VMW). VMware is by far the market leader in this fast-growing niche. It is growing revenues consistently in the 15% rate, and recently was initiated as a "Buy" at Wunderlich, and FBR Capital upped its price target to $120 a share last week as well.
EMC has over $3B in net cash on its balance sheet. This in addition to the over $5B in net cash on VMware's balance sheet. Net cash and EMC's stake in VMware makes up over 60% of EMC's market capitalization at current prices.
Market Share:
EMC is gaining market share. In the recently completed quarter, the company saw its external disk share rise 220 bps Y/Y to 32.9%, and its total disk share rise 200 bps to 25.8%. EMC is the market share leader in both categories, and continues to take market share from its main competitor, IBM Corp. (NYSE:IBM), as that tech company restructures that part of its business.
Valuation:
EMC is offering cheaper valuations than the overall market right now. The overall market goes for ~16x forward earnings, and revenues are expected to grow 4% overall for the S&P 500 this year. EMC sells for less than 14x this year's expected earnings, and should grow sales in the 5% to 8% annual range over the next two years.
Earnings should also grow ~10% annually over the next 24 months. EMC pays a small dividend of 1.5%, but given its cash hoard; activists could ratchet up the pressure to return some more cash to shareholders via dividends and/or stock repurchases at some point in the foreseeable future.
In conclusion, EMC offers good value at current levels. It is a good play for what I think will be a more volatile market in 2014. ACCUMULATE.
Disclosure: I am long EMC. I wrote this article myself, and it expresses my own opinions. I am not receiving compensation for it (other than from Seeking Alpha). I have no business relationship with any company whose stock is mentioned in this article.