Ligand Pharmaceuticals (NASDAQ:LGND)
A cash-cow biotech
2014 is off to a lot tougher start than 2013. By this time last year, the S&P was already up 9.6%, and it was well on its way to a 29.6% gain before the year was over.
Ten weeks into the new-year, the S&P 500 is down 0.40%, and it is anybody's guess as to where it will end up this year.
But, here is what we do know so far.
Just like last year, there are only a few asset classes to be focused on.
Emerging Markets continue to submerge. Russia (NYSEARCA:RSX), China (NYSEARCA:FXI), and Latin America (NYSEARCA:ILF) are getting clobbered.
So much for the pundits who were calling for a contrarian investment in the emerging markets towards the end of last year. I have kept my readers and my clients out of the emerging markets for over fifteen months.
And even though the bond market has had a decent bounce after last year's drubbing, it is hard for me to see lower interest rates going forward. The bond market continues to lose one if its biggest supporters in the Fed.
I have been out of the bond market for the last eighteen months. Consider that a 50/50 mix of stocks and bonds was up just over 6% last year, while the U.S. stock market was up 29.6%.
I am in the minority of money managers that does not adhere to an asset allocation model. Instead, I stay focused on only the best asset classes at any given point in time. They obviously change from time to time, depending on conditions at home and abroad.
I have my own proprietary system that ranks the asset 33 classes that I follow on a daily basis. The ranking is based on short-term, intermediate term, and long-term performance.
There has been virtually no change in the asset class rankings for the last fifteen months. This was vital information to possess last year, as it led to some very large gains in the accounts that I manage.
So how do the asset classes rank today?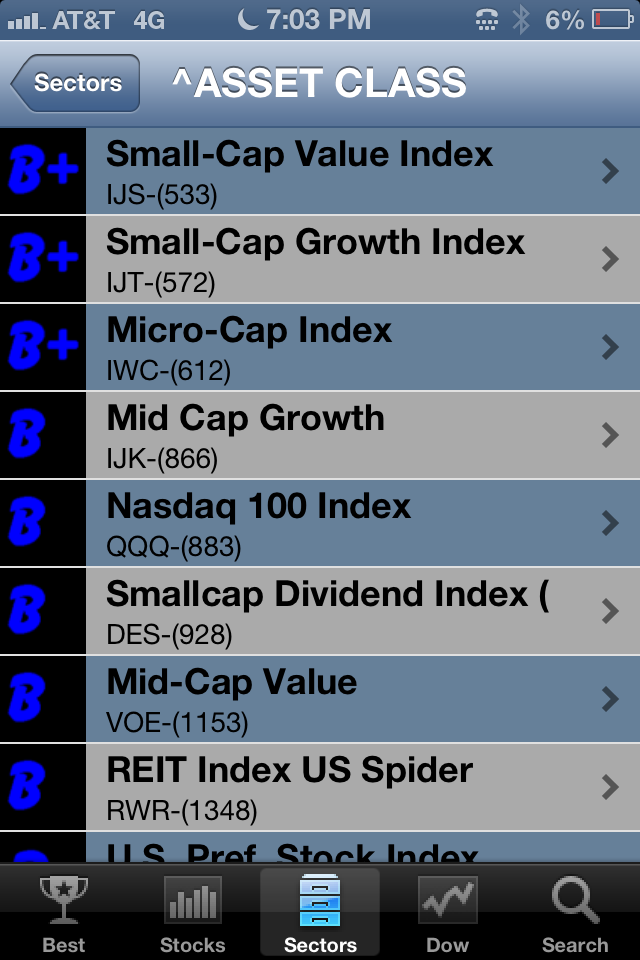 Data from Best Stocks Now App
I tend to focus on the top eight or so asset classes at any given point in time. The top eight continue to all be U.S. related. In addition to this, they are all equity related. Furthermore small and mid-cap U.S. stocks are the place to still be parked.
This trend has now been in place for the last eighteen months. Of course these trends will change at some point in time, but as Yogi Berra once said, "It ain't over until it is over."
Knowing these trends has been really helpful to investors in stocks, exchange traded funds, and to 401-k mutual fund investors. In my eyes, it is vital to be in the best asset classes at any given point in time, and out of the wrong ones.
Once we determine where the best asset classes are, we then drill down to the best flavors of those basic asset classes. When it comes to stocks, the next step is to look at the sectors.
Just as a great trend to follow has been in place for the last eighteen months amongst the asset classes, the same 4-5 sectors of the 60 that I follow have also led the market.
What are they you say?
The answer is the pharmaceutical, biotech, healthcare, and technology sectors. This trend started eighteen months ago, and is still basically in place today. Here are my current top eight ranked sectors.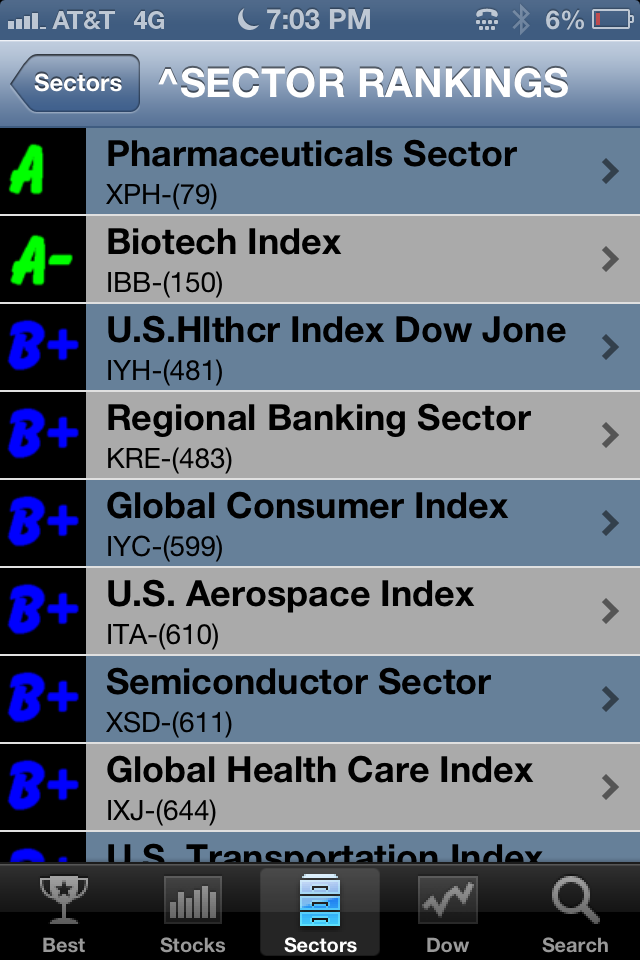 Data from Best Stocks Now App
Being in the right sectors of the market was also crucial to success in 2013. My aggressive growth model was up about 40% last year, because it was focused in the right asset classes and the right sectors in the market.
In my stock portfolios, I own about thirty stocks at a time when I am fully invested. It should be noted, though not show above right now, the internet sector is ranked number 10. It has also been a leading sector to be invested in over the last eighteen months.
Much of my success over the past year and one-half has come from biotech stocks, exchange traded funds, and mutual funds. I continue to hear that they are overdone, but I have heard that for almost fifteen months now.
Yet, the sector is still a leader, and many leading stocks still come from this cutting edge slice of the market.
Let me give you an example of one that I currently own. (You can find other holdings amongst previous articles that I have written for SeekingAlpha.
Ligand Pharmaceuticals , based in La Jolla, California, is a biotechnology company engaged in the acquisition and development of royalty revenue generating assets.
It has a unique company model which the company describes as a "shots on goal" business model. It owns a share of more than 90 drugs in development. The premise behind Ligand's approach is the more programs it has in development, the greater likelihood of success.
Ligand does not need to retain full program rights to generate significant revenue and cash flow. Because it does not develop the drugs themselves, the company has a very lean and profitable business model. Ligand only employs 21 people, but its partners are spending over $800 million this year in R&D to advance Ligand's programs.
Ligand has economic rights to some of the industry's most exciting drug programs. It also owns a drug-formulation technology called Captisol which is making the development of many new Captisol-enabled drugs possible. It also owns a drug delivery platform called HepDirect which delivers drugs directly to the liver.
Since 2007, Ligand has expanded its number of partnered programs 10X, from 9 to more than 90. It has 4 partnered new drugs expected to launch this year and has $700 million in potential milestone payments from existing deals.
As a result, the company's net income is expected to grow at an annual compounded growth rate of 85% over the next 3 years. Total revenue for Ligand's royalty generating assets is projected to exceed $2.2 billion in 2016.
Product Portfolio
Taking a closer look at Ligand's product portfolio, 12% of its products are being marketed or are in the new drug approval (NDA) phase, 8% are in Phase 3/pivotal trials, 20% are in Phase 2, 41% are in Phase 1, and the remaining 20% are in the preclinical phase.
The two blockbuster drugs generating the biggest royalties in Ligand's portfolio are Promacta, partnered with GlaxoSmithKline, and Kyprolis, partnered with Amgen.
Promacta, is used to treat low platelet counts and has projected sales next year of more than $500 million with peak sales of almost $1 billion. Sales of the drug grew 38% last year. Ligand's royalty rates on Promacta range from 4.7% - 9.4%.
Kyprolis, for the treatment of multiple myeloma cancer, is expected to generate revenue of $750 million next year with potential peak sales of more than $3 billion. Ligand's royalty rates are 1.5% to 3%. Sales of this drug grew 261% last year. Ligand just received a $1 million milestone payment as Kyprolis achieved more than $250 million in product sales in 2013.
Partnership Programs
Ligand has more than 55 different drug partners: 40% are big pharma, 37% are biotechs, 13% generics, and 10% specialty pharma. Some of Ligand's big pharma partners include: Amgen, Pfizer, AstraZeneca, GlaxoSmithKline, Bristol Myers, Eli Lilly, Baxter, Merck, and Sanofi. Almost half of its program partnerships are in the oncology area.
Realistically, not all of Ligand's 90 programs will make it to market, but based on standard pharmaceutical success rates the company has a goal of having over 20 revenue bearing products by the year 2020.
Acquisitions
Ligand acquired Selexis in April of 2013 which gave it the royalty rights to over 15 biotech programs. It paid $4.5 million for the company giving it the potential for $17 million in milestone payments and an estimated $40 million in annual royalties from these assets.
Summary
With economic rights to more than 90 drug programs, Ligand has amassed an impressive product portfolio with enormous future growth potential. Its unique business model leverages a low cost structure and let its partners assume the high R&D costs and binary event risk.
Gunderson Capital Management initiated a position in the stock on February 11th in its aggressive accounts. Ligand is an aggressive U.S. small cap stock with a market capitalization of approximately $1.55 billion.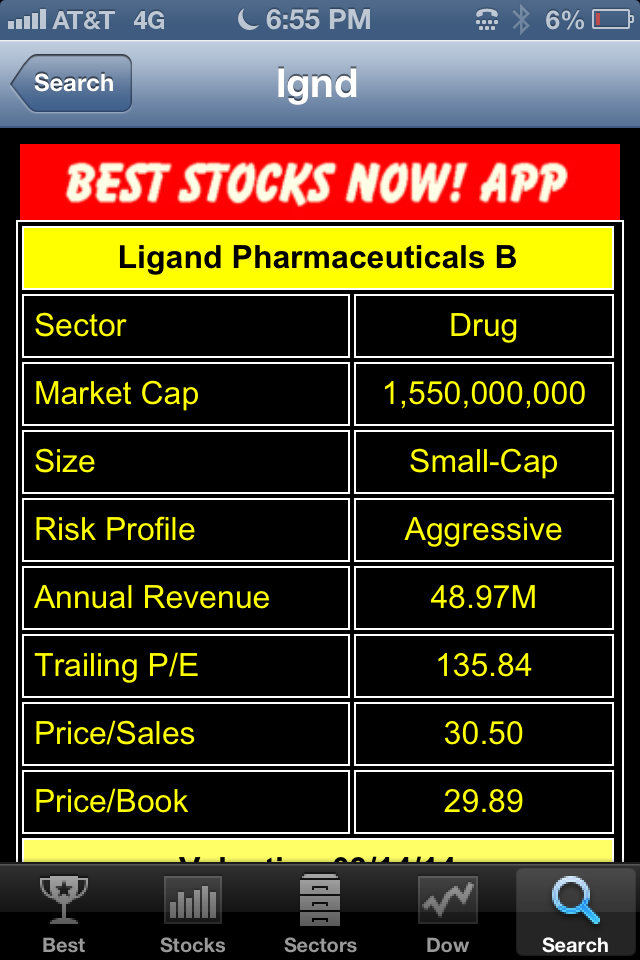 Its annual revenue is $48.97 million, and while its PE ratio, price to sales ratio, and price to book value seem extremely high, let's take a look at future earnings potential.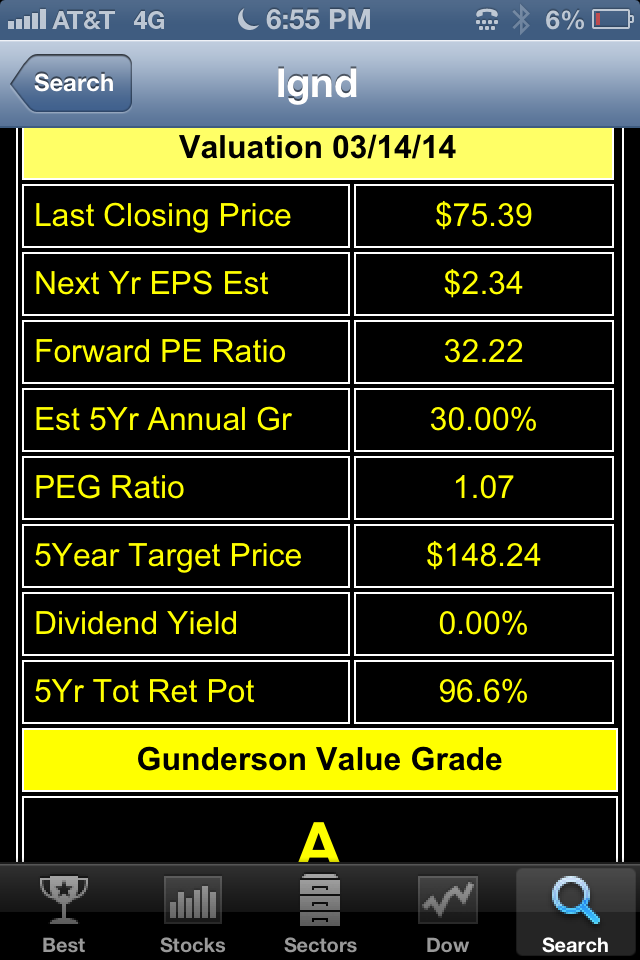 Ligand is expected to earn $2.34 per share next year. The consensus analyst's growth estimate over the next five years is expected to average 30% per year. The stock therefore has a forward PE ratio of 32.2.
This means that the shares are currently trading at a very reasonable PEG ratio of just 1.07.
Gunderson Capital Management currently has a five year target price of almost $150 per share. Of course the company needs to meet or exceed expectations going forward to achieve this. And the stock needs to trade at a multiple that I expect it can along the way.
I do not like to buy stocks based on valuation alone, however. I also like top performing stocks. Let's have a look at the stock's performance over the years.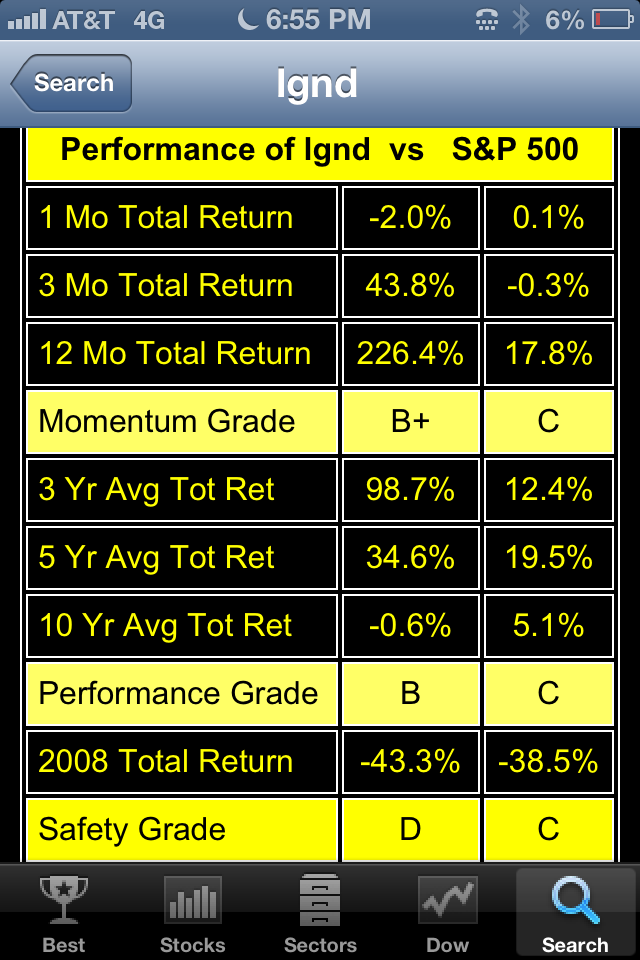 As you can see the stock has handily outperformed the market over the last 1, 3, and 5 years. It currently earns a momentum grade of B+. It has also been on a tear for the last three months.
Ligand currently meets my performance criteria. So far so good. The shares meet my valuation and performance requirements.
The last requirement that I have before I buy a stock is a healthy stock chart.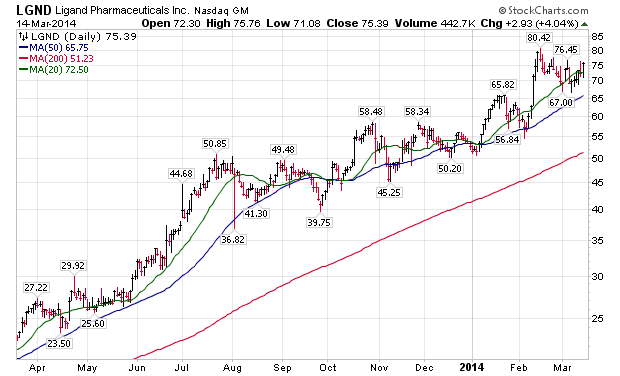 There nothing currently wrong with this chart. In fact, it appears that the stock may be setting up for yet another breakout. A lot will depend on worldwide geopolitical concerns going forward, however. Will this remain a "risk on" market?
It is a tall order to find a stock in the right asset class, the right sector, with a healthy stock chart, that is still undervalued, and a top performer. My proprietary ranking systems takes into account all of these factors.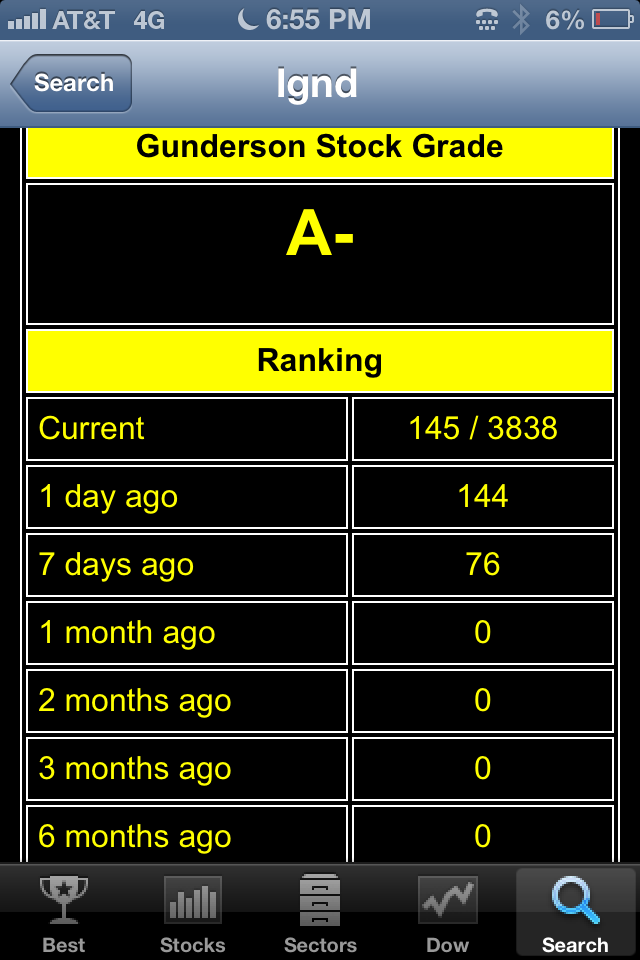 Of the 3,838 different investments that are currently in my database, Ligand currently gets a grade of A- and is ranked at number 145.
Ligand is a stock that I currently like, and once again, own at Gunderson Capital Management.
You can follow me on Twitter @BillGunderson if I change my opinion on the stock.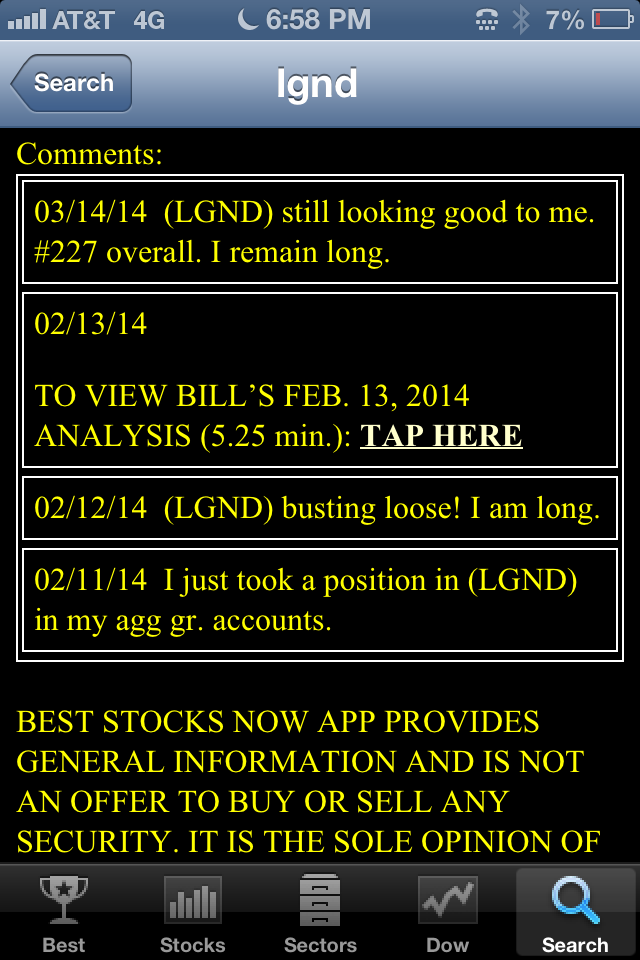 Disclosure: I am long LGND. I wrote this article myself, and it expresses my own opinions. I am not receiving compensation for it (other than from Seeking Alpha). I have no business relationship with any company whose stock is mentioned in this article.