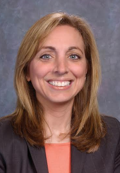 Michelle Girard is a managing director and chief economist at Royal Bank of Scotland.
Harlan Levy: What are the implications from the latest consumer confidence numbers?
Michelle Girard: It was surprising to see that consumer sentiment weakened in early March as a result of greater pessimism about the longer-term economic outlook.
It's not clear what made consumers more worried about the longer-term outlook. Stock prices were better in early March. The data were a little bit better, so it's rather puzzling that the sentiment reading declined. We'll just have to see if that's just a blip, which is what the University of Michigan suspects, or if it's something more lasting.
I think it's probably just a blip. I think the data will probably improve with the weather and both the improving weather and improving data will help lift consumer spirits.
Q: What do you think of retail sales?
A: Retail sales figures did show some improvement in February following extremely soft spending results in January, but the jury is still out as to how much of a further improvement we will see in March as the weather improves.
Our expectation is that we will see some stronger sales figures in March and in April as some pent-up demand is unleashed. But stepping back from any weather distortions, our view is the underlying pace of consumer spending in 2014 will not get much different from 2013.
Q: What do you see for jobs and unemployment from the most recent initial claims number?
A: The most recent figures were encouraging. We were looking at the lowest readings that we have seen in at least three months. Of course we need to see these numbers hold at these levels for three or four weeks before we can draw more definitive conclusions.
In general, our view is that labor market conditions are much stronger than the pace we've seen over the last three months and that employment growth this year will improve modestly from the 2013 levels.
However, we don't see the impetus for companies to begin hiring much more aggressively. So we still think it will be difficult for the overall economy to grow 3 percent or more. Our forecast is for 2.5 percent Gross Domestic Product growth this year.
Q: How's manufacturing doing?
A: We had a very large inventory buildup in the second half of 2013 which boosted overall GDP growth noticeably. Manufacturing activity has cooled a bit in early 2014, although some degree of the slowdown may be due to the weather.
Manufacturers remain fairly upbeat. They're encouraged by the new orders they see coming in, and overall we expect the manufacturing sector to continue to expand at a healthy pace.
We look for industrial production to rise 3 percent this year.
Q: Does the most recent mortgage data indicate that the housing recovery is slowing?
A: There certainly was some slowing of activity in the second half of last year as a result of the rise in mortgage rates. However, the severe winter weather has weighed heavily on all of the housing data and exacerbated the magnitude of the weakness that we've seen in housing in recent months.
We don't think the housing recovery has been derailed. The fundamentals for housing remain positive. Household formation has rebounded, and inventories of new and existing homes remain historically low. That combination is very favorable for the housing sector going forward,. We think prices this year could be up another 5 to 7 percent.
The biggest problem in the housing sector is tight credit, making it difficult for a lot of the new households that are being formed to purchase a home. As lending standards ease a bit, which looks to be starting to happen, that could be very positive for housing going forward.
Q: Where is the economy going?
A: The economy is continuing to improve gradually. The optimism at the end of last year was overdone. We were never as upbeat as some. We never thought that 2014 would be the breakout year. At the same time, we're not pessimistic about the economy. Every quarter that passes, the underlying economy gets stronger.
But headwinds remain, so we don't think that the economy can yet grow sustainably at a better than 3 percent growth pace. It will feel like last year, but somewhat stronger, not dramatically different, in our view.
Q: What headwinds are persisting?
A: We still have a consumer sector that is a tale of two groups. Upper-income consumers are benefiting from the rise in equity prices, so their confidence is rising so they're spending more,
But lower-income earners continue to struggle. They face relatively high unemployment rates and lower earnings. The cost of health care and higher heating bills have been an additional drag on their spending this year.
Until the employment situation improves enough so that all consumers see income growth and are therefore more willing to spend at a faster pace, it's going to be tough for the overall economy to grow at a faster rate.
Also, businesses to continue to act conservatively in their hiring and investing, given that they only have moderate growth expectations, so again, we don't see the prospects for a meaningful pickup on either front and therefore no impetus in a upside breakout in economic growth.
Q: What does the most recent course of the 10-year bond rate indicate?
A: The 10-year yield has been in a relatively narrow trading range, and that's probably unlikely to change over the near term. There continue to be crosscurrents, for example, the economic data have been weaker to some degree due to harsh weather. Also, global developments, like the situation in Ukraine have helped provide a flight to quality and encouraged safe-haven buying of Treasuries.
On the other hand, there are concerns about the Federal Reserve sticking to its current policies of keeping interest rates low, given that the unemployment rate has fallen faster than expected.
All of these developments have had conflicting influences, and we've ended up with a Treasury market that has been range-bound this year. We basically think we'll have a gradual rise in 10-year Treasury yields toward the 3.25 percent level by the end of the year.
That says the economy is growing modestly and not breaking to the upside.
Q: What might the impact be from Stanley Fischer becoming vice chairman of the Federal Reserve?
A: I think he is a great addition. He's perhaps the greatest economist on the planet at the moment. His knowledge and experience will be incredibly useful for the Fed as its policy is in transition from providing accommodation to going forward to normalizing. His contributions will be highly valuable. As a rule he's very pragmatic. He looks at a situation and assesses what needs to be done. He's got a proven track record. I don't think he's willing to say now what the Fed will be doing a year or two from now. He recognizes that it depends on what the economy is doing, and no one can know with a high degree of certainty what conditions will be.
He does believe the economy now still needs support, but going forward I think his opinions on the appropriate stances for policy will depend on how economic conditions unfold.
Disclosure: I have no positions in any stocks mentioned, and no plans to initiate any positions within the next 72 hours. I wrote this article myself, and it expresses my own opinions. I am not receiving compensation for it (other than from Seeking Alpha). I have no business relationship with any company whose stock is mentioned in this article.