If you are looking to own businesses that are going to have a strong wind at their backs for the next 20 years you may want to consider "fracking sand" producers.
According to consulting firm PacWest, energy companies are expected to use 56.3 billion pounds of frack sand this year alone with that number to increase another 20% over the next two years.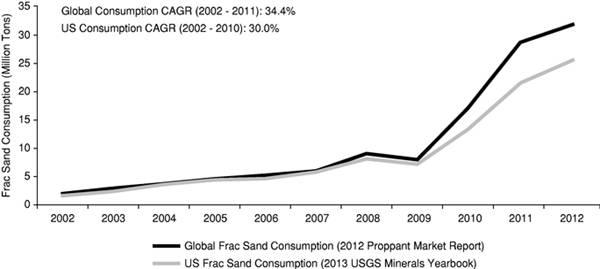 Chart source - 2013 USGS Minerals Yearbook and 2012 Proppant Market Report
And the growth won't stop then.
Fracking sand (also referred to as proppant) is a key ingredient in the North American horizontal oil and gas boom. The sand is not only already a key to horizontal drilling success, it is also becoming more and more important.
The current North American oil and gas boom is the result of energy companies now being able to produce from less than optimal rocks that in past decades couldn't be done profitably.
The challenge that those rocks present is that they have very little permeability. That means that the rocks don't allow liquids to pass through them easily (they have no or poorly inter-connected pore spaces) and hydrocarbons don't flow fast enough.
The solution was a combination of horizontal drilling, multi-stage fracturing and proppant.
Horizontal drilling was the first part of the solution. If an oil or gas zone is 100 feet thick, a vertical well will be in contact with 100 feet of productive rock. Meanwhile a horizontal zone which enters the same zone and turns sideways can be in contact with the productive zone over a huge area.
More exposure to the productive zone means more oil or gas gets into the well. More oil and gas getting into the well means higher rates of production.

Chart source: Propublica.org
Drilling horizontally wasn't enough on its own. Enter multi-stage fracturing which is done to crack open the rocks and let the oil or gas flow out.
The fracturing is done by pumping water (and some other ingredients) down the well at high pressures. This breaks the rocks open and sends fluid into the fractures. That is good but not perfect, because after the water pressure eases the fractures in the rocks close up.
That is where the fracking sand / proppant comes in.
Sand added in the fracking fluid mix is carried into the fractures and keeps those fractures propped open. That allows more hydrocarbons to flow out, at higher rates and for longer durations.
But not just any sand will work.
Effective fracking sand has the following characteristics:
- Must be a high-purity silica sand
- Has the right grain size to match the job requirements (usually between 0.4 and 0.8 millimeters)
- Is round in shape that allows it to be carried in the fracturing fluid effectively
- Is very durable so that it isn't crushed by the forces of closing fractures

Photo source: MPR news
The demand increase for this high quality frack sand isn't just being created by an increase in the number of wells. It is also impacted by the fact that more frack sand is being used per well.
Horizontal production using fracking is still very young and the industry continues to experiment and improve.
One thing that it is finding is that more proppant (frack sand) means more prolific wells and higher net present values.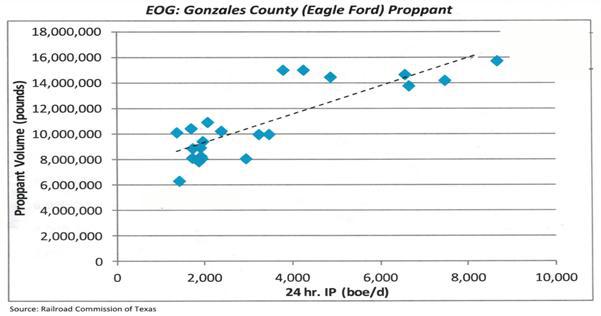 Chart source: Railroad Commission of Texas
Trial and error is also resulting in more wells being drilled per section of land. Many companies are finding that optimal field development can be achieved by spacing wells closer together.
A perfect example is horizontal oil production leader EOG Resources (NYSE:EOG) which has gone from thinking in April 2010 that 5 wells per section were optimal in the Eagle Ford to now thinking the magic number is 16 wells
Further, horizontal wells across all plays are progressively being drilled longer which also means more proppant.
Not surprisingly stock prices of American frack sand providers have done very well.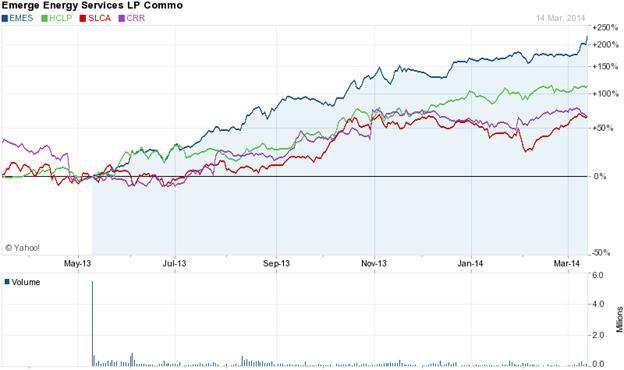 Chart source: Yahoo Finance
U.S. Silica (NYSE:SLCA) became the very first pure play on frack sand in February 2012. It now has a market cap of almost $2 billion and a share price that has doubled in two years.
Competitors that have since joined the public sphere also have some very satisfied shareholders.
I like these American based frac sand companies and I like their future prospects. But the stock prices aren't exactly dirt cheap:
Emerge Energy Services (NYSE:EMES)
Stock Price - $53
Enterprise Value - $1.35 Billion
EBITA - $85 Million
Enterprise Value / EBITA - 15 Times
Hi-Crush Partners (NYSE:HCLP)
Stock Price - $39
Enterprise Value - $1.1 Billion
EBITA - $70 Million
Enterprise Value / EBITA - 16 Times
U.S. Silica Holdings
Stock Price - $35
Enterprise Value - $2.1 Billion
EBITA - $160 Million
Enterprise Value / EBITA - 14 Times
At This Point Canada May Be The Best Way To Play This
I think the American frack sand companies are likely a good place for investors for the next ten years. However, I think looking at Canadian companies in the same business is an even better way to go.
The companies are younger and are not closely followed by the market.
In the United States the Bakken, Eagle Ford, Marcellus and Permian Basin are booming and that is going to continue. What I like about focusing on frack sand producers in Canada is that the horizontal boom is not just going to continue but significantly accelerate.
There are two big drivers in Canada that are going to create an increase in horizontal drilling and along with it frack sand demand. Those drivers are the construction of West Coast LNG terminals and development of the massive Duvernay play which is tabbed as being Canada's answer to the Eagle Ford.
The figures relating to these LNG Export facilities are staggering.
There are four proposed LNG export facilities that can be taken seriously. Combined, these facilities are going to require over 6 billion cubic feet of natural gas production every day.
To put this into perspective all of Canada in 2011 produced only 14.5 billion cubic feet of natural gas.
To provide enough natural gas for the LNG terminals Canada is going to have to increase natural gas production over the coming years by 41%.
To generate that production tens of thousands of wells are going to have to be drilled and fractured.
The Duvernay is a big and deep resource play. It is just now hitting its development phase and alone could require 1,000 wells per year for an extended run.
The LNG drilling will be focused on the Horn River and Montney resource plays both of which are like the Duvernay and located a long way from sources of American frack sand which is located in Wisconsin or other Great Lakes states.
Fracking a single horizontal well takes a huge amount of proppant, on average estimated to be 25 railcars of sand. Relative to the cost of actually producing the sand itself, the cost of transportation is quite significant.
That makes having a proximity close to where the drilling is happening a big advantage.
However, there are few publicly traded options for investors interested in Canadian frack sand companies that are closer to the Alberta and British Columbia action.
The companies currently offering the most direct exposure would include:
- Athabasca Minerals (OTCPK:ABCAF)
- La Ronge (CLICF)
- Victory Nickel (OTCPK:VNCKF)
These companies are small and trying to get their ducks in a row before the Duvernay and LNG drilling really hits the ground running.
Two years ago there wasn't a single publicly traded frack sand player in the United States. Today there are several and they are among the top performing stocks in the market.
With LNG drilling and the Duvernay about to take off perhaps two years from now we may be saying the same thing about Canadian frack sand suppliers.
Disclosure: I have no positions in any stocks mentioned, and no plans to initiate any positions within the next 72 hours. I wrote this article myself, and it expresses my own opinions. I am not receiving compensation for it (other than from Seeking Alpha). I have no business relationship with any company whose stock is mentioned in this article.
Editor's Note: This article covers one or more stocks trading at less than $1 per share and/or with less than a $100 million market cap. Please be aware of the risks associated with these stocks.