By Craig Bowles
Overview
Oracle Corporation (NYSE:ORCL) is slated to report 3Q 2014 earnings after the bell on Tuesday, March 18. The earnings release is expected at approximately 4:00 p.m. EST with a conference call and live webcast available at Oracle Investor Relations. Oracle is the second largest software maker by revenue, after Microsoft. Given its size and influence, the reaction to Oracle's earnings can have a meaningful impact on other markets, including the S&P E-Mini Index Futures & NASDAQ E-Mini Futures.

Outliers & Strategy
Key measures:
Non-GAAP Earnings Per Share: The Street estimate is $0.70 (range $0.68 to $0.71) (Yahoo! Finance). Consensus has been reduced from $1.57 three months ago.
Revenues: Revenues are seen rising 4.3% y/y to $9.36 bln (range $9.29 bln to $9.49 bln).
Oracle insiders sold 3,612,490 shares over the last six months. The company increased stock buybacks from $10 bln to $12 bln last year.
Oracle shares have a 1-day average price change on earnings of 4.80%. Options are pricing in an implied move of 4.13% off earnings.
Recent News
03/07 Oracle's botched Obamacare site for Oregon suggests an old-school IT provider lagging behind the new and more effective way of building massive web operations, according to a post on Wired.com.
02/24 Oracle acquired BlueKai, the industry's leading cloud-based big data platform that enables companies to personalize online, offline and mobile marketing campaigns with richer and more actionable information about targeted audiences.
01/28 Moody's sees more debt and lower credit ratings for the tech sector, according to a post on Barron's Blogs.
Technical Review
Oracle's uptrend is decades old and pullbacks have only occurred after moves above trend. The stock shows limited downside the last eight months after two years of sideways action, so the bulls see a timely breakout. Bearish news would pull the stock back into the consolidation area of the last two years below $35. With the 20-day MA above the 50-day, the bullish view remains in control with near-term support down to $37.90. (Chart courtesy of StockCharts.com)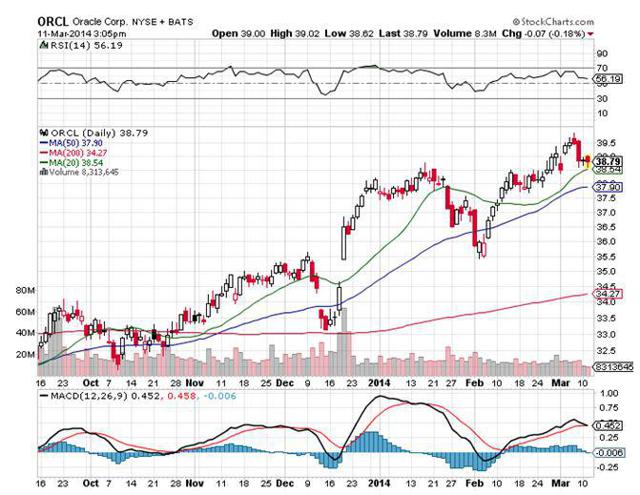 Summary
Oracle is another company supporting their stock with increased share buybacks. Shares are nearly back to the tech boom high. Analysts are relatively neutral despite the stocks steady rise since the first half of last year following two years of consolidation. The company doesn't normally blow away estimates, so earnings coming in above $0.71 would be an upside surprise. Revenues are expected to continue growing at a 4-5% pace. New license revenue and cloud software subscription revenue slipped last quarter, so this area might be of interest to investors with the company's recent purchase of BlueKai.
DISCLAIMER: By using this report, you acknowledge that Selerity, Inc. is in no way liable for losses or gains arising out of commentary, analysis, and or data in this report. Your investment decisions and recommendations are made entirely at your discretion. Selerity does not own securities in companies that they write about, is not an investment adviser, and the content contained herein is not an endorsement to buy or sell any securities. No content published as part of this report constitutes a recommendation that any particular investment, security, portfolio of securities, transaction or investment strategy is suitable for any specific person.
Disclosure: I have no positions in any stocks mentioned, and no plans to initiate any positions within the next 72 hours. I wrote this article myself, and it expresses my own opinions. I am not receiving compensation for it (other than from Seeking Alpha). I have no business relationship with any company whose stock is mentioned in this article.