By Craig Bowles
Overview
FedEx Corporation (NYSE:FDX) is slated to report 3Q 2014 earnings before the bell on Wednesday, March 19. The earnings release is expected at approximately 7:30 a.m. EST with an 8:30 a.m. earnings conference call webcast available at FedEx Investor Relations. Results from FedEx are widely seen as a proxy for economic growth and tend to heavily influence the broader market gauges, including the equity index futures. Furthermore, the guidance for the balance of the full year could impact both the underlying shares and the broader market.

Outliers & Strategy
Key measures:
Earnings Per Share: The Street estimate is $1.53 (range $1.30 to $1.72) (Yahoo! Finance). Consensus has been reduced from $1.57 three months ago. If the company produces a non-GAAP EPS, the estimate would be comparable to that measure.
Revenues: Expectations are to rise 4.6% y/y to $11.46 bln (range $10.77 bln to $11.79 bln).
Earnings Per Share Guidance for 4Q 2014: The current Street estimate is $2.33 (range $2.10 to $2.52).
Non-GAAP Earnings Per Share Guidance for FY2014: The company increased annual guidance last quarter from 7%-13% y/y growth to 8%-14% which equates to a range of $6.73 to $7.10. The current Street estimate is $6.96 (range $6.63 to $7.25).
FedEx insiders sold 544,156 shares over the last six months. More than offsetting this is the 4Q announcement of their largest stock buyback plan ever of 32 million shares and January's bond sale of $2 bln to speed up stock buybacks.
UPS reduced guidance two weeks before their January 30th earnings report, so disappointing holiday sales and difficult weather conditions aren't positives for FedEx's current quarter.
FedEx shares have a 1-day average price change on earnings of 3.35%. Options are pricing in an implied move of 3.18% off earnings.
Recent News
03/10 FedEx elected Home Depot's Marvin Ellison as a director. Ellison's background includes 15 years at Target Corporation.
03/06 FedEx and UPS have not expanded in China since 2009 and are having difficulty renewing licenses of their existing operations, according to a post by Businessweek.
03/07 Henry Paulson sold all his company's FedEx shares, according to a 13F story by Motley Fool.
03/03 FedEx increased shipping rates an average of 3.9% effective March 31st.
Technical Review
FedEx has nearly recovered the highs of before UPS lowered guidance and reporting earnings. Those highs are now resistance up to $142.50. Immediate support is the 50-Day MA's $136.25, below which is consolidation down to $130. With the 20-day MA below the 50-day and oil prices already testing above $100, you have to wonder if the stock will retest the 200-day MA early this summer. (Chart courtesy of StockCharts.com)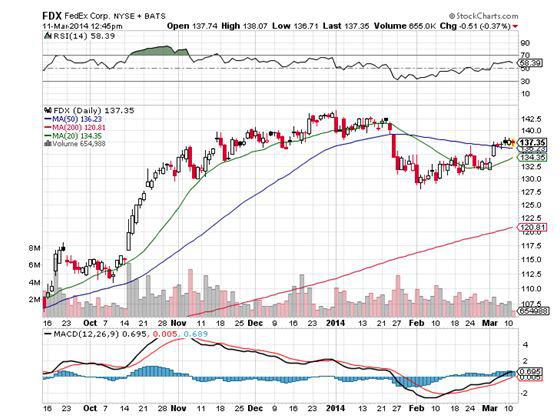 Summary
FedEx is supporting their stock with a massive buyback and insiders are taking advantage and selling near all-time highs. With oil prices already testing above $100, positive economic indications from FedEx could boost oil prices as much as FedEx's stock price. The stock quickly found support following the weak holiday season and negative UPS earnings report. Previous consolidation levels have built up some sturdy support and resistance inside of $130-$142.50, so the stock probably remains in this range barring some unexpected news in the earnings report. Guidance would be where to look for the unexpected news but has been given in percentages, so would need to be calculated. Analysts having such a broad range for 2015 doesn't suggest a lot of confidence in their estimates.
DISCLAIMER: By using this report, you acknowledge that Selerity, Inc. is in no way liable for losses or gains arising out of commentary, analysis, and or data in this report. Your investment decisions and recommendations are made entirely at your discretion. Selerity does not own securities in companies that they write about, is not an investment adviser, and the content contained herein is not an endorsement to buy or sell any securities. No content published as part of this report constitutes a recommendation that any particular investment, security, portfolio of securities, transaction or investment strategy is suitable for any specific person.
Disclosure: I have no positions in any stocks mentioned, and no plans to initiate any positions within the next 72 hours. I wrote this article myself, and it expresses my own opinions. I am not receiving compensation for it (other than from Seeking Alpha). I have no business relationship with any company whose stock is mentioned in this article.