Diversified industrial companies have been holding strong over the past two years, with the growth in the economic environment. The business of these companies is dependent on the economic environment, as was witnessed during the Great Depression. Diversified industrial companies were among multiple industries affected by the economic downturn then and recently. The entire industry lost its value and generated a negative return of 44% in 2008. Nevertheless, these companies took the downturn as an opportunity to restructure their business by focusing on their core products. As a result, they are now making acquisitions and dispositions, working on cost-cutting and producing innovative products.
Over the past two and a half years, since the global economy started showing signs of recovery, these companies have had strong momentum and have been generating massive profits. These companies have strong business models and global exposure, which allow them to achieve strong top- and bottom-line growth. In this article, I analyze where 3M Co. (NYSE:MMM) stands in the diversified industrial industry compared with Eaton Corp. (NYSE:ETN).
Where Does 3M Stand?
3M is a diversified industrial company operating in five business segments: Industrial, Electronics and Energy, Safety and Graphics, Consumer and Healthcare. In 2013, the company adopted a strategy which focused on three key aspects: investment in research and development, portfolio management and business transformation. The company is strongly working on its business plan, and portfolio management remains its top priority. It is making moves in its business segments to do this. It scaled back business in Electronics and Energy and Safety and Graphics to enhance operational efficiencies, increase product offerings and to better serve customers.
To further strengthen its market share, 3M is introducing new innovative products. Therefore, it is spending heavily on research and development. In 2013, it spent around $1.7 billion on research and development. Its increased attention on research and development allows it to focus on long-term disruptive technologies aimed at opportunities with considerable growth potential. It continues to invest in research development and CAPEX to generate organic growth. Further, to support its organic growth and business transmission, 3M plans to invest around $10 billion in acquisitions until 2017.
All its business segments are generating strong growth and, with its key plans in place, it is enhancing margins and generating strong organic growth. Its industrial business remains best among other segments. The company's advanced materials and automotive OEM businesses produced double-digit organic growth in 2013. Its purification, aerospace and automotive businesses are also on a strong momentum. 3M is adding more potential to its industrial business with acquisitions that include Ceradyne, which has added 2% growth to the industrial business.
Overall, with its smart strategy, 3M generated record sales of $30.8 billion. Its bottom line growth was much stronger than the top line. It generated bottom line growth of 6.3%. Growth in the top and bottom line allowed it to generate massive cash flows. Its operating cash flows are increasing year-over-year to $5.8 billion in 2013. The free cash flows conversion rate also remains strong at 89% on net income. Consequently, its free cash flows are providing complete protection to its increasing dividends. In the last year, it generated $4.1 billion in free cash flows, while it returned $2.1 billion in both dividend and buybacks. With an expected high single-digit growth rate in the bottom line in 2014, its free cash flows allow it to make more dividend increases, as it did recently by making a 35% increase in dividends.
Where Does Eaton Stand?
Eaton Corporation is a power management company that provides energy-efficient solutions, which help its customers effectively manage electrical, hydraulic and mechanical power. Eaton is creating a strong foothold for future growth, with aggressive acquisitions. Over the decade, the company made more than 50 acquisitions and 10 joint ventures. These acquisitions set the company to new heights, as most of the acquisitions target high-growth markets. It uses a disciplined strategy to make acquisitions that should help Eaton create differentiated products and technology. The latest in this line is the acquisition of Cooper Industries.
The company wants to achieve 12 to 14% growth in the top line with these acquisitions, while the bottom line is expected to grow at a compounded 20%. Eaton is on track to achieve its growth targets. Last year, it grew the top line by 35% to $22 billion. This is an impressive growth by any company in such a volatile environment. Most of the growth has been added by the acquisitions it made it the past three years. However, the bottom line growth is not as strong as the top line because of integration costs. Its bottom line growth was at 5%, which is the best in its history.
Consequently, cash flows have also grown to record levels. Its operating cash flow was standing at $2.3 billion, an increase of 37% over the past year. Free cash flows are also at a record level of $1.6 billion. Its free cash flows are twice its dividend payments, which allowed it to make a 16.67% increase in dividends recently. Eaton is anticipating making 2014 another year of record sales and earnings. This strong growth will allow the company to make another increase in dividends.
Which Is a Good Buy?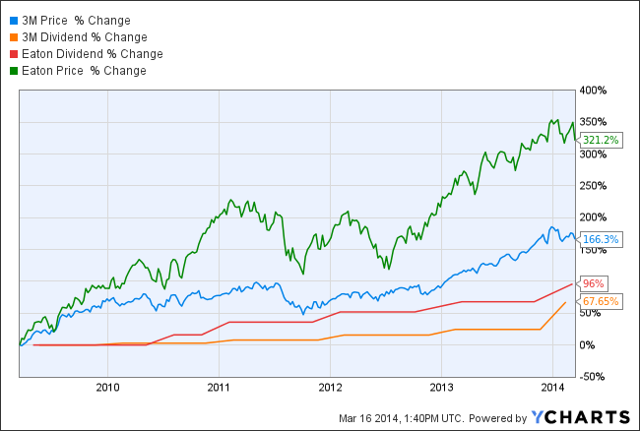 MMM data by YCharts
| | | | |
| --- | --- | --- | --- |
| | ETN | MMM | Industry Average |
| Price/Earnings TTM | 18.2 | 19.3 | 19.8 |
| Price/Book | 2.0 | 4.9 | 2.8 |
| Price/Sales TTM | 1.5 | 2.9 | 1.7 |
| Rev Growth (3-Year Avg) | 17.1 | 5 | 3.7 |
| Net Income Growth (3-Year Avg) | 26.1 | 4.5 | 7.6 |
| Debt/Equity | 0.5 | 0.2 | 0.9 |
| Dividend Yield % | 2.46 | 2.13 | 2.1 |
Source: Morningstar.com
Both companies have shown solid business and financial performance over the past five years. 3M's price appreciation was quite steady before 2013; however, it gained significant momentum in 2012 with its new strategy. The strategy has been working for the company, not only about financial performance, but it also enhanced the company's ability to increase returns for investors. In the last year alone, 3M increased its dividends by 36%. The company also plans to accelerate its buyback program, which I believe will significantly impact its dividend and share price in a positive way. Above all, the company has the potential to generate massive cash flows, which allows it to increase dividends and invest in growth opportunities.
On the other hand, Eaton has been increasing momentum over the past five years with its aggressive acquisitions. The company stock gained more than 320% in the past five years, and it increased dividends by 96%. Eaton's share price appreciation and dividend growth are higher than 3M's. Still, its stock trades at a discount compared with 3M and the industry average. The provided table demonstrates this trend. Wall Street analysts predict Eaton's fair value estimate of $84/share; it is trading at around $72/share now. On top, Eaton offers a higher yield than 3M, with much growth potential as the company plans to make another year of record sales and earnings. I believe that if Eaton manages to integrate its acquisitions quickly and swiftly, it will be one gem to watch over the next five years. On the other hand, 3M also shows strong performance, with record growth in both the top and bottom lines. However, its stock is trading at high multiples and above its fair value estimate of $125/share. I'm not in favor of initiating a position in a company when it is trading above its fair value estimate.
Disclosure: I have no positions in any stocks mentioned, and no plans to initiate any positions within the next 72 hours. I wrote this article myself, and it expresses my own opinions. I am not receiving compensation for it (other than from Seeking Alpha). I have no business relationship with any company whose stock is mentioned in this article.