Recently, VIVUS Inc. (NASDAQ:VVUS) announced encouraging phase II results from a study conducted with Qnexa for the treatment of patients suffering from obstructive sleep apnea (OSA).
Detailed results showed that Qnexa, VIVUS' lead candidate, met all the primary endpoints of the study, which was conducted to evaluate the safety and efficacy of the drug in improving sleep quality and reducing respiratory disturbances. In addition to the reductions in weight and respiratory disturbances, the candidate met all the secondary endpoints with a favorable side effect profile.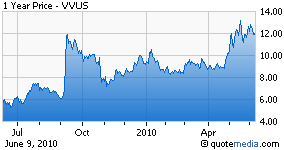 The study, OB-204 is a randomized, double-blind, placebo-controlled phase II Qnexa trial. The study involved 45 obese men and women in the age group of 30 to 65 years and suffering from obstructive sleep apnea (OSA).
Obstructive sleep apnea (OSA) is a severe breathing disorder, which could result in several cardiovascular and metabolic diseases like congestive heart failure, high blood pressure, arrhythmias, diabetes, myocardial infarction, sudden cardiac death and all-cause mortality.
Approximately 18 million Americans have sleep apnea, and currently, there is no medication approved by the US Food and Drug Administration (FDA) for the treatment of OSA. Currently, the company derives its revenue from a single drug Muse, for the treatment of erectile dysfunction (ED). The approval and launch of Qnexa would be a major boost for VIVUS.
Qnexa is VIVUS' lead pipeline candidate. It is a proprietary oral drug candidate that combines two previously approved products, topiramate and phentermine, to employ a dual mechanism to treat obesity. The drug is designed to address the excess appetite and high threshold for satiety that impacts eating behavior.
Qnexa has completed phase III clinical trials for the treatment of obesity and is currently under US Food and Drug Administration (FDA) review with a decision expected on October 28, 2010. Qnexa is currently in the phase II clinical trial for the treatment of type II diabetes.
Obesity is an attractive market that could be worth many billions of dollars. It is estimated that obesity affects over 400 million people globally. Moreover, obesity is linked to increased health risk. Given the huge unmet need in this market, the successful development of the obesity pipeline would help drive growth at VIVUS.