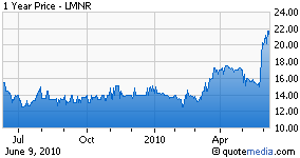 Over my lifetime, I've seen the same story unfold over and over again: Someone accumulates raw land with the idea of building an agribusiness, like a dairy, cattle farm or orchard, and it is pretty successful. A city not far away begins to grow, and pretty soon the suburbs stretch right to the border of the farm and the farmer becomes a real estate developer.
I grew up in Fort Lauderdale and saw this happen in Davie, as dairies, cattle farms and orange groves became housing projects. My brother lives in Loxahatchee, west of Palm Beach, and now you see shopping centers and high schools surrounded by orange groves. Before Walt Disney changed it all, sleepy Orlando was a cattle and citrus farming town. I watched this happen on the north side of Atlanta, and now I'm watching the same thing happen on the south side of Charlotte.
I've never had the capital to make major investments in real estate, except for ventures into small rental units and REITs, but maybe you can.
When I was screening for stocks hitting new highs in this down market I came across Limoneira (NASDAQ:LMNR), which hit 10 new highs in the last 20 trading sessions, gaining 37.19% in the last month. The stock has 12 of 13 Barchart technical indicators signaling a buy and trades around 21.95.
At the present time, the company farms about 7,300 acres in Ventura County California and produces lemons, avocados oranges plus a few acres of specialty fruits. It has been developing some of the property into income real estate, sometimes selling, and sometimes building and renting the property out themselves. They even have some ventures into solar energy and water management.
The company is a savvy forward thinking company with a great website plus Facebook and Twitter accounts and even You Tube sites (website, Facebook).
So why do I think that this quirky little company deserves a look? Agriculture, its main source of revenue, generates around $31 million. Its rental income come to almost $3 million, with operating expenses of around $29 million (of which $2.3 million is depreciation). The profits from operations help fund the carrying costs of the 7,300 acres of land.
The company gives you a chance to buy into an old dream of buying some agricultural land and letting the farm pay the overhead until you can turn the farm into a cash cow, as you sell of some property and develop the rest. Give it a look.
Disclosure: No positions