AvalonBay Communities, Inc. (NYSE:AVB), a real estate investment trust (REIT) primarily focusing on developing multi-family apartment communities, has raised its fiscal 2010 FFO (fund from operations) outlook based on better-than-expected same-store revenue. Fund from operations, a widely used metric to gauge the performance of REITs, is obtained after adding depreciation and amortization and other non-cash expenses to net income.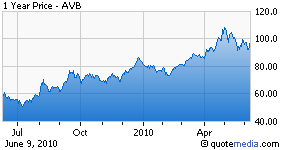 AvalonBay currently expects fiscal 2010 FFO in the range of $3.85 to $4.00 per share compared to the earlier guidance of $3.60 to $3.85. For fiscal 2010 second quarter, the company expects FFO in the range of $1.01 to $1.03 vis-à-vis earlier projections of $0.93 to $0.97 per share.
The improved FFO guidance is primarily due to higher same-store revenue estimate, which is anticipated to decline in the range of 0.75% to 1.75% in fiscal 2010 compared to earlier predictions of 3.0% to 4.5% year-over-year decline. Same-store net operating income (NOI) for full year 2010 is expected to decrease by 1.5% to 3.0% compared to earlier expectations of 5.0% to 7.0% year-over-year decline.
AvalonBay anticipates total capital expenditure for new development starts in 2010 to be approximately $600 million compared to previous estimates of $380 million. The improved operating trends have stemmed from better-than-expected employment levels, continued decline in homeownership rates, and favorable renter demographics.
AvalonBay is one of the leading multi-family REITs, focusing primarily on the high barrier-to-entry regions of the U.S., where there are limited new apartment construction activities. As of March 31, 2010, Avalonbay owned or held ownership interests in 172 apartment communities, with 50,322 apartment homes in about 10 states in the U.S. and the District of Columbia, including 7 communities each under construction and redevelopment.