Chevron Corporation (NYSE:CVX), one of the largest integrated energy companies in the world, recently held its Analyst Day. The company has reduced its production guidance by 6% and its return on capital is also declining. However, despite these factors the company is well-positioned to grow its production among its peers. Moreover, the San Ramon, California,-based company boasts an unconventional portfolio, its liquidity position is strengthening, it has a high dividend yield, and is trading at an attractive valuation.
Growth in Volumes Despite Guidance Revision
CVX has lowered its 2017 production volumes guidance by approximately 6%. Currently the company produces 2.6 mmbpd and expects to increase it to 3.1 mmbpd (previously issued guidance of 3.3 million barrels a day) by 2017. The decrease in the production volumes guidance is attributable to an expected drop in demand of oil due to higher prices (Brent forecast of $110 per barrel from $79 per barrel), an expected decrease in LNG prices, asset sales, and the cushion due to an uncertainty element present in large scale complex projects. Despite the downward revision, the growth in production levels is much better than Exxon Mobil (NYSE:XOM), which is investing the same amount but its production levels are expected to remain flat.
Last year XOM, which has a market capitalization of $404 billion, generated $50 billion at a price of $110 Brent, whereas, CVX could generate $60 billion by 2020 at the same oil price with market capitalization of only $218 billion. Moreover, CVX is the only company that has forecasted growth in 2014 among its peers. Chevron is also planning to increase its capacity by drilling in the U.S. Permian Basin by 8.6% this year, to 505 wells. Moreover, the production from the Texas-New Mexico project is expected to double by 2020. Higher Brent leverage, high cash margins, and chemicals growth should all contribute to CVX's outperformance over the years.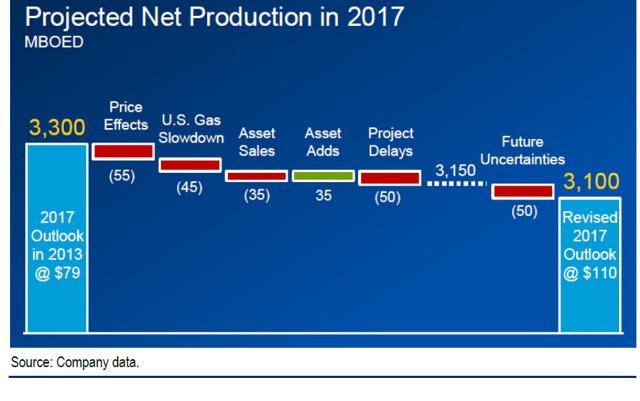 Company Boasts Unconventional Portfolio
Chevron also boasts a very unconventional portfolio. The company has a net acre position of 1.9 million in the Permian and pays no royalty on 60% of its position. In addition, the company pays low royalties on 30% of its remaining 40% position. By the end of the decade Permian production is expected to increase from 125 mmbpd today to 250 mmbpd. Moreover, production from the company's liquids rich Vaca Muerta is expected to grow to 40 mmbpd by 2017 from current production of ~7.5mboe/d.
Elevated Capex Remains a Concern But Financial Priorities Are Unlikely To Change
For the past few years the E&P industry as a whole is shelling out huge investments in new oil and gas projects to increase the production levels. CVX has also made large capital investments in new oil and gas fields and the trend is likely to continue for a further 2-3 years. Chevron's lack of commitment to decrease the capital spending in the future is a sign of concern. The company intends to spend approximately $40 billion in 2014, including gas export terminals and offshore crude platforms to compensate the decline in production levels for the past three years. However, capital spending is expected to flatten out in 2015/2016.
Despite large capital spending, the company's financial priorities are likely to remain unchanged in the near term. The inflows from the approximate $10 billion worth asset divestments in 2014-2016 should strengthen the liquidity position of CVX. From early life projects, the company plans to divest its assets in the joint development area (Nigeria/Sao Tome), Browse Basin and Mariner and Brassy while from the mature projects it is likely to divest Cook Intel (Alaska), Netherlands and the GOM Shelf. A major chunk of the divestments relates to the upstream activities as CVX is near the end of rationalizing its downstream activities. The company's management continues to value its integrated approach in the upstream and downstream projects given the volatility in prices of crude oil.
Returns Better Than Peers
The company's return on capital employed is declining and this trend is projected to continue for the next two years. Approximately 40% of the company's capital employed is pre-productive i.e., projects which are in progress. However, Chevron's return on assets is still better than its peers. Moreover, the negative impact of declining ROCE should be more than offset by the increase in production and completion of new projects in the coming years. Maintaining production is not difficult. However, it is capital intensive to grow overall production at the majors. It is easy to please investors with IRR of 30-50% from the short-term shale investments in the core key plays and deepwater projects with returns in the 20% plus range. Despite the high returns from these projects one thing that should be considered is the short-cycle nature of these projects and these assets will ultimately be lower multiple once at peak production. On the other side, a value adding longer lived LNG projects (40 years) are expensive and require heavy upfront investments. For generating effective and efficient returns a balance should be maintained between both the long-term and short-term projects.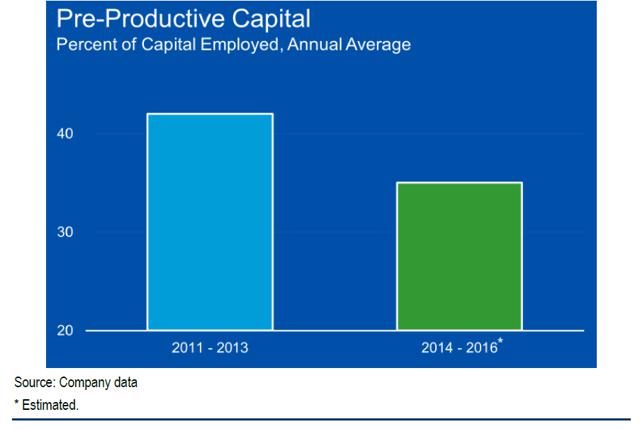 Balance of Power Also Shifting Towards IOC's
After the recession of 2008 oil companies were forced to make agreements on unfavorable terms, as the pendulum had decisively shifted toward oil producing governments. However, the balance of power has again shifted in favor of the IOCs due to the unconventional oil revolution in North America. As a result, IOCs are able to negotiate improved fiscal terms with oil producing countries. Although this trend is not likely to be recognized in the near future, it should be an important investment theme for the long-term investors.
Free Cash Flows Strengthening
The company's financial position is also strengthening. By 2017, CVX is expected to generate cash flows from operations of more than $50 billion at $110 per barrel Brent. Assuming an "off-peak" capex, CVX will need approximately $10 billion annual free cash flows to fund its current distributions and buybacks. The company can easily generate these flows given its 2017 production volumes are expected to generate incremental inflows of around $7 billion. The high-grading of the portfolio and the downstream projects (generating around $1.5 billion) will further strengthen the free cash flows of the company.
Valuation and Dividend
Despite a strong production growth outlook and an improving financial position the company continues to trade at a discount compared to its peers. CVX has a P/E ratio of 10.32 compared to 10.7 of XOM. It has a forward P/E of 9.2 compared to 10.4 for XOM. CVX has a price/sales ratio of 1.0 in line with XOM'S 0.9. Similarly, CVX has a price/cash flow ratio of 6.3 lower than the XOM price/cash flow of 9.2.
Going forward an improving ROCE, increasing production, cost cuts and portfolio high-grading should drive CVX shares higher. Moreover, as oil prices remain elevated, the super-size of the companies such as CVX should be viewed as a significant competitive advantage, which should increase their relative multiple as compared to smaller energy companies and S&P in general.
Chevron has a high dividend yield of 3.5%. The company had a payout ratio of 35% last year and is expected to increase it to 38% this year. The San Ramon, California,-based company has maintained its dividend payout in past and has increased it constantly. Additionally, during the analyst day the management guidance focused on how to maintain and grow its dividends and return the surplus cash to shareholders through buybacks.

Conclusion
Although CVX has revised down its production guidance, the company is still well positioned to grow production among majors. Chevron's returns are at the high end of both big energy companies and the E&P group. The company is boasting industry leading profitability. Its free cash flow position is also improving. It is trading at a very attractive valuation. The company's long-term growth forecast is considerably better than peer Exxon Mobil, which is spending the same dollar amount to keep production relatively flat. In addition, CVX's higher Brent leverage, better cash margins and chemicals growth give the company an edge over its competitors. Finally for income investors, the company is offering a high dividend yield of 3.5%.
Disclosure: I have no positions in any stocks mentioned, and no plans to initiate any positions within the next 72 hours. I wrote this article myself, and it expresses my own opinions. I am not receiving compensation for it (other than from Seeking Alpha). I have no business relationship with any company whose stock is mentioned in this article.