As I explained here in the Values and Capitalism blog, Russia's invasion of Crimea suggests that Vladimir Putin has been watching House of Cards on Netflix, and channeling the Machiavellian protagonist, Frank Underwood. Both Putin and Underwood specialize in political intrigues that blend ruthless ambition with detailed planning. In this post, I consider the impact of Crimea on the stock market, beginning with the energy sector.
The Outlook for the Energy Complex Is Mixed to Positive
Russia supplies 30% of Europe's gas, half of which flows through Ukraine. It also supplies 60% of Ukraine's gas, and is not shy about using this timely position as leverage during conflicts, as evidenced in 2006 and 2009. Even though Russia is the largest exporter of natural gas in the world, the U.S. is now the largest producer of natural gas, and it is only a matter of time before the U.S. claims both titles.
As the U.S. and Europe try to find ways to undercut Putin's geopolitical influence, the crisis in Crimea provides the catalyst for the U.S. to go full throttle on natural gas. Both Congress and the oil industry are pressuring the Energy Department to approve more permits for exports of liquefied natural gas to be delivered via tanker. The goal is to wean Europe and Ukraine from dependence on gas from Russia, thereby weakening Putin's greatest geopolitical asset.

A Waiting Game
Unfortunately, liquefied natural gas won't reach overseas for at least a few years. As the Wall Street Journal notes, "U.S. energy companies need several more years to build plants to export the gas-and Ukraine doesn't have the facilities to receive it." Nevertheless, major oil and gas companies - such as Exxon Mobil - are leading the charge to speed up the process. The Energy Information Administration (EIA) projects natural gas will "pass coal by 2035 and take a 35% share of power generation by 2040 as coal falls to 32%." Thus, long-term investors should benefit from exposure to what will soon be the world's largest natural gas producer, and to companies that operate in this energy ecosystem (oil services, refining, pipelines, exploration and production, etc.).
In the short term, the events in Crimea are a mixed blessing for oil companies in the Energy Select Sector SPDR ETF (NYSEARCA:XLE). On the margin, the potential for the crisis to reduce supply and increase the risk premium on oil is a bullish development. Although Russia can ill-afford the lost revenues from cutting off oil to Ukraine and Europe, Gazprom rescinded a discount previously given to Ukraine and has threatened to cut supplies, resulting in a 37% price increase.
However, due to the increase in supply from other oil producers, such as Iraq, the International Energy Agency (IEA) said in its monthly oil market report, "While international tensions may be on the rise, pressure on oil markets… seems set to ease." Europe will also have sufficient natural gas inventories through March.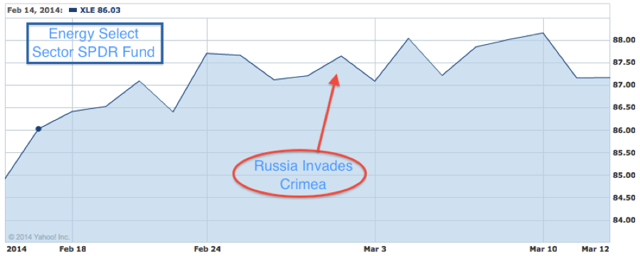 Source: Yahoo Finance
Regardless, Chevron (NYSE:CVX) and Exxon (NYSE:XOM) have increased their expectations of future oil prices due to weak production growth. Despite higher prices, the crisis in Crimea may worsen the production shortfall as projects get delayed or cancelled. For example, plans by Exxon and Royal Dutch Shell to drill off Crimea's southwest coast are already being stalled. If Ukraine no longer has jurisdiction over the region, the contract could be in jeopardy.
Thus, Exxon's efforts to explore the Black Sea's largely untapped oil and gas prospects are uncertain, causing volatility for its stock ahead of the vote on March 16th, in which Crimea will decide whether it wants to join Russia (as shown in the chart below). Exxon has signaled that its project with Russia's Rosneft is still underway, and that drilling in the Black Sea will occur by 2015. But depending on the severity of the sanctions the U.S. may impose, this project could potentially stall as well if U.S. companies are banned from working with Russia (as they were with Iran).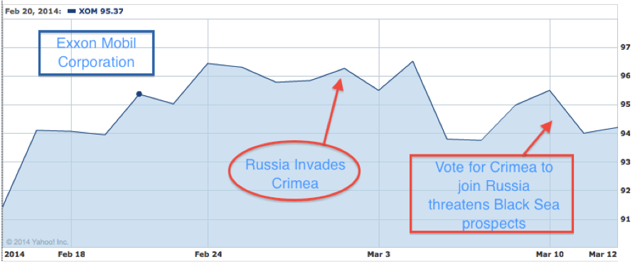 Source: Yahoo Finance
Cheniere Energy (NYSEMKT:LNG) is the only U.S. company permitted to build an export terminal thus far. Consequently, the company's shares have risen by more than 6% over the past couple weeks (although it has started to pull back).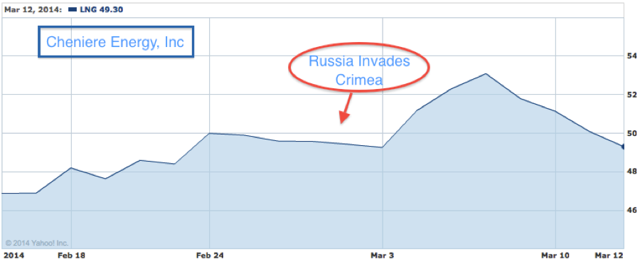 Source: Yahoo Finance
Bullish for VXX, Bearish for Emerging Markets
Since Russia's invasion of Crimea, financial markets have proved volatile. On the Monday following the invasion, markets tanked worldwide, just to soar the next day when the S&P 500 reached a record high, as Putin deceptively softened his stance. As illustrated in the chart below, these unruly events have affected stock market volatility, as measured by the iPath S&P 500 VIX ST Futures ETN (NYSEARCA:VXX). The VXX spiked after Russia invaded Crimea, and although it retracted a bit, it has continued to rise over the past week as tensions with Russia mount.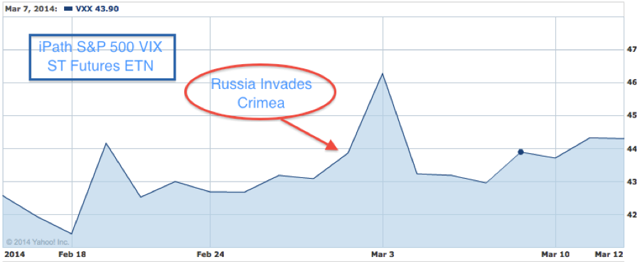 Source: Yahoo Finance
Russia is an international wild card, and markets will remain choppy, which is likely to prove especially problematic for emerging markets. Investors are cutting their exposures to emerging markets as they seek safe haven assets. As indicated in the chart, the iShares MSCI Emerging Markets Index ETF (NYSEARCA:EEM) has fluctuated since Russia first invaded Crimea, and is down $0.60.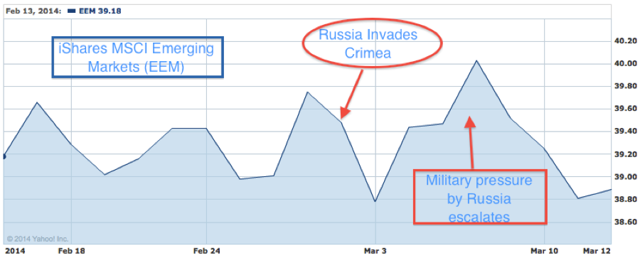 Source: Yahoo Finance
Bearish Implications for U.S. Equities as Volatility Rises
The increased volatility is bearish for U.S. equities, as it reduces international stability and revenue growth. Many American companies spanning several markets - such as PepsiCo (NASDAQ:PEP), General Electric (NYSE:GE) and John Deere (NYSE:DE) - are wary of the consequences stemming from the Ukraine crisis, as they believe Russia to be central to their global strategies. After all, Russia is the "R" in BRICS. As reported in the Washington Post:
PepsiCo is now the largest food and beverage company in Russia, earning $4.8 billion in the country in 2012 - and joint ventures such as GE's with two Russian firms to manufacture gas turbines in Rybinsk. Ford Motor Co. recently announced a partnership with the Sollers car company. Aerospace giants such as Boeing are among the top U.S. exporters to Russia.
U.S. corporations are worried about sanctions imposed on Russia or retaliation from Putin that would impede business ventures with Russia. Foreign Minister Sergei Lavrov warned Secretary of State John Kerry that "sanctions... would inevitably hit the United States like a boomerang." Should these downcast scenarios come to fruition, U.S. corporations have signaled that it would hurt their financial performance, as it would stymie business developments in Russia that are key to future growth.
Furthermore, America's waning influence will continue to weigh on valuations for the equity market, and especially on the P/E ratios for companies with a high proportion of revenues from Russia and/or Eastern Europe. Managements at these firms will have to spend time and energy on political events beyond their control, and this distraction will eventually hurt the company. The impact is indirect and invisible, but it is inevitable: Russia has destabilized Eastern Europe.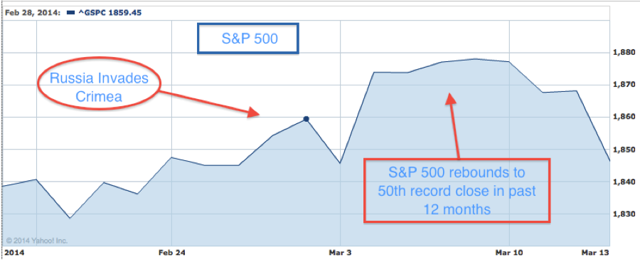 Source: Yahoo Finance
Bullish Development for China
China is playing both sides of the dispute as it assumes a neutral position on the world stage. In a phone conversation with President Obama, Chinese President Xi Jinping emphasized his support for "restoring Ukraine's sovereignty and territorial integrity." However, China and Russia are allies in the U.N. Security Council, and in challenging the U.S.'s economic, diplomatic and military superpower. China and Russia also have strategic opportunities to work together as the global landscape for energy changes: After negotiating prices for over a decade, they could finally strike a deal (registration required), as Russia needs to diversify the gas markets it supplies, and China needs to diversify its sources of supply.
China's best interest is to remain civil with the U.S., so it does not threaten U.S. markets or its entangled economies. This does not stop China from contrasting its "non-interventionist" approach to the U.S, which it implies "meddles" and creates more turmoil abroad by intervening in foreign affairs. The senior advisor of the China Institute for International Strategic Studies, Wang Haiyun said, "Most respondents support Russia sending troops to Crimea because they have seen the disasters that Western neo-interventionism brings upon the world." Mr. Haiyun was referring to a poll conducted by the Global Times Global Poll Center, in which:
Nearly half of the respondents said they support the move as it distracts some of the West's attention away from China and hence strategically alleviates China's pressure.
As China waits on the sidelines, Putin is empowering President Jinping's ability to make a forceful play when it comes to the territorial disputes with Japan in the East China Sea. President Jinping said to the military recently, "We hope for peace, but at any time and under any circumstance, we cannot give up defending the nation's reasonable interests," which sounds an awful lot like President Putin's stake to President Obama: "Russia reserves its right to protect its interests."
Perhaps China could make a play. In fact, the time is most opportune given the U.S.'s weak geopolitical influence, revealed by its flimsy backbone. Putin ignored the threats from the U.S. when he granted Edward Snowden asylum, and suffered minimal consequences. Subsequently, Obama approved a deal - mediated by Russia - regarding Syria's use of chemical weapons that let Bashar al-Assad off the hook, despite promising to take military actions. Furthermore, whereas China increased its military budget by 12.2% in 2014, the U.S. pared the military to pre-WWII levels.
An Inside Straight for China?
China's military and economic prospects are on the rise, and it will continue to lock arms with Russia to gain diplomatic influence. China will not waste any opportunity to surpass the U.S. as the next superpower, and will exploit the weakness the U.S. has demonstrated over the past several years. In a sense, Putin's Crimean adventures have inadvertently dealt an inside straight to China: If it plays its hand well, perhaps it will now challenge Japan over the Senkaku Islands, or one of its Asian neighbors over maritime boundaries. Maybe Putin did not envision this in the planning for his Crimean war games. Or maybe he does not care.
The following chart illustrates iShares FTSE/Xinhua China Large-Cap ETF (NYSEARCA:FXI). The ETF spiked when Russia invaded Crimea. Although it has largely declined since, perhaps it presents a buying opportunity. The rapid fall is most likely a factor of the outflows of emerging markets in general, as investors are pulling their money due to the uncertainty surrounding Russia, and are retreating to safer assets. Other factors, such as poor data regarding growth in investment, retail sales and factory output, are mostly contributing to the decline as well.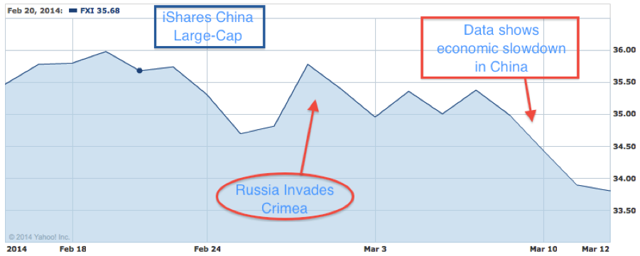 Source: Yahoo Finance
Bearish for Israel: U.S. Is All Bark and No Bite
U.S. national interest in the Middle East is waning, as OPEC's power continues its perpetual decline as a geopolitical force. With Russia and China's influence strengthening around the world and the U.S.'s influence waning, the crisis is a bearish development for Israel. Although Israel's safety will remain a top priority for the U.S., a weakened U.S. will not be as effective for an already vulnerable Israel.
Over the past couple weeks, militants in the Gaza Strip launched the largest attack on Israel since the 2012 Gaza war, and the Israeli military intercepted a ship from Iran that was holding Syrian rockets. As always, the pressure is on for Israel, not only from Palestine, but Iran too. Kerry helped strike an interim agreement with the United Nations Council (Britain, China, France, Russia and the U.S.) in November, which aimed to pause Iran's nuclear program in exchange for easing economic sanctions. But after President Obama backtracked his statement of a "red line" with Syria last year (among other examples), he has illustrated that the U.S. is all bark and no bite, and its bark is more like that of a terrier than of a pit bull.
After the interim agreement, Iran's President, Hassan Rouhani told his people that "the deal recognizes Tehran's "right" to maintain an enrichment program." Unsurprisingly, negotiations of a final deal this past week with Iran have proved fruitless. Even if a final deal were met, Iran has a history of saying one thing and doing another, and it wouldn't be the first time a foreign nation has defied the U.S. in recent history. So, for those in the Knesset who are counting on the U.S. to serve as a bulwark against Iran, they are a couple wars too late.
As shown in the chart below, the iShares MSCI Israel Capped ETF (NYSEARCA:EIS) declined after Russia invaded Crimea. It has since been rising due to other factors. Nonetheless, on margin, the developments in Crimea are bearish.

Source: Yahoo Finance
Disclosure: I have no positions in any stocks mentioned, and no plans to initiate any positions within the next 72 hours. I wrote this article myself, and it expresses my own opinions. I am not receiving compensation for it (other than from Seeking Alpha). I have no business relationship with any company whose stock is mentioned in this article.
Disclaimer: All written content is for information purposes only. Opinions expressed herein are solely those of Right Blend Investing and our editorial staff. Material presented is believed to be from reliable sources, however, we make no representations as to its accuracy or completeness. All information and ideas should be discussed in detail with your individual adviser prior to implementation. The presence of this article shall in no way be construed or interpreted as a solicitation to sell or offer to sell investment advisory services to any residents of any State other than the State of New Jersey or where otherwise legally permitted. This is not a complete discussion of the information needed to make a decision to open an account with Right Blend Investing, LLC. There are always risks in making investments, including the investment strategies described.