Grocery stores are generally not associated with very high growth potential. However, consumer demand is shifting from fast food to organic and natural food. As a result, large companies like McDonald's (NYSE:MCD) and Coca-Cola (NYSE:KO) are struggling to grow their revenue and net income. This provides investors with an opportunity to benefit from the shift in consumer's demand for organic and natural food. One of the companies that will benefit from this shift in demand is Natural Grocers by Vitamin Cottage, Inc. (NYSE:NGVC). However, I find that this stock trades at a very high valuation and that the company's growth prospects do not match up with this high valuation. In this article, I will argue that Natural Grocers is not the best long-term investment for investors to benefit from the increasing demand for organic and natural food.
The company
Natural Grocers was founded in 1955 and is headquartered in Lakewood, Colorado. The company currently operates 76 organic food stores in 13 different states. Further, the company expects to open another 11 stores in 2014. This will increase the number of Natural Grocers' stores to 87 by the end of this year. Natural Grocers specializes in selling organic food and related products. This means that the company's products do not contain any artificial ingredients.
The company's most important competitors are The Fresh Market (NASDAQ:TFM), Sprouts Farmers Market (NASDAQ:SFM) and Whole Foods Market (WFM). Natural Grocers is the smallest company by revenue and net income compared to the three major competitors (see table below).
| | | | | |
| --- | --- | --- | --- | --- |
| | NGVC | TFM | SFM | WFM |
| Market cap. | $0.94bn | $1.66bn | $5.61bn | $20.1bn |
| Revenue | $0.46bn | $1.51bn | $2.44bn | $13.3bn |
| Net income | $11.3mn | $50.8mn | $51.33mn | $563mn |
| P/S ratio | 2.06 | 1.09 | 2.33 | 1.51 |
| P/E ratio | 83.90 | 32.77 | 102.6 | 35.95 |
At first sight, Natural Grocers' valuation compared to its competitors' looks a bit high. However, the company has great growth plans. This will enable Natural Grocers to grow faster than its competitors. I will discuss the company's growth plans later in this article.
Natural Grocers' shares had quite a run. Over the past 24 months, the company's share price increased 135% (see graph below). Natural Grocers outperformed its competitors Whole Foods Market, The Fresh Market and Sprouts Farmers Market.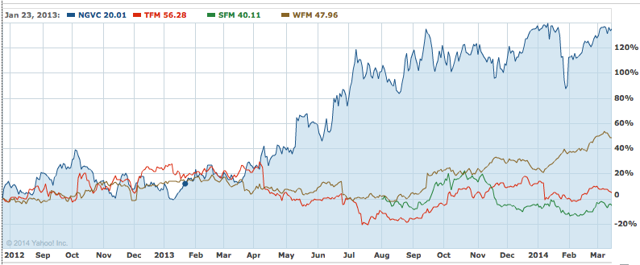 Market trends
The market conditions and growth prospects for organic and natural food are very favorable. According to United Stated Department of Agriculture, 2012 organic food sales topped $28 billion in the United States alone. The USDA expects that the industry's sales in the U.S. will grow over 10% in 2014 (see graph below). The average growth rate is supported by the increase in certified organic cropland. Since 2000, the USDA provides certain certificates to farmers with organic sales over $5,000. This ensures consumers that their food meets organic food standards.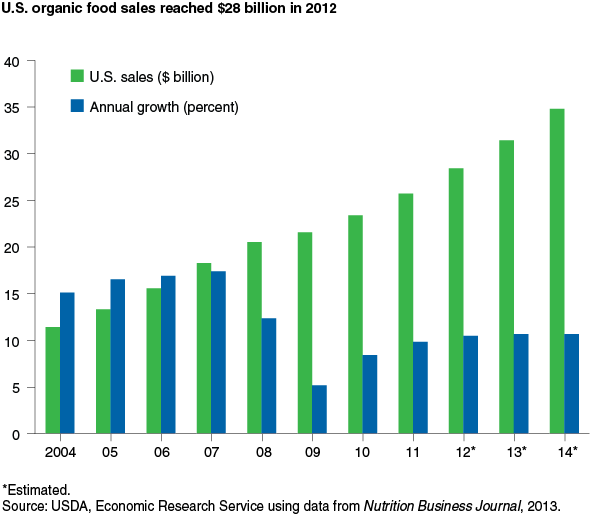 Growth potential
One of the reasons Natural Grocers trades at a high P/S ratio and P/E ratio is the company's growth potential. Last year, the company increased net sales by 28% y-o-y. The opening of new stores accounted for 17% of the increase in net sales. Comparable store sales increased by 11%. Further, the company expects to open 15 new stores in 2014, and will open even more new stores in the next years. This will support net sales growth substantially.
I calculated the company's expected net sales for 2014-2016 to estimate Natural Grocers' growth potential (see graph below). Natural Grocers should be able to almost double its net sales to $840 million by the end of 2016. In my calculations I made the following assumptions:
Comparable sales growth 8.5% per year
Average new store openings 20 per year
New stores contribute $4.5 million on average to net sales in the first year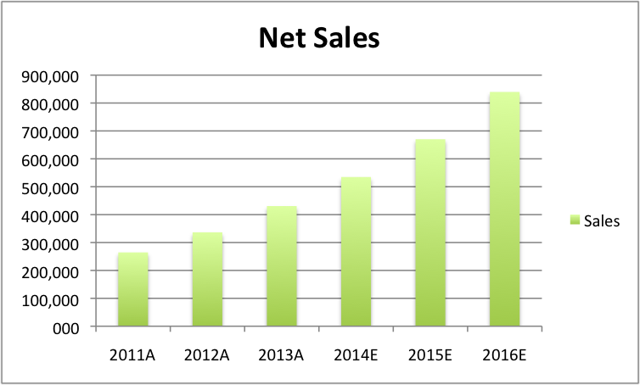 Following the increase in net sales, the company will grow net income as well. According to this press release, Natural Grocers expects that net income as a percentage of net sales will be between 2.4-2.6% in 2014. If the company's own guidance for 2014 is correct, net income will increase to $21.8 million or $0.97 a share in 2016 (see graph below).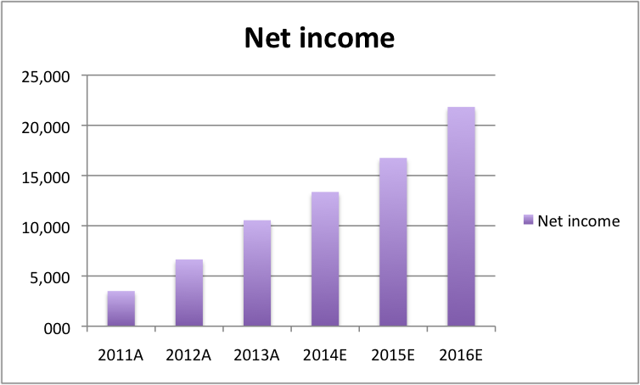 Limited upside potential
All together, Natural Grocers has great growth potential as a company. However, does its stock have the same growth potential for investors? As I mentioned, the stock gained 135% in the past two years and trades at 83.90 times this year's earnings per share. Even when the company is able to double earnings per share by 2016, the stock seems quite expensive compared to the valuation of its competitors, The Fresh Market and Whole Foods Market. Especially given the fact that these companies will grow earnings per share in the next three years as well.
Further, Natural Grocers will most likely take on more loans and long-term (lease) obligations in order to support the new store openings. Each new store requires an upfront capital expenditure of $2.5 million. According to the company's first quarter earnings report, Natural Grocers holds only $6.2 million in cash and an additional $1.2 million in short-term investments. That is by far not enough to support the 11 new store openings planned this year. Interest expenses almost tripled to $707,000 in the first quarter of this year, compared to $255,000 last year. Stretching the balance sheet will increase interest expenses even further.
Conclusion
In my opinion, Natural Grocers has promising growth prospects as a company. However, the stock's upside potential is limited. The company's shares had a 135% run over the past two years. As a result, the stock trades at 83.90 times this year's earnings per share. I believe that, even if Natural Grocers doubles its earnings by 2016, this stock has become a bit expensive. Further, Natural Grocers' is not very rich in cash. To support their growth strategy, the company needs to seal long-term lease contracts and other long-term obligations. This will increase interest expenses and lower earnings per share.
An investment in organic and natural food companies is complementary in a portfolio with defensive stocks like Coca-Cola and McDonald's. However, investors should consider alternative organic food stocks instead of Natural Grocers. I am long Whole Foods Markets myself, because this company has a very strong balance sheet that will support its global expansion. The shift from fast food to natural food is not restricted to the United States. Therefore, I prefer Whole Foods Market, because this company has already proved that it is able to run operations outside the United States.
Disclosure: I am long WFM, KO. I wrote this article myself, and it expresses my own opinions. I am not receiving compensation for it (other than from Seeking Alpha). I have no business relationship with any company whose stock is mentioned in this article.